2016 Aluminum Storefronts Catalog
Please find for Download here our 2016 Aluminum Storefronts Catalog. Full of great information, PRL's Aluminum Storefronts Catalog is a terrific way to stay on top of new glazing industry trends, products, technical data, and architectural designs.
Inside you will find economical systems designed to efficiently meet industry standard performance requirements, components designed to allow interchangeability making them ideal for either exterior and interior applications.
PRL's strengths lie in designing and fabricating Building Entrance Systems and supplying them to the Glazing Contractor with the fastest lead times available in the Industry. Our extensive product lines include Heavy Tempered All Glass Entrance Doors, Monumental Full-Framed Clad Entry Systems and an extensive Aluminum Storefront line that includes Curtain Wall and Multi-Sliding Doors.
We also manufacture an extensive line of Heavy Glass Shower Enclosures, Spandrel Wall Panels, clear and colored laminated glass, bullet resistant, unique heavy glass tables, custom designed sandblasted glass, and fabricated mirrors.
Our metal division, PRL Aluminum, produces a variety of architectural metal products that include railing systems, pre-glazed storefront doors and custom handles. We are one of only two companies nationally that manufacture UL certified Tubular Panic Devices for All Glass Doors.
For Complete Architectural Storefront Specifications, Estimates and Orders
Please Feel Free to Contact Us Directly
Toll Free (800) 433-7044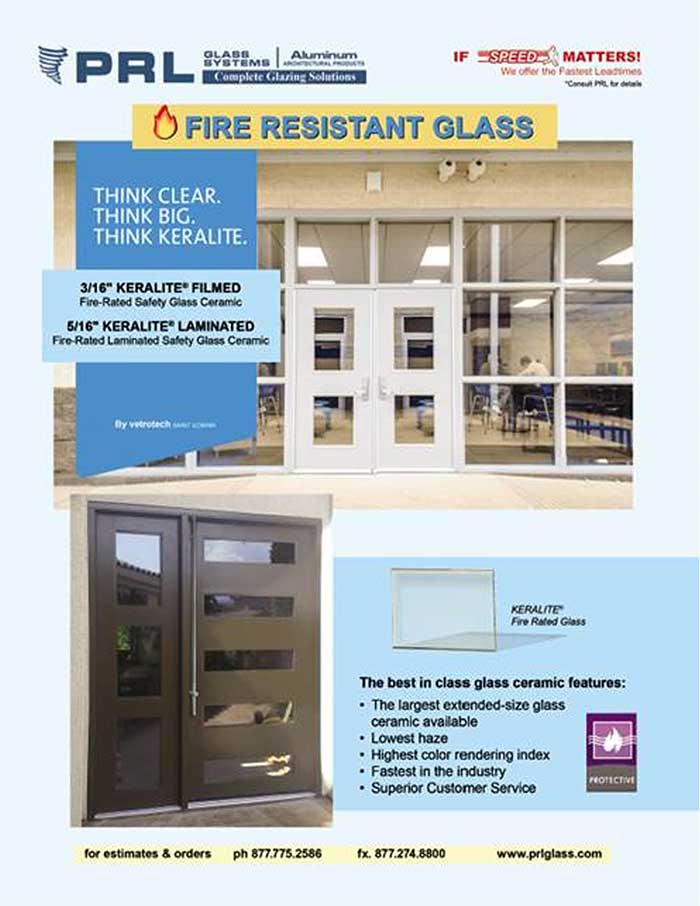 Defend against the spread of flames and smoke. Bid PRL's collection of fire resistant glass. Available in filmed and laminated glass-ceramic, this Keralite® product not only offers superior protection but excellent clarity. Furnished in a wide variety of sizes, this safety glass can fit a host of windows, doors, storefronts and more in institutions and homes. Get your fire resistant Read More...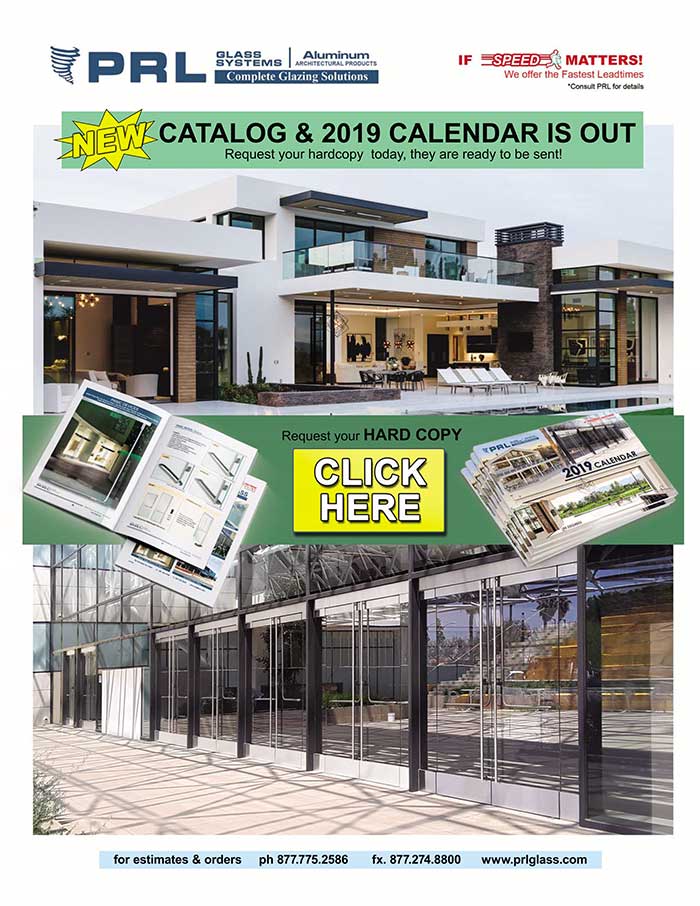 Start the new year out right with a New 2019 PRL Calendar. Featuring terrific monthly photos of our glass and aluminum products, our calendar will keep you organized while learning about all we have to offer.
Also, A must-have tool provides wealth of useful information is PRL's new 2018 Architectural Glass catalog request your hard Read More...