Max Aluminum Sliding Glass Door Catalog
The Max Aluminum Sliders will give you the option to choose from a top hung or bottom rolling. This multi-exterior/interior slider system is designed and constructed to meet the views desired. The aluminum slider is AAMA rated and tested for an exterior rating of CW-PG45-SD the best in the industry.
The Max sliding door system is a multifaceted framed stacking system. The head and sill track, vertical jambs and bottom or top hung roller options allow for limitless flexibility on configurations ranging from basic single pocket to multi slider configurations for areas where space is vital.
PRL's aluminum Max sliding door systems, the Cabo and Cancun series, have been engineered as versatile, strong and elegant systems. Interlocking stiles create a weather tight design. Our dual seal lead stile and quad seal interlock stile provide maximum protection against weather and sound. Both the Cabo and Cancun sliding door series are ideal for residential or commercial use.
The Cabo top hung Max sliding door system with a slender floor guide while offering dependable weather protection with a revolutionary mechanical drop seal system. The Cancun Max slider is a bottom rolling sliding door system with a solid aluminum bottom track and a stainless steel guide that assists the rollers in running smoothly.
Max sliders are available in various finishes. The standard finishes include clear, medium bronze anodized and white or black powder coat. Custom finished can be made available upon request.
For Complete Aluminum Sliding Door Specifications, Estimates and Orders
Please Feel Free to Contact Us Directly
Toll Free (800) 433-7044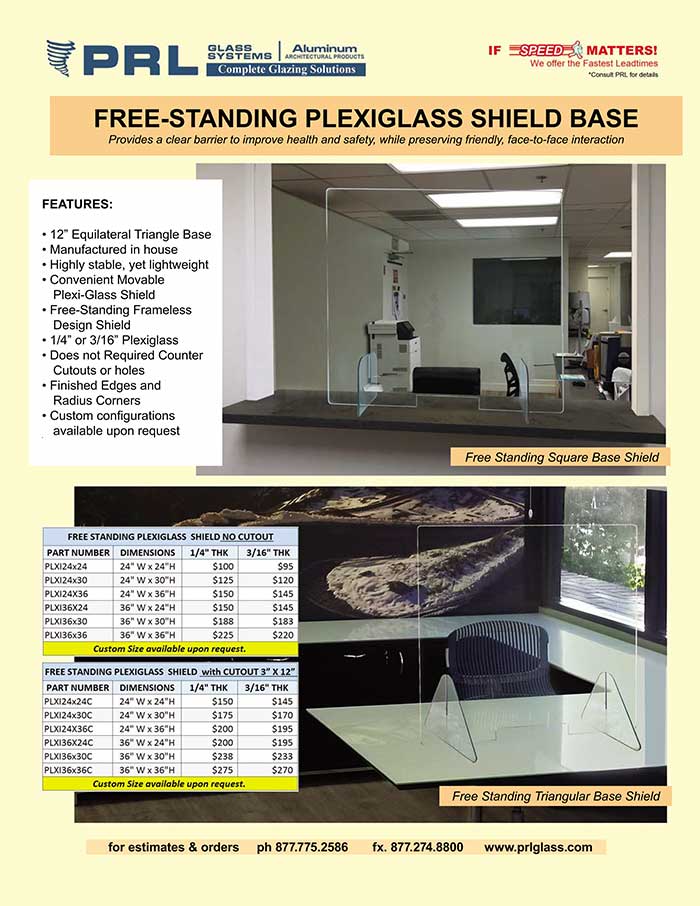 Bid protective plexiglass shields at PRL to bring flexibility to essential business projects. Lighter in weight, self-supporting and movable, these employee-customer barriers easily transport from one surface to another. Adaptable for multiple uses, and crafted with sturdy triangular and rectangular plexiglass bases, our protective shields are a must-have for work desks, reception countertops, check-out areas and Read More...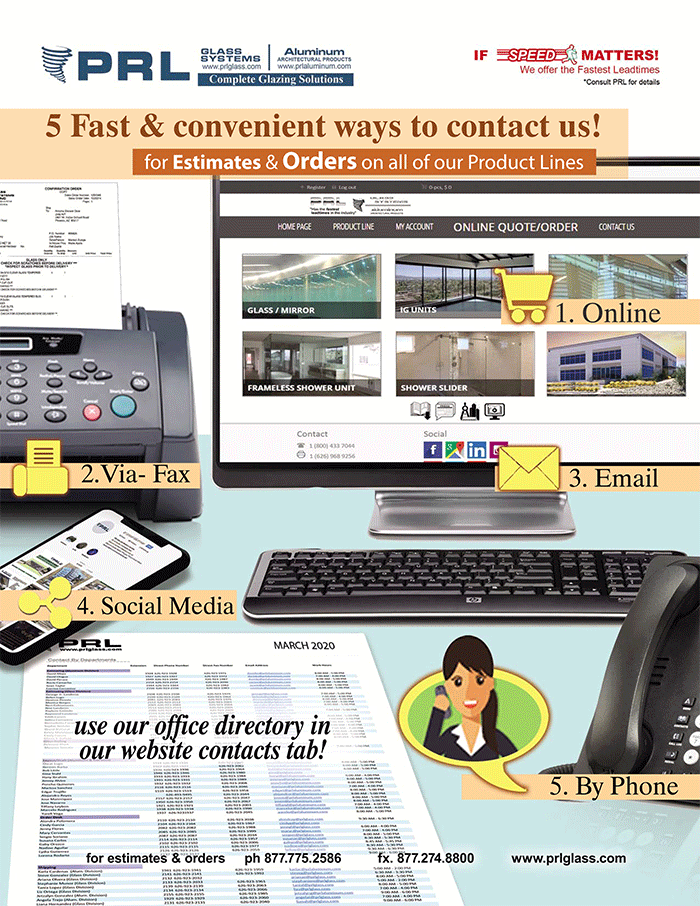 To our will call and walk-in order customers,
In accordance with the new Los Angeles County COVID-19 mandate, PRL has revised our guidelines for our will call customers. Our will call hours are Monday- Saturday. Effective Friday, April 10th all customers and employees will be required to wear face masks or face coverings while in our facilities.
To help protect the health Read More...