Aluminum Storefront Products and Structural Hardware
Complete aluminum storefront systems, including tempered glass, IG units, entrance doors as well as all components and hardware. (Your one stop shop!)
PRL's BIM Content on ARCAT® - Architectural Building Information Modeling (BIM) objects / families / system files, free to download in revit or dwg formats for use with all major BIM and CAD software including AutoCAD, Sketch-Up, ArchiCAD and others. Formats: RFA- Revit Object | RVT- Revit System | DWG- AutoCAD, Sketchup - all cad software By downloading and using any ARCAT® CAD detail content you agree to the following [license agreement].
View all of PRL's Architectural Glass and Metal Products on ARCAT®.
Here you will find Videos on "How to Quote and Order" PRL's Architectural Glass and Metal Products Online as well as many other New videos surrounding our vast collections of glass and aluminum manufacturing and design capabilities. ...View and Subscribe to PRL's Youtube TODAY!
Cataloging our full lines of glass types and complete systems, PRL's 2018 Architectural Glass catalog puts shopping at your fingertips. Whether you're looking for inspiration, a specific component, or want to know more about our products, it's all in there. This catalog provides a wealth of information!
Our entire lines of glass types, complete systems and hardware including detailed information for:
Insulated, laminated, spandrel, fire resistant glass and more...
Entrance doors, aluminum & glass sliders, panic systems, shower doors and more...
Door headers, closers, rails, panic devices, deadbolts, door pulls and more...
PRL's 24/7 Online Quick Quotes and Orders program is intended to make quoting and purchasing quick and convenient. Purchase all your architectural glass and aluminum products online Today! ...Register Now.
Center Glazed
Aluminum Storefront Systems
Offset Glazed
Aluminum Storefront Systems
For Complete Aluminum Storefront Products, Specifications, Estimates and Orders
Please Feel Free to Contact Us Directly
Toll Free (800) 433-7044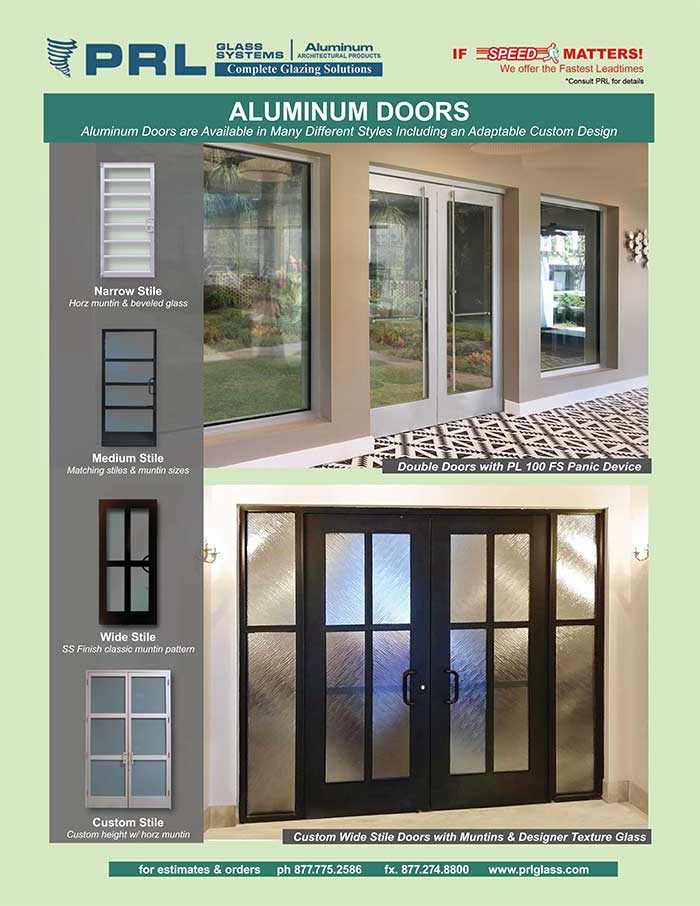 For the best exterior aluminum entry doors, deal direct with PRL Glass & Aluminum. As the preferred single-source supplier in Southern California, we supply everything you need to outfit commercial and residential passageways. We offer a huge assortment of aluminum frame vertical stiles, glass types and entrance door hardware. Manufacturing all aluminum entry doors in our facility, we furnish yet Read More...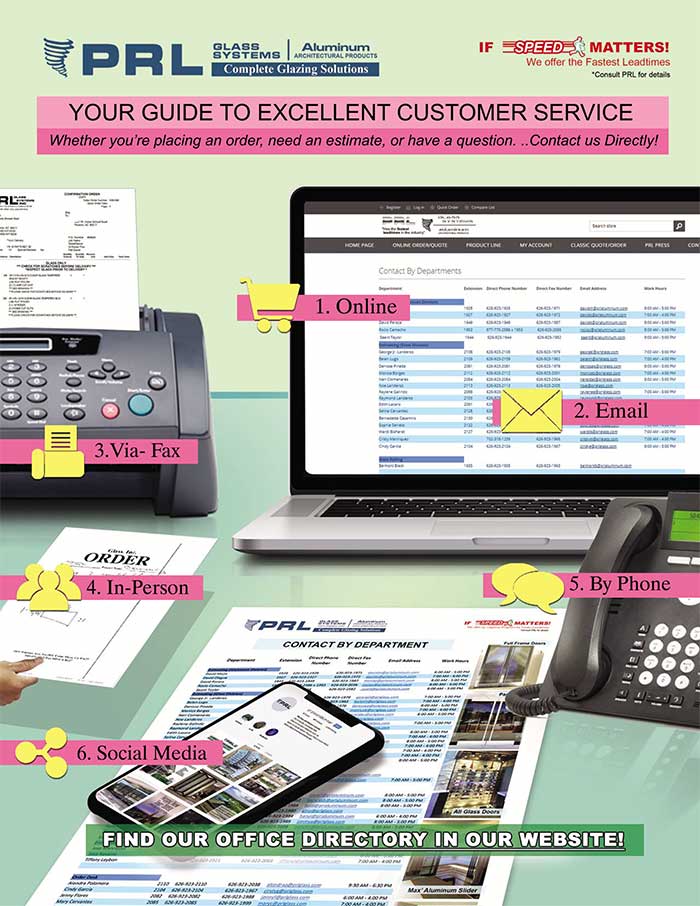 Get in touch with PRL easily by downloading our updated company directory. Your guide to first-rate customer service, this 2020 company directory contains all the contacts needed to get your questions answered. Whether you're placing an order, need an estimate, or have a question about our products or services, our company directory will route you to Read More...