Glass Enclosed Wine Cellars.
Limitless Customizations? See What You Can Get
Check out glass enclosed wine cellars at PRL of the Southern California. We fabricate limitless customizations. See what you can get below. Constructed as framed or frameless units, these glass specialties showcase vintages with complete transparency. Made-to-order with all-glass or aluminum framed doors, you'll find out which panel sizes, hardware and pull handles you can quote. Keep reading to learn more about our wine cellars. Rendered exactly how you want them, we tell you which glass types, finishes and more you can purchase.
Glass Enclosed Wine Cellars. 5 Customizations You Can Order
What Kind of Doors Do You Use for Frameless Wine Cellars?
We use all-glass swing doors for these enclosures. Available in 5 styles with narrow streamlined rails, they look stunning in our frameless wine cellars.
Can I Bid Framed Units with Swing or Sliding Doors?
Yes you can. Our aluminum framed wine cellars are generated with both. These glass display cases can be purchased with various swing door stiles. For areas that won't accommodate swing door space, we offer Max sliders and full-framed sliding doors.
Is My Glass Enclosed Wine Cellar Limited to Certain Configurations or Door Sizes?
Absolutely not. We manufacture this glass specialty in virtually any configuration. And you can quote everything from single, double and oversized doors for your wine cellar.
How Many Glass Types Do You Supply for Framed & Frameless Systems?
Our glass wine cellars are built with diverse panel types. Framed and frameless enclosures can be furnished with heavy tempered, laminated, and low iron glass. We also etch custom sandblasted and glue chipped patterns, borders, designs and logos.
Can I Order Glass Wine Cellars in a Variety of Thicknesses & Panel Sizes?
You sure can. We construct these walk-in tasting rooms in vast panel sizes and thicknesses. You can select standard or oversized sheets up to 110" x 190". And we render wine cellars in 3/8", ½" and ¾" glass thicknesses.
5 More Customizations You Can Bid
My Client Needs Custom Wine Racking. Can You Fabricate It?
Yes, we can. Our team crafts infinite customizations. All glass enclosed wine cellars are custom made to your exact specifications. We can produce wine racking with precise notches and hole diameters, glass shelving to showcase favorite vintages, and more.
What Hardware Can I Get for These Glass Display Cases?
Whether your wine cellar requires hardware to pivot doors or support glass panels, we have what you need. You can buy sidelite rails, overhead closers, Euro patch fittings, headers, and door rails just to name a few.
Do Framed & Frameless Units Accept Numerous Handles? How Many Styles?
Yes. Every glass wine cellar accepts multiple handles. We sell 5 standard styles in a collection of popular finishes. They include standard, offset, C-pull, ladder and locking ladder pulls.
Which Hardware & Handle Finishes Can I Specify for Wine Cellars?
You can request a range of standard architectural finishes. Our hardware and handles are stocked in brushed and polished stainless steel, satin and polished brass, and clear and bronze anodized finishes. All accent glass enclosed wine cellars beautifully.
Will You Make Custom Handles for My Glass Wine Pantry?
Yes, we will! Our metal department extrudes custom handles all the time. For framed and frameless wine cellars, they can be generated in any size or diameter in curved, geometric, S-shapes and more. Custom handle finishes include mixed colors, dual tones and powder coats.
Glass Enclosed Wine Cellars. Get Limitless Customizations at PRL!
Shop PRL's glass enclosed wine cellars. You can get limitless customizations. Great for displaying those prized vintages, we can create the simplest to the most detailed units. Get in on the advantages today!
Quick Product Photo Gallery
For Complete Tempered Glass Specifications, Estimates and Orders
Please Feel Free to Contact Us Directly
Toll Free (800) 433-7044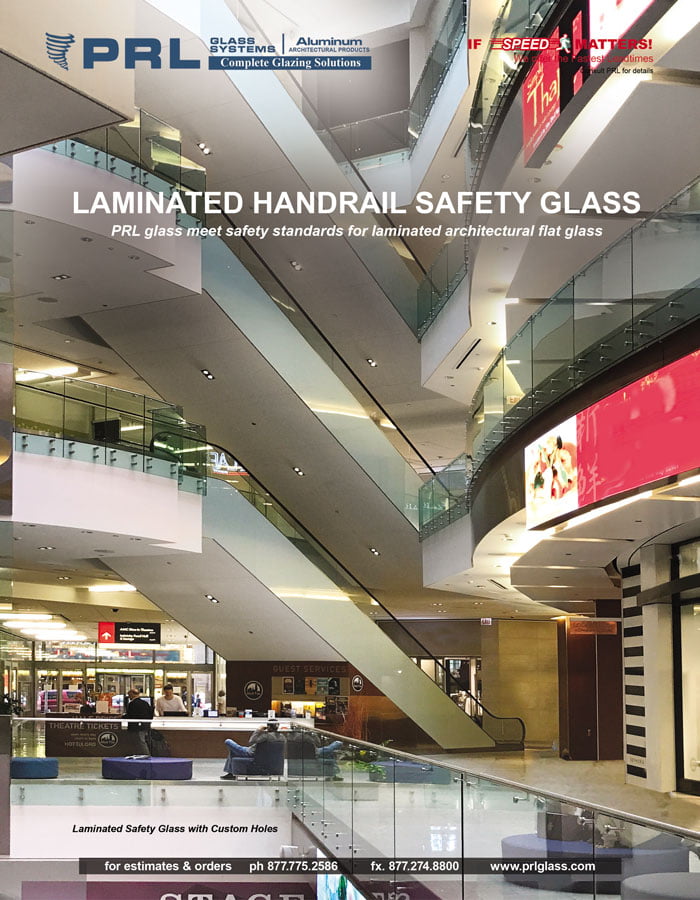 Need glass railing panels customized for your next project? Shop at PRL! Performing the finest glass fabrications with laminated safety glass. Meet the aesthetics and all the safety codes. You can quote oversized handrail panels with custom edging, compound geometric shapes, sectional glass balusters, and more. Offered in diverse glass types, sizes, and thicknesses, our glass guardrail panels are ideal Read More...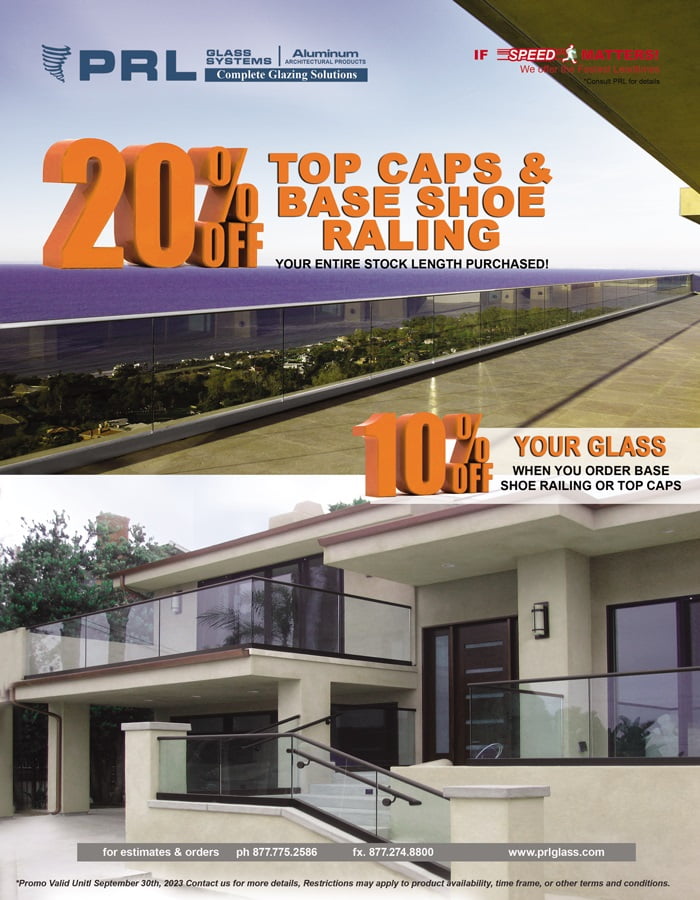 THE MORE YOU BUY, THE MORE YOU SAVE!
Shop base shoes and top caps at PRL. Like never seen before 20% discount on all Stock Length Base Shoe and Top Caps!* We'll price match** these handrail components from our competitors. Also offering technical support and a wide range of services, we can meet your railing needs. 35% lighter Read More...