Custom Glass Specialties.
Create One-of-a-Kind Projects at PRL!
Win big with custom glass specialties from PRL of Los Angeles County. You won't see these spectacular pieces anywhere else. Why? We're the place where you create your own one-of-a-kind projects. Each generated to your exact specifications our team will meet your needs. Utilizing our high-tech equipment, we produce infinite design concepts for interiors and exteriors. No wonder our custom glass specialties bring innovation to numerous spaces. Commercial or residential, we do it all. Great for all kinds of homes, restaurants, and hotels, these original glass items are sure to impress.
Glass Specialties & Custom Fabrications
Our custom glass specialties are manufactured in-house. Made-to-order, we render the simplest of ideas to the most challenging visions. This product line most commonly includes glass enclosed wine cellars, custom mirrors, tabletops and countertops, decorative glass wall designs, partitions, and office cubicles. However, our custom glass specialties also include sculptures, spandrel glass wall cladding, oversized glass door panels, beveled mirror wall tile, and more.
We generate virtually any element for custom glass specialties. After all, unique glass fabrication is our area of expertise. Fashioned in nearly any size, thickness or glass type, our craftsmanship can't be beat. So, whether your contract calls for flat polished or mitered edges, pattern cut-outs, or intricate notching, we're the supplier to call. We even create curved and complex geometric glass shapes as well as oversized items. How? With our water jet system, computerized cutting tables and robot glass polishers.
Our custom glass specialties are available in endless glass types. Sold in clear and ornamental options, these pieces look beautiful in living areas, lobbies, kitchens and baths. In addition to clear tempered and laminated glass, we furnish over 30 spandrel, laminated and tinted colors, 12 textured patterns, and boundless decorative interlayers. Custom glass specialty call for more detail? We also produce glue chipped borders and accents as well as lavish sandblasted images, logos and themes.
Custom Glass Wine Cellars, Tabletops & Countertops
Shop PRL's custom glass specialties for wine cellars, tabletops and countertops. Need a place to store your vintages? Our glass enclosed wine cellars will do the trick. Built as framed or frameless units their all-glass appearance is breathtaking. We render our wine cellars in any configuration with single, double or oversized doors. Made with swing or sliding options, they accommodate a variety of plans. You can request this custom glass specialty in an array of hardware and pull handles. Carried in scopes of popular finishes, our glass enclosed wine cellars complement many décors.
Indoors or out, office or home, our tabletops and countertops have a lot to offer. These custom glass specialties bring quality and style to kitchen and dining surfaces, workstations, baths, wet bars and more. We manufacture glass tabletops and countertops in practically any size, shape or design. Generated with standard or custom corners, hand crafted edges or one-of-a-kind accents, these glass specialties will meet your client's needs.
We custom-cut all tabletops and countertops when you place your order. Fabricated in annealed, tempered or laminated glass, you can get these surfaces in square, oval, and several other shapes. Our experts produce these glass specialties in over 20 corners and edges and countless customizations. Examples include tabletops with clipped or dubbed corners, countertops with mitered or beveled edges, and glass surfaces with overlays or inserts.
Mirrors, Decorative Glass Wall Designs, Partitions & Cubicles
For custom glass specialties that make your projects count, check out our mirrors, decorative glass wall designs, partitions, and office cubicles. We render custom mirrors in large assortments of sizes, colors and lighting options. Creating an illusion of spaciousness, these reflective surfaces are perfect for a host of locations. Our team crafts oversized and sectional mirrors for common areas as well as backlit mirrors for baths. Also generating custom cut-outs, we fashion these glass specialties to fit various windows and light fixtures.
Bring unlimited creativity to interiors with our decorative glass wall designs. Manufactured with infill or sectional panels, these custom glass specialties mount to surfaces or utilize self-standing supports. We produce decorative glass wall designs in a wide range of sizes, shapes and glass types. Offered in linear, curved and geometric shapes, you can bid this custom specialty in clear, textured or tinted glass, patterned interlayers or sandblasted panels.
Not only for the workplace, our glass partitions and office cubicles are ideal for the home. Built in virtually any layout or configuration, these custom specialties are terrific for privacy or sectioning off spaces. We fabricate glass partitions and cubicles in any length, width or height. Supported with posts or rapid dryset rails, adjoining panels are secured with brackets or glass fasteners. Post and rails are available in multiple architectural finishes.
Custom Glass Specialties. Wow Them with Your Own Designs!
Specify show-stopping one-of-a-kind pieces that meet your needs. As your custom glass fabrication experts, we just add up to better. Entrust your next job to us today!
Quick Product Photo Gallery
For Complete Tempered Glass Specifications, Estimates and Orders
Please Feel Free to Contact Us Directly
Toll Free (800) 433-7044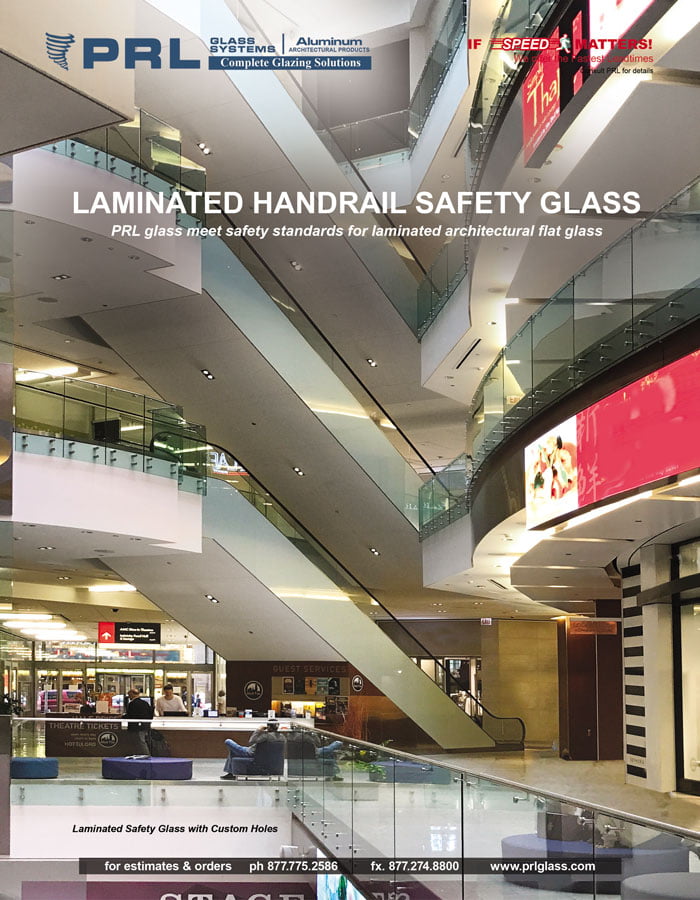 Need glass railing panels customized for your next project? Shop at PRL! Performing the finest glass fabrications with laminated safety glass. Meet the aesthetics and all the safety codes. You can quote oversized handrail panels with custom edging, compound geometric shapes, sectional glass balusters, and more. Offered in diverse glass types, sizes, and thicknesses, our glass guardrail panels are ideal Read More...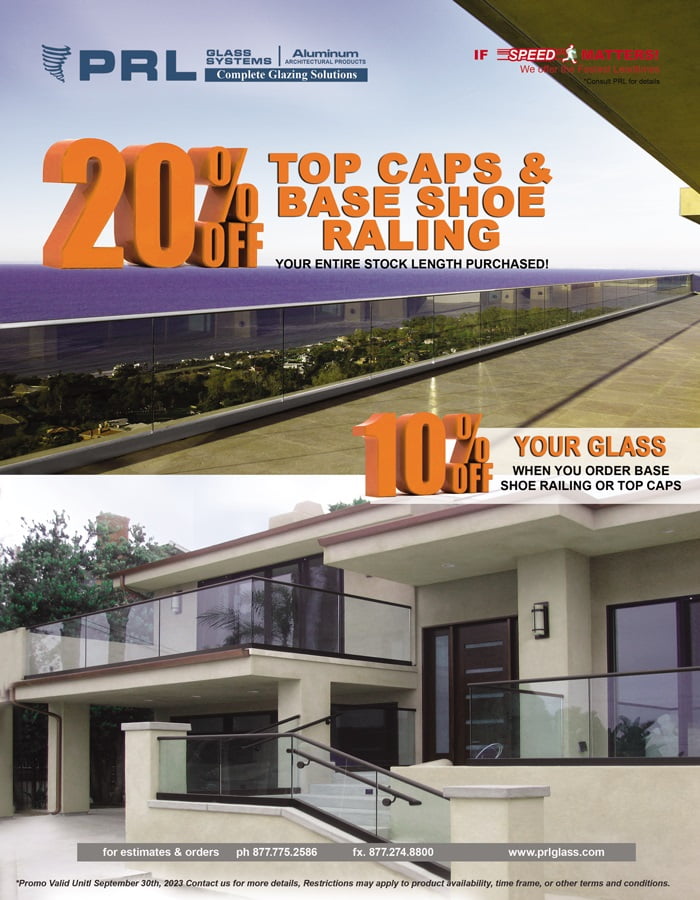 THE MORE YOU BUY, THE MORE YOU SAVE!
Shop base shoes and top caps at PRL. Like never seen before 20% discount on all Stock Length Base Shoe and Top Caps!* We'll price match** these handrail components from our competitors. Also offering technical support and a wide range of services, we can meet your railing needs. 35% lighter Read More...