Bullet Resistant Glass. 1-8 Interlayer Threat Levels
Need bullet resistant glass for your next project? Bid at PRL of the West Coast! We supply interlayer threat levels 1-8. That's right. Indoors or out, corporate or home, we have a laminate just for you. Available in vast assortments of make-ups, panel sizes, and glass types, our safety product has a lot to offer. This bullet resistant glass guards against a host of weaponry and ammunition, is the lightest on the market, and still meets building codes. No wonder it's one of our most popular sellers! Rendered in clear and a collection of colors, these bullet resistant interlayers bring style and peace of mind to storefronts, ticket booths, security gates and more.
Lightest Interlayers & First-Rate Safety
We manufacture bullet resistant glass with our proprietary blend of PVB's and polycarbonates. The thinnest and lightest around, these laminates don't carry excessive weight. This means our interlayers are ideal for framed applications and fit easily into door glazing pockets. So, our safety glass can be used in several framed windows and entrance door jobs.
Conforming to UL 752 and NIJ 0108.01 standards, this bullet resistant glass delivers exceptional no-spall ballistic protection, is scratch resistant, and shields against high-velocity impacts. And, tested in an indoor range at 15 feet from target, our laminates grant top-notch security at the front and backside of panels.
Please note: These interlayers are not considered physical attack or blast resistant. For an overview of our test results, refer to the chart below or consult with us for complete findings.
PRL's 8 Bullet Resistant Glass Threat Levels
| | | |
| --- | --- | --- |
| Threat Level: | Ammunition Caliber: | Weapon Tested: |
| Level 1 | 9 mm. | Full Metal Copper Jacket with Lead Core |
| Level 2 | .357 | Magnum Jacketed Lead Soft Point |
| Level 3 | .44 | Magnum Lead Semi Wadcutter Gas Checked |
| Level 4 | .30-06 | Rifle Lead Core Soft Point |
| Level 5 | 7.62 mm. | Rifle Lead Core Full Metal Copper Jacket, Military Ball |
| Level 7 | 5.56 mm. | Rifle Full Metal Copper Jacket with Lead Core |
| Level 8 | 7.62 mm. | Rifle Lead Core Full Metal Copper Jacket, Military Ball |
Laminated Make-Ups & Interlayer Thicknesses
We fabricate all bullet resistant glass in our facility. Using laminated sheets that are annealed, heat strengthened or tempered, we can craft boundless make-ups. Sold in standard and custom sizes, you have many safety glass and interlayer options.
Bullet resistant make-ups are furnished in tinted, reflective, textured or mirrored glass, and interlayers are provided in clear as well as blue, gray, yellow and other shades.
Our bullet resistant glass can be ordered in ranges of interlayer thicknesses. Starting at 1" overalls, they increase as resistance levels do.
For example, we produce level 3 security glass in 1.10" thicknesses and higher threat levels are generated with thicker overalls. So, the greater the resistance level, the thicker the overall becomes.
Regardless of make-up or threat level, our bullet resistant glass will meet your needs. Perfect for contracts like banks, bandit barriers and panic systems, this is one laminated safety product you won't want to miss.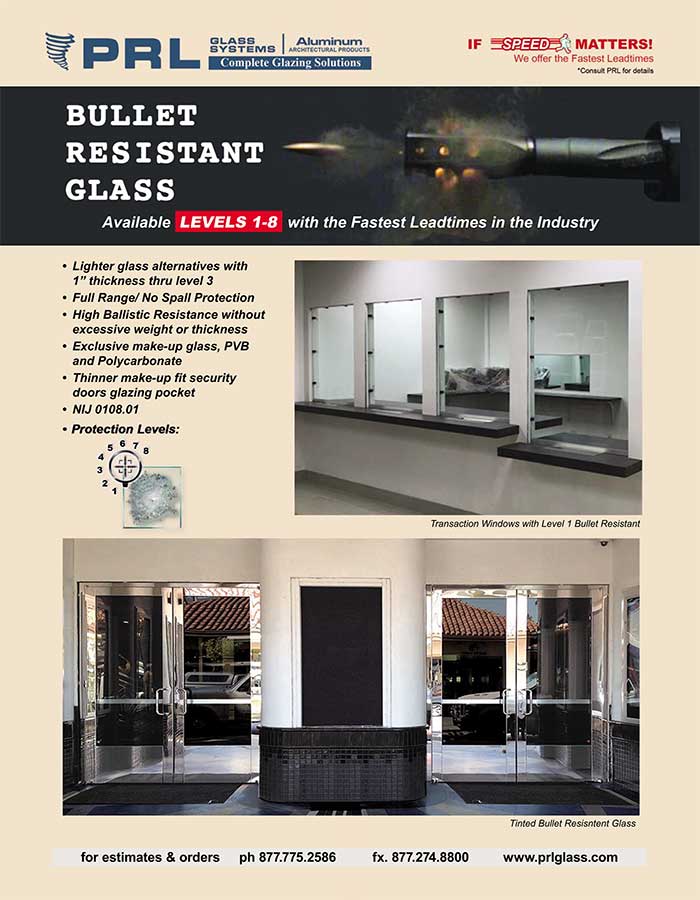 Specs: Sizes, Thicknesses, Make-Ups & Colors
Panel Sizes & Interlayer Thicknesses:
Max Standard Sheet Sizes:

Up to 48″ x 96″

Custom Panel Sizes:

Up to 60″ x 96″

Interlayer Thicknesses:

1" & up pending threat level
Glass Types, Make-Ups & Interlayer Colors:
Glass Types:

Annealed, heat strengthened & tempered

Make-Ups:

Tinted, reflective, textured & mirrored

Interlayer Colors:

Clear, grays, blues, yellows & more
Select bullet resistant glass you can be sure of.  Say yes to PRL Glass & Aluminum.

We manufacture interlayer threat levels 1-8. Rendered in multiple make-ups, sizes and overall thicknesses, our laminated safety glass brings protection to various commercial and residential applications. Shop with us now!
Quick Product Photo Gallery
For Complete Tempered Glass Specifications, Estimates and Orders
Please Feel Free to Contact Us Directly
Toll Free (800) 433-7044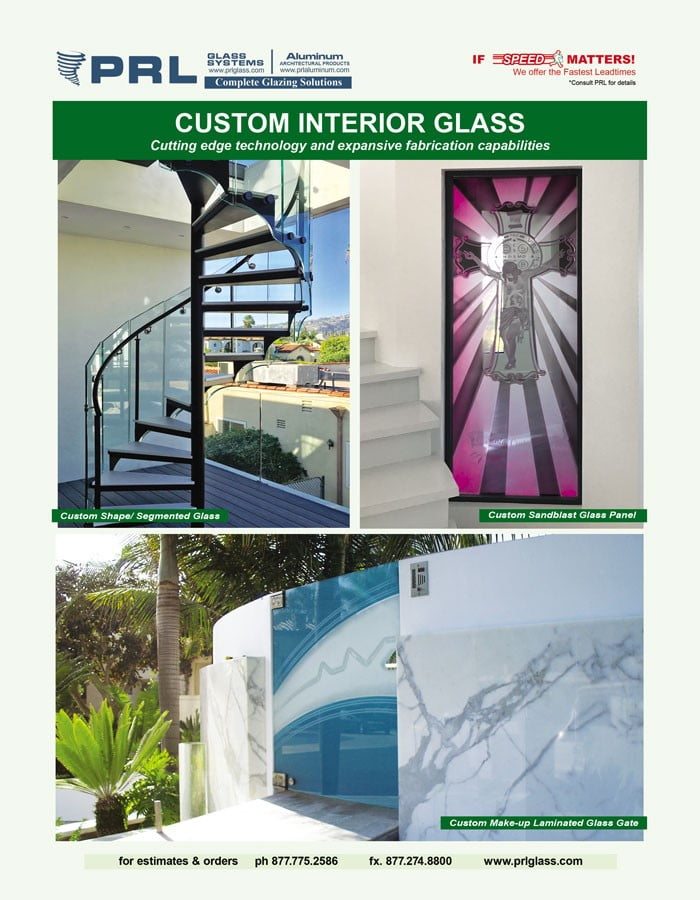 Need a custom interior glass products for your client's interior space? Bid at PRL! We generate huge assortments of cubicles, backsplashes, room dividers and more. Using our cutting edge technology and expansive fabrication capabilities, our glass detailing is superior. All made-to-order in our facility, we render custom glass products in virtually any size or glass type. Great Read More...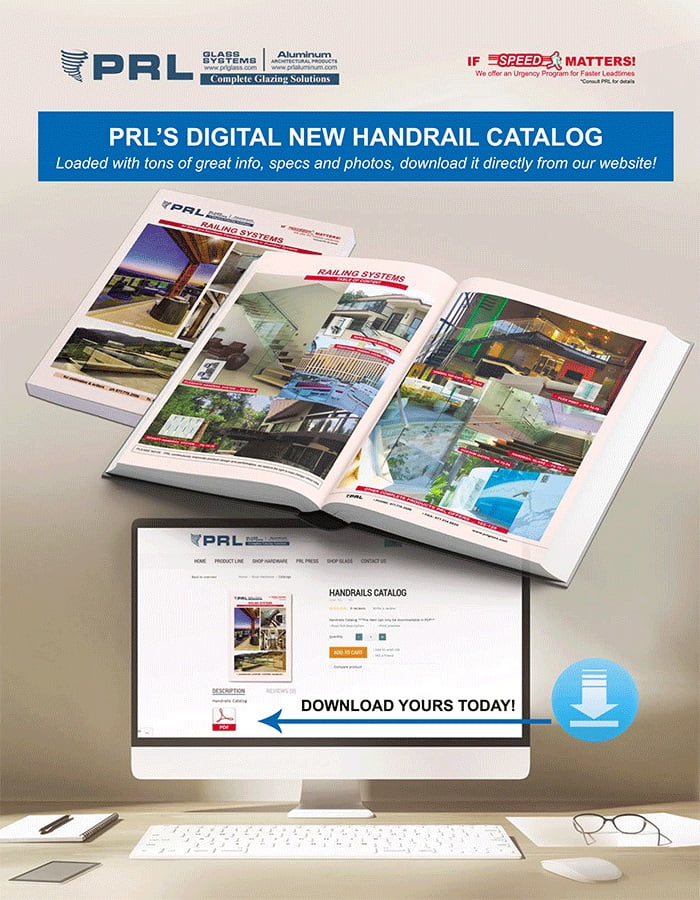 Download PRL's new Digital Handrail catalog! Find out everything you need to know about our systems, components, protective shields and more. Including our entire inventory of railing products, this catalog is a must-have. Loaded with tons of great info, specs and photos, you'll be on your way to designing fabulous projects for your customer's home or office in no time. Read More...