PRL supplies complete handrail and guard railing systems including all hardware and components. All designed, manufactured and fabricated in-house, PRL is your one stop shop for all your glass and metal railing needs. When it comes to glass railing components we control our destiny, with our state of the art machinery combined with our leading architectural glass and metal divisions we can produce complete systems and glass railing components to meet the most sophisticated specification all with the fastest lead-times in the industry.
Custom Handrail Components
PRL also offers loose railing components and stock lengths of top cap and bottom base. We extrude the smallest mechanical bottom base rail in the industry, our Rapid Dry Set #PL-DSMHRB is 2-1/2″ x 2-3/4″ high. This rail base is available anodized, painted or clad. The rail cover plates are easily interchangeable.
With the ability to extrude most hardware in-house, special projection can be manufactured in order to accommodate whatever application may arise.
At PRL we stand behind our reputation for quality and service. Your satisfaction is guaranteed with the best quality and fastest production time in the industry!
2012 PRL Guardrail & Handrail Catalog
Architectural Glass and Metal Handrails
For Complete Architectural Handrail Specifications, Estimates and Orders
Please Feel Free to Contact Us Directly
Toll Free (800) 433-7044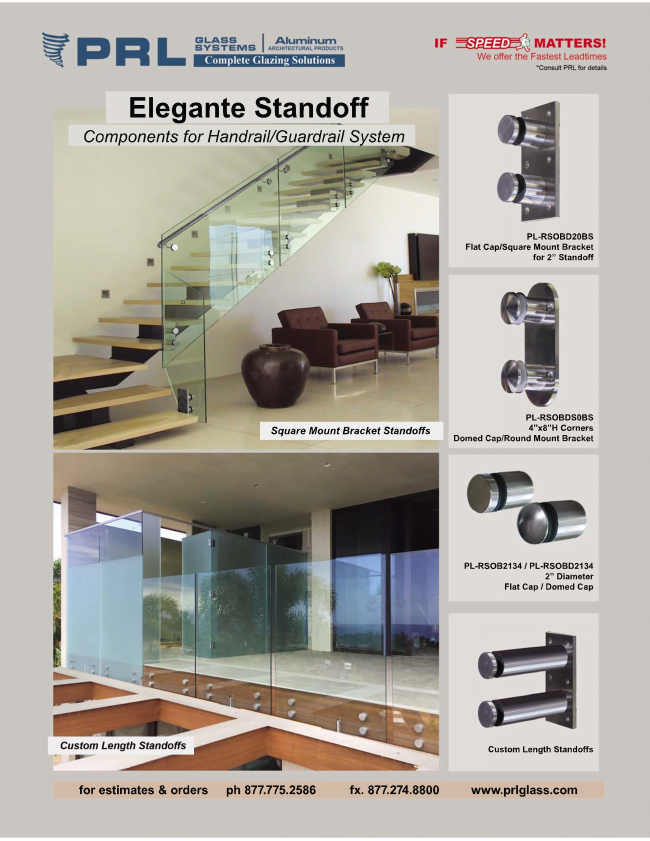 PRL "Elegante" Handrail and Guardrail Standoffs create elegant frameless heavy glass guardrails by eliminating the base shoe and allowing the glass to secure directly to the sides of the stringers or deck. Our 2″ diameter solid stainless steel standoffs are fabricated in-house of premium 304 or 316 alloy stainless steel. Where additional structural support is needed we provide ½" Read More...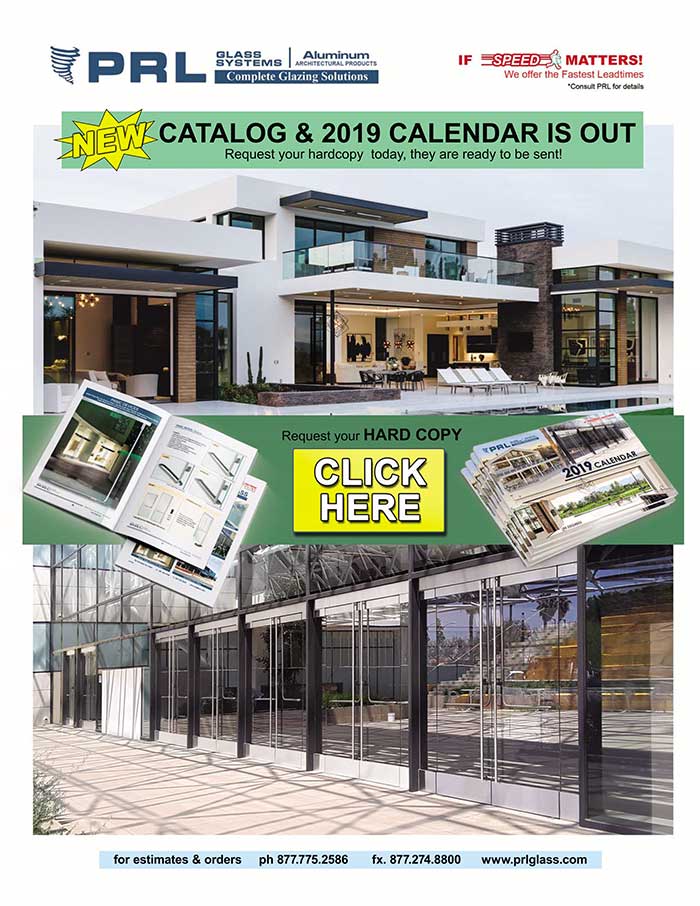 Start the new year out right with a New 2019 PRL Calendar. Featuring terrific monthly photos of our glass and aluminum products, our calendar will keep you organized while learning about all we have to offer.
Also, A must-have tool provides wealth of useful information is PRL's new 2018 Architectural Glass catalog request your hard Read More...