Custom Mirrors at PRL – Learn What We Can Do!
Learn all about our custom mirrors and see what we can do. Deal direct with PRL Glass & Aluminum. As your go-to source for answers, we address commonly asked questions below. Need to know what size mirrors, glass types and colors you can buy? How about our lighting accommodations? Clearly outlined in Q&A format, we cover these topics as well as several others. Great for a wide array of interior commercial and residential projects, our custom mirrors will meet your specs. Keep reading to find out more.
Custom, Smart & Backlit Mirror Info
Which Glass Types Can I Order for Mirrors?
Are Custom Mirrors Available in Assorted Colors?
Yes. In addition to clear, our mirrors are offered in gray, bronze and blue shades.
How Many Mirror Sizes & Thicknesses Can I Specify?
We fabricate custom mirrors in sizes up to 110" x 190". For clear glass, you can select 1/8", 3/16" and ¼" thicknesses. Low iron, bronze, gray and blue are also carried in ¼" thicknesses.
What Are Smart Mirrors? Do You Make This Reflective Glass?
Yes! We manufacture glass for smart mirrors as well as welcome screens. Commonly seen in hotel baths, these reflective surfaces look like mirrors, but also display data such as the time or weather when turned on.
Can I Buy Backlit Mirrors? How Are They Rendered?
You sure can. Our team fashions all sorts of custom backlit mirrors. We create them by removing the silvering on the backside of the glass with a sandblasted strip. One of the vast products we sell for baths, this allows lighting to shine through the mirror's surface.
Cut-Outs, Oversizes, Designs & Edges
Do You Produce Mirrors with Custom Cut-Outs?
Yes. We can generate virtually any specialized cut-out for your mirrored projects. Examples include cut-outs so mirrors fit into display cases, behind shelving, around windows or light fixtures, and more.
What Kind of Oversized Mirrors Can I Request?
You can purchase a number of oversized mirrors from us. Custom and jumbo sized glass fabrication is what we're known for. You can get oversized sectional mirrors in 2 or more segments, decorative pieces with unique edgework, and floor-to-ceiling mirror cladded walls. All can be made in panels up to 110" x 190".
Will You Custom Etch Designs or Borders into Mirrors?
Absolutely! Our craftsmen can render infinite etchings for your mirrors. All custom carved, they can create endless sandblasted and glue chipped borders, accents, patterns, logos, themes and more.
Which Edges Can I Bid for My Mirrors?
We produce mirrors with the finest glass edgework. You can choose from polished or beveled edges as well as multiple bevels. Please consult with us for custom edging requests.
PRL's Custom Mirrors. Experience What We Can Do!
Buy custom mirrors at PRL. Get in on what we can do. Delivering top quality products since 1989, there's no reason to shop anywhere else. Our custom mirrors are stunning in lobbies, salons, living spaces and more.
Quick Product Photo Gallery
For Complete Tempered Glass Specifications, Estimates and Orders
Please Feel Free to Contact Us Directly
Toll Free (800) 433-7044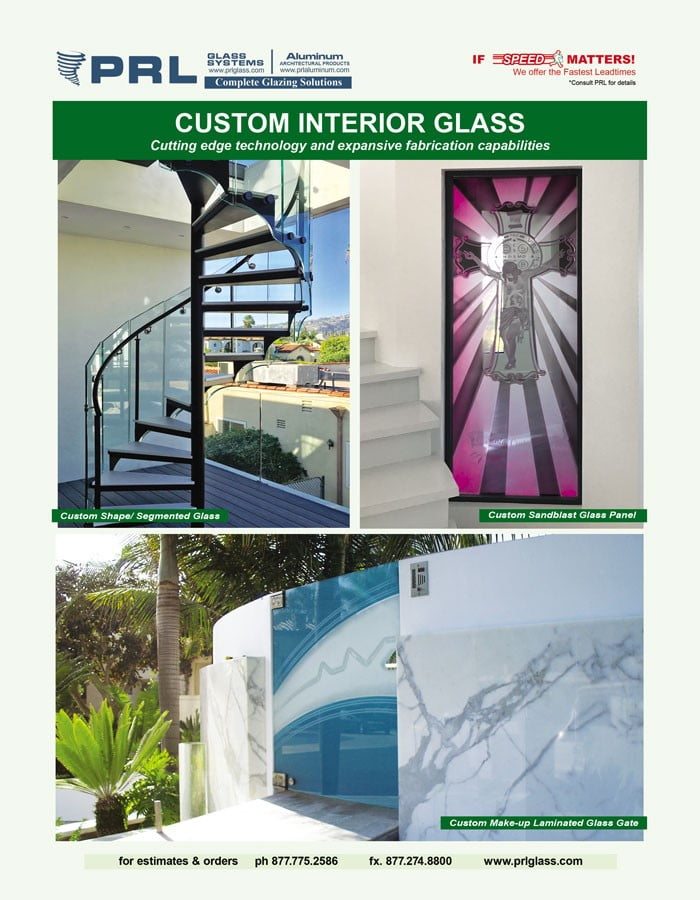 Need a custom interior glass products for your client's interior space? Bid at PRL! We generate huge assortments of cubicles, backsplashes, room dividers and more. Using our cutting edge technology and expansive fabrication capabilities, our glass detailing is superior. All made-to-order in our facility, we render custom glass products in virtually any size or glass type. Great Read More...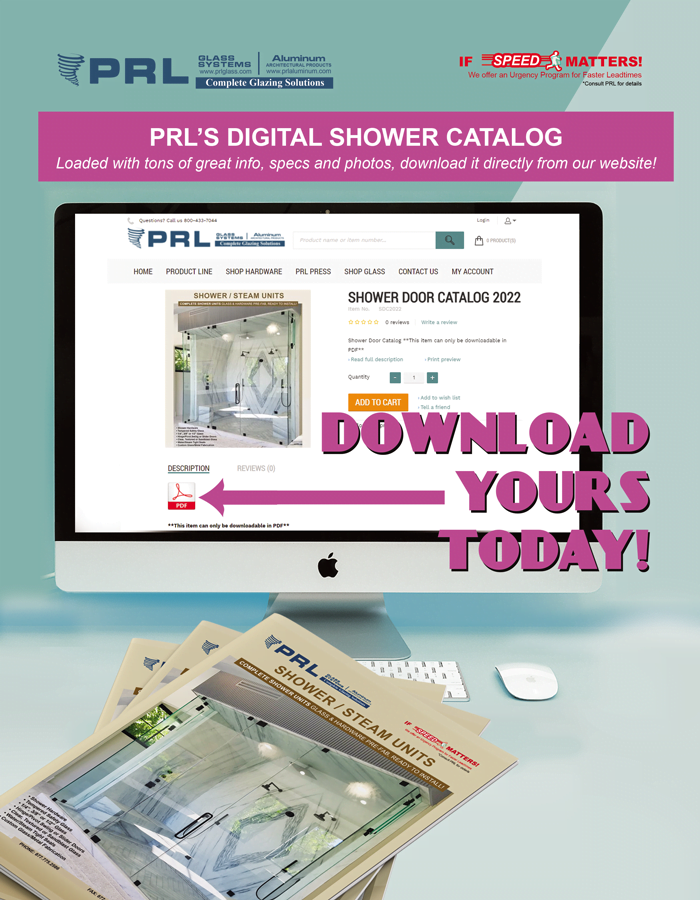 Get PRL's new shower catalog 2022. Browse our enclosures, hardware, handles and more. Showcasing our entire line of shower products, this is your guide of what we can do for you. In addition to brand new photos, our catalog includes all specs and features for each system. So, make shopping for your next shower project a snap. Read More...