(LEED) Leadership in Energy and Environmental Design
Listed in the tabs below are downloadable files to assist Architects and Design professionals with all your architectural building details, specifications and data.
PRL Glass Systems, Inc. is an accredited AIA continuing education provider. We generally provide this education at your facility as a "lunch and learn" 1 hour presentation. Our most popular and sought after presentation is our "Energy efficient fenestration products for Code, LEED and Sustainable use". Other subjects are available and can be customized for your specific needs.
Obtaining Leadership in Energy and Environmental Design points is a collaboration of trades, tradeoffs and whole building calculations which the design teams LEED professional must perform. PRL's roll in this process is to assist your LEED AP designer with valuable LEED information, conformation and technology.
As a Manufacturer of both Architectural Glass and Framing Systems, PRL is uniquely positioned to completely serve all your LEED point needs. We can, with complete confidence advice you on the suitability of complete products for your architectural building/glazing project. Please contact us to arrange for one of our technical representatives to serve you. 1-877-775-2586
PRL's 24/7 Online Quick Quotes and Orders program is intended to make quoting and purchasing quick and convenient. Purchase all your architectural glass and aluminum products online Today! ...Register Now.
PRL's BIM Content on ARCAT® - Architectural Building Information Modeling (BIM) objects / families / system files, free to download in revit or dwg formats for use with all major BIM and CAD software including AutoCAD, Sketch-Up, ArchiCAD and others. Formats: RFA- Revit Object | RVT- Revit System | DWG- AutoCAD, Sketchup - all cad software By downloading and using any ARCAT® CAD detail content you agree to the following [license agreement].
View all of PRL's Architectural Glass and Metal Products on ARCAT®.
Here you will find Videos on "How to Quote and Order" PRL's Architectural Glass and Metal Products Online as well as many other New videos surrounding our vast collections of glass and aluminum manufacturing and design capabilities. ...View and Subscribe to PRL's Youtube TODAY!
Cataloging our full lines of glass types and complete systems, PRL's 2018 Architectural Glass catalog puts shopping at your fingertips. Whether you're looking for inspiration, a specific component, or want to know more about our products, it's all in there. This catalog provides a wealth of information!
Our entire lines of glass types, complete systems and hardware including detailed information for:
Insulated, laminated, spandrel, fire resistant glass and more...
Entrance doors, aluminum & glass sliders, panic systems, shower doors and more...
Door headers, closers, rails, panic devices, deadbolts, door pulls and more...
For Complete Architectural Glass and Metal Specifications, Estimates and Orders
Please Feel Free to Contact Us Directly
Toll Free (800) 433-7044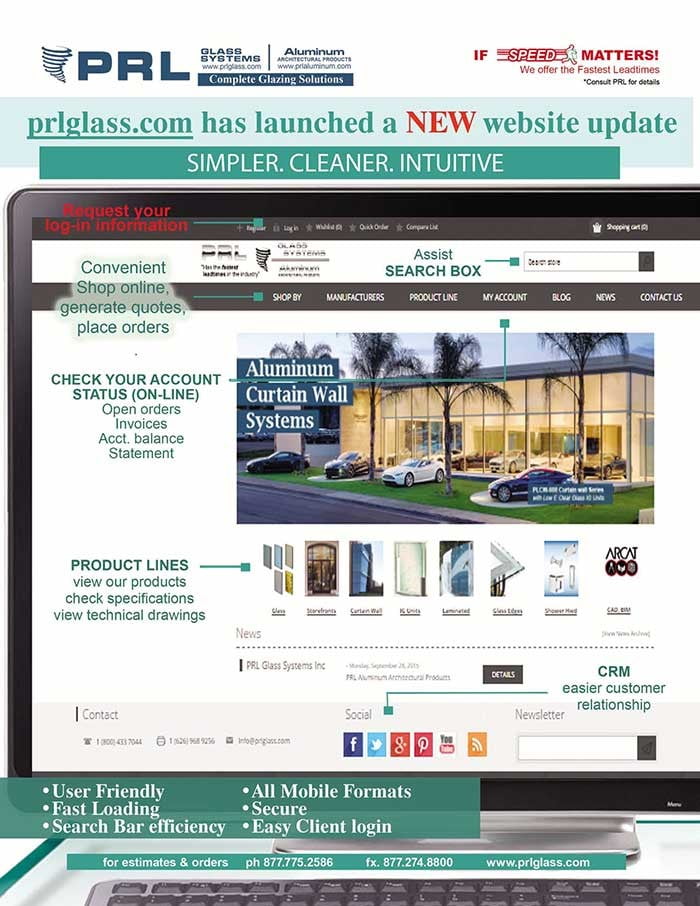 PRL is excited to announce the launch of our newly designed website! Our new website features a cleaner, streamlined, more organized design making it faster, easier to navigate, and more user friendly.
As a leader in the glazing industry our goal is to make information, services and ordering easily accessible and simple for our current and prospective clients. In doing so Read More...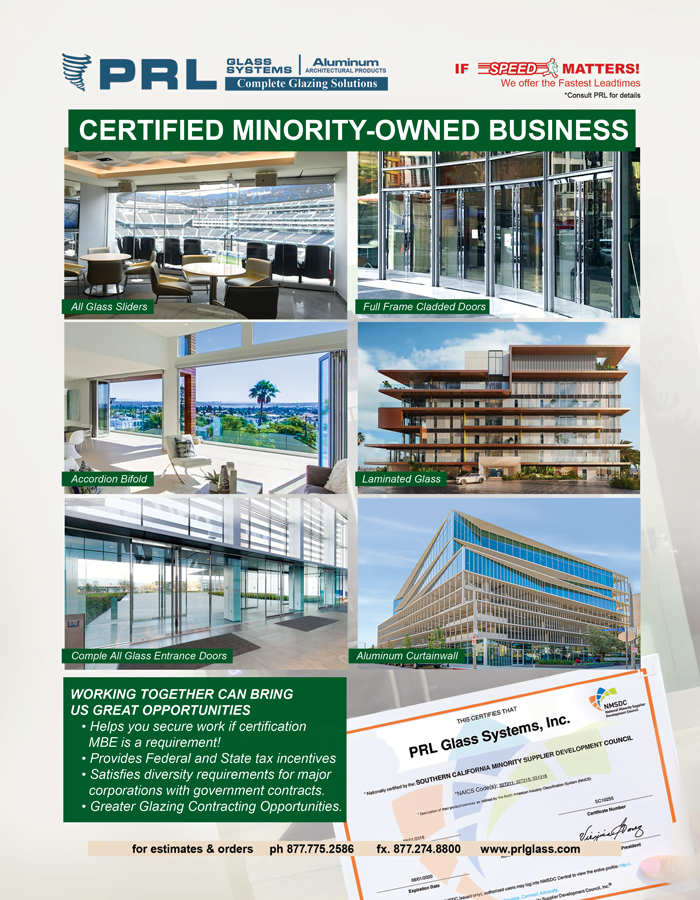 Need a certified MBE vendor? Read this article and see why you should team with PRL. Always placing our customers first, we answer your questions to help you discover the benefits. You'll find out what kind of jobs and tax incentives you can get as well as who gains from working with a Minority Owned vendor. And Read More...