(LEED) Leadership in Energy and Environmental Design
Listed in the tabs below are downloadable files to assist Architects and Design professionals with all your architectural building details, specifications and data.
PRL Glass Systems, Inc. is an accredited AIA continuing education provider. We generally provide this education at your facility as a "lunch and learn" 1 hour presentation. Our most popular and sought after presentation is our "Energy efficient fenestration products for Code, LEED and Sustainable use". Other subjects are available and can be customized for your specific needs.
Obtaining Leadership in Energy and Environmental Design points is a collaboration of trades, tradeoffs and whole building calculations which the design teams LEED professional must perform. PRL's roll in this process is to assist your LEED AP designer with valuable LEED information, conformation and technology.
As a Manufacturer of both Architectural Glass and Framing Systems, PRL is uniquely positioned to completely serve all your LEED point needs. We can, with complete confidence advice you on the suitability of complete products for your architectural building/glazing project. Please contact us to arrange for one of our technical representatives to serve you. 1-877-775-2586
For Complete Architectural Glass and Metal Specifications, Estimates and Orders
Please Feel Free to Contact Us Directly
Toll Free (800) 433-7044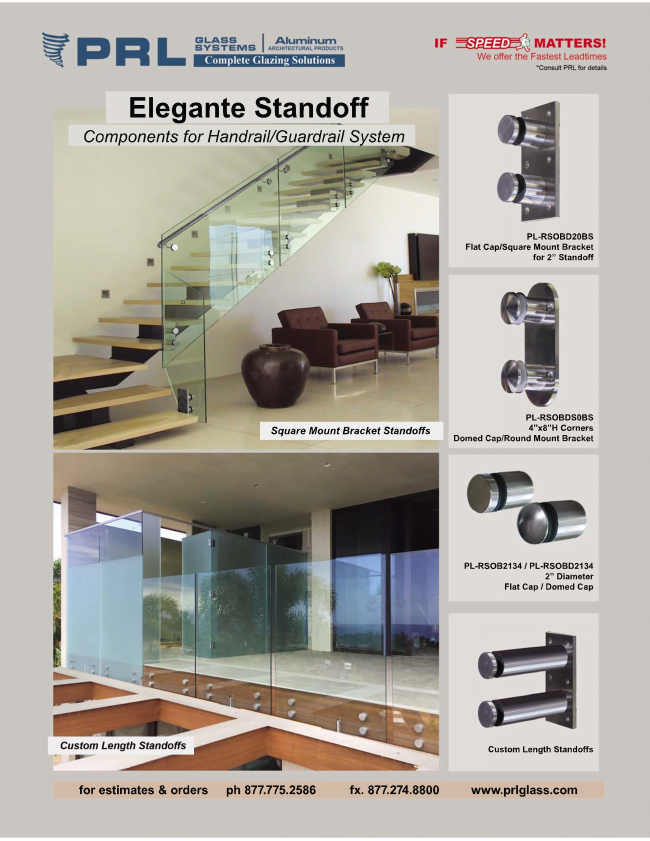 PRL "Elegante" Handrail and Guardrail Standoffs create elegant frameless heavy glass guardrails by eliminating the base shoe and allowing the glass to secure directly to the sides of the stringers or deck. Our 2″ diameter solid stainless steel standoffs are fabricated in-house of premium 304 or 316 alloy stainless steel. Where additional structural support is needed we provide ½" Read More...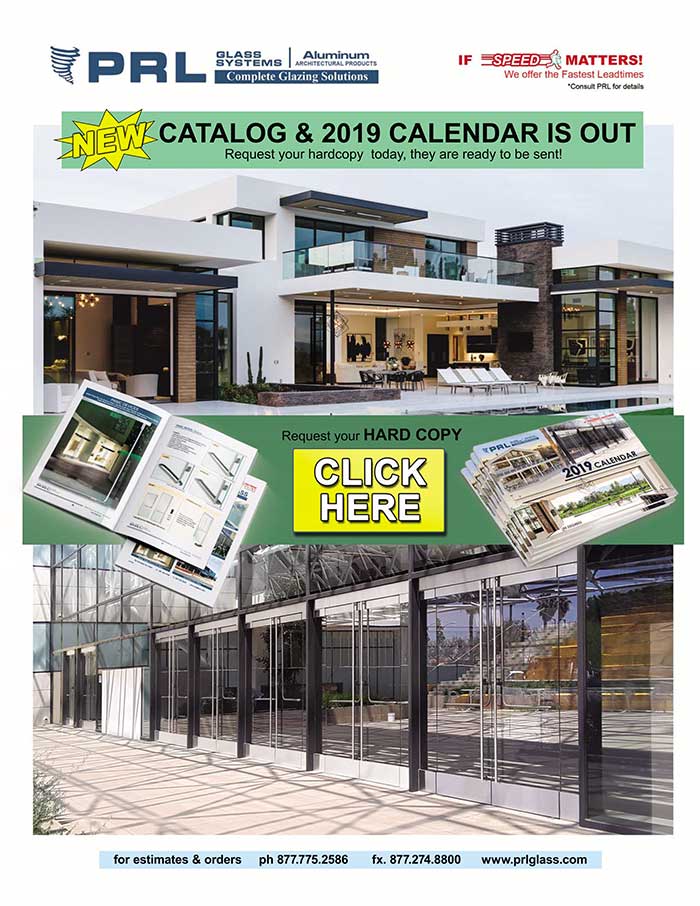 Start the new year out right with a New 2019 PRL Calendar. Featuring terrific monthly photos of our glass and aluminum products, our calendar will keep you organized while learning about all we have to offer.
Also, A must-have tool provides wealth of useful information is PRL's new 2018 Architectural Glass catalog request your hard Read More...