Aluminum Railings – Complete Guardrail and Handrail Systems
PRL's Infinity glass and aluminum railings provide for a variety of unique continuous top railing options all engineered for strength without losing view. Aluminum Railings are powder coated for environmentally friendly durability and are low maintenance, either color matched to your project or offered in a variety of standard or custom colors.
Aluminum Railings – Infinity Series
PRL's Infinity system is one of the most recognizable and economical in the industry for its unique design and ease of installation. Our aluminum top cap rails are the perfect solution when a maximum view and economy is desired. The Infinity aluminum railing uses 1/4″ and 3/8″ tempered glass or tempered laminated glass. This system is IBC approved to meet your specifications.
Custom aluminum railing can be designed to meet your project's needs, let PRL's skilled manufacturing and design teams create the perfect solution. This handrail system is designed to meet all North American Building Codes and in compliance with the American Disabilities Act (ADA), PRL'S full guard and continuous handrail is safe, strong, and stylish.
Custom bent handrail using PRL versatile Computer Numerical Controlled (CNC) bender is also available, continue reading about our Infinity Railing System.
2012 PRL Guardrail & Handrail Catalog
Architectural Glass and Metal Handrails
For Complete Architectural Aluminum Railing Specifications, Estimates and Orders
Please Feel Free to Contact Us Directly
Toll Free (800) 433-7044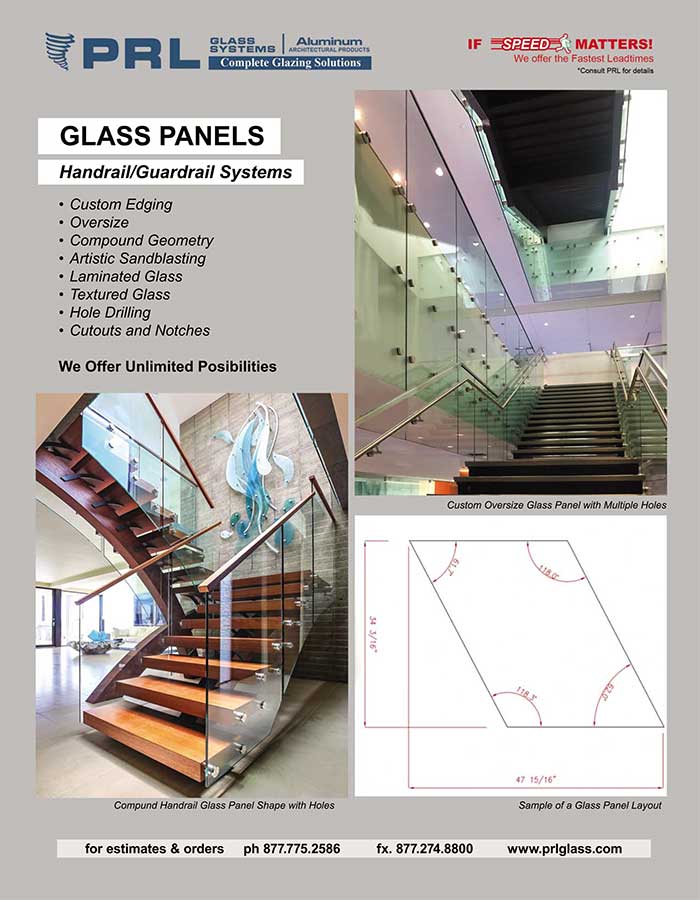 For an outstanding selection of handrail and guardrail glass, you can't beat PRL of Southern California. We offer a limitless supply of tempered and tempered laminated products for railing systems. Available in a large assortment of clear and decorative glass types, we can produce everything from oversized panels to captivating all-glass railing designs. Fabricating all glass products in-house with state-of-the-art Read More...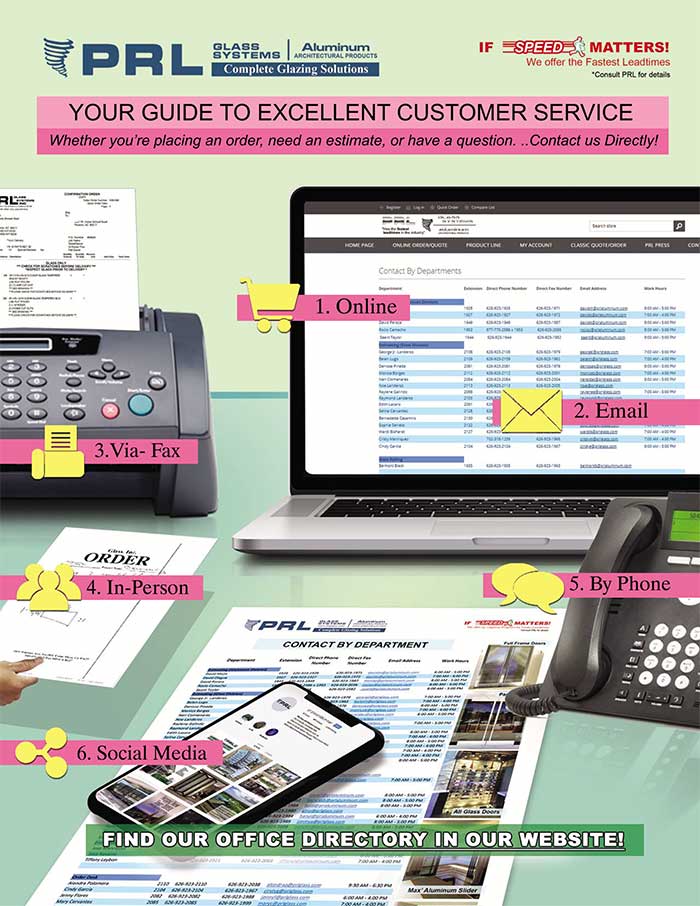 Get in touch with PRL easily by downloading our updated company directory. Your guide to first-rate customer service, this 2020 company directory contains all the contacts needed to get your questions answered. Whether you're placing an order, need an estimate, or have a question about our products or services, our company directory will route you to Read More...