Aluminum Railings – Complete Guardrail and Handrail Systems
PRL's Infinity glass and aluminum railings provide for a variety of unique continuous top railing options all engineered for strength without losing view. Aluminum Railings are powder coated for environmentally friendly durability and are low maintenance, either color matched to your project or offered in a variety of standard or custom colors.
Aluminum Railings – Infinity Series
PRL's Infinity system is one of the most recognizable and economical in the industry for its unique design and ease of installation. Our aluminum top cap rails are the perfect solution when a maximum view and economy is desired. The Infinity aluminum railing uses 1/4″ and 3/8″ tempered glass or tempered laminated glass. This system is IBC approved to meet your specifications.
Custom aluminum railing can be designed to meet your project's needs, let PRL's skilled manufacturing and design teams create the perfect solution. This handrail system is designed to meet all North American Building Codes and in compliance with the American Disabilities Act (ADA), PRL'S full guard and continuous handrail is safe, strong, and stylish.
Custom bent handrail using PRL versatile Computer Numerical Controlled (CNC) bender is also available, continue reading about our Infinity Railing System.
2012 PRL Guardrail & Handrail Catalog
Architectural Glass and Metal Handrails
For Complete Architectural Aluminum Railing Specifications, Estimates and Orders
Please Feel Free to Contact Us Directly
Toll Free (800) 433-7044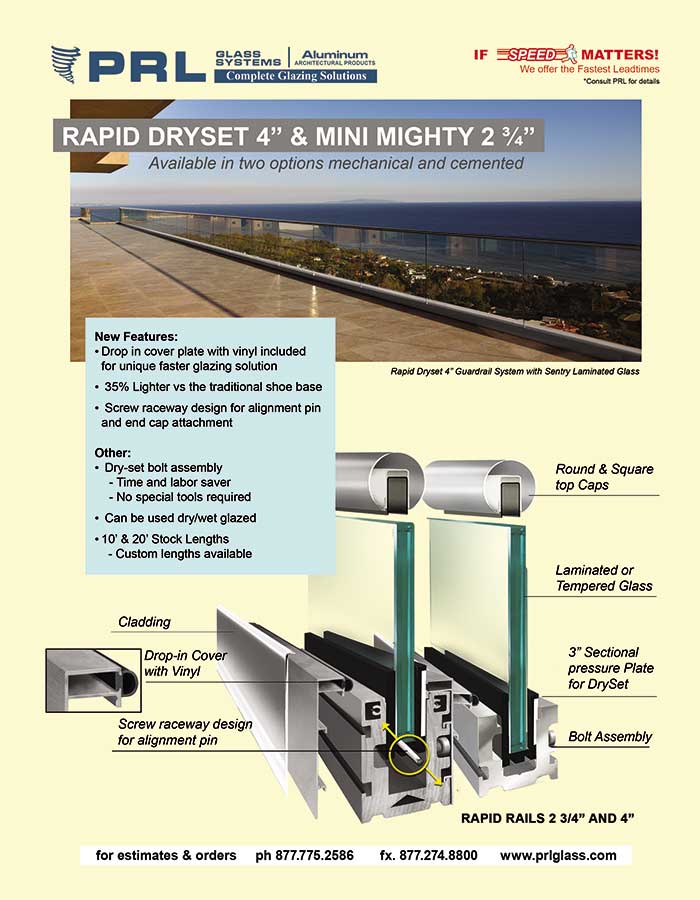 Order PRL's rapid dryset handrail base shoes to get in on the perks of our groundbreaking features. Suitable for mechanical or cemented applications, this product has a lot to offer. 35% lighter than the original heavy base shoe, these base shoes boast a higher strength and durability. Interchangeable drop-on covers make repairs a cinch, and our dryset design forgoes the Read More...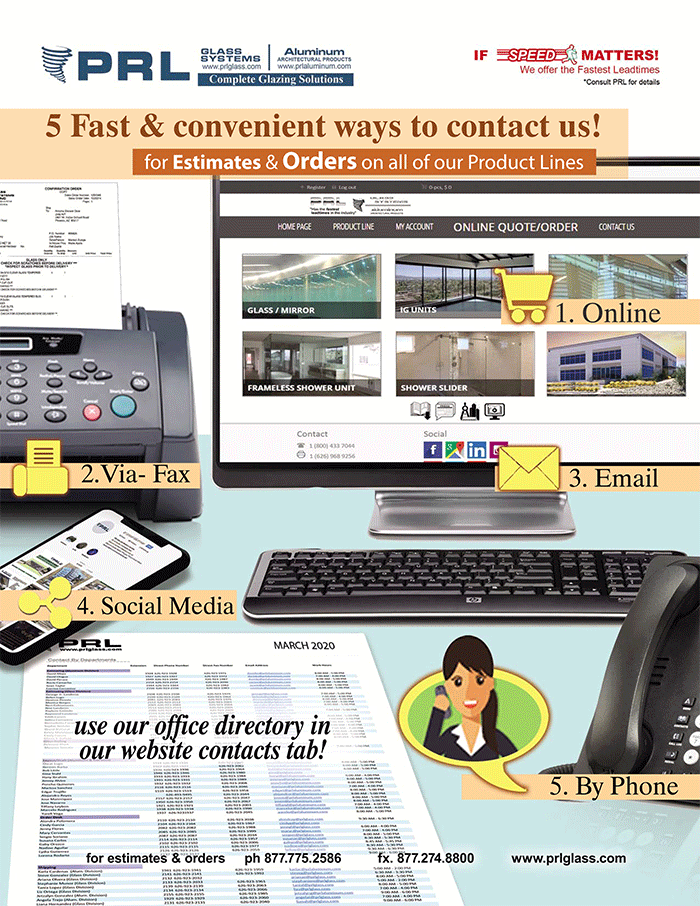 As part of the essential business construction sector, PRL is open in during the corona-virus stay-at-home order throughout California. Our office staff is working at full force throughout this pandemic to ensure you receive the glass and aluminum products you need.
Your business has great value to us so we're reminding you of a fast, convenient way to order and quote Read More...