Panic System Specifications & Test Results
Stronger Than the Competition
Tested to 2.0 million cycles, PRL's tubular panic devices are the strongest on the market. To eliminate the potential of fire exit doors being forced open from the exterior when locked, our panic devices have been designed with stronger components than other manufacturers similarly designed push pads. Additionally, PRL's improved the cylinder design to resolve keys jamming in the lock housing, which occurs on other manufacturer's panic devices.
Panic Device Specifications: Finishes, Doors & Glass Thicknesses
Crash Bar Specifications:
Tubing: 1 ¼" round or square
Glass Thicknesses: ½" & ¾"
Rail/Metal: 1 ¾"
Material: Stainless steel
Panic Device Finishes:
Brushed & polished stainless steel
Satin & polished brass
Oil rubbed bronze
Powder coats & Kynar paints
Recommended Door Sizes:
Glass Thicknesses: ½" & ¾"
Exterior: 96″ & 102″
Interior: 102″ & 108″
Width: 48″
Applicable Doors & Glass Thicknesses:
All-glass doors: ½", 5/8″ & ¾"
Full framed cladded doors: ¼" – 1 ¼"
Ultra-narrow cladded doors: ½" – ¾"
Aluminum doors: ¼" – 1″
Can Be Used on Taller Doors Up to 120″ Tall!
Using the F-style exterior handle and ¾" thick glass, PRL's panic devices can be used on doors up to 120″ tall. The F-style exterior handle is a full height tubular bar that runs from the top of the door to the bottom, in line with the push pad's vertical rod. This adds rigidity and strength to the glass door reducing deflection. To compensate for the height of the panic device on taller doors, we've implemented stronger design methods.
Panic System Specifications: Handles & Strikes
F-Style Exterior Handle:
To ensure compliance with A.D.A regulations, local city codes should be verified prior to specifying the F-style exterior handle. Some state's handicap codes prohibit exterior handles to extend beyond 10″ from the bottom of the door. To be in compliance with A.D.A. regulations, the F-style handle can be held 10″ above the bottom of the door to accommodate wheelchair access.
Panic Pull Handle Tubes:
1 ¼" diameter with .083 wall thickness. All moving mechanisms are made of 303 stainless steel and 360 brass where no stress is implemented.
Manual Strikes:
Made of 303 stainless steel in satin and polished finishes. Mounting bars for electric strikes are made from 6063T5 aluminum clad in stainless steel or brass.
Electric Strikes:
Folger Adams 310-1 electric strikes are supplied with panic devices as a standard when electric strikes are specified. Some customers choose to supply their own. It is imperative that the function of the lock is specified in accordance to the building specification.
Non-Fail Safe Strikes:
The most common strike is a non-fail safe strike which remains locked when the power fails (24VAC is standard). On the fail-safe model, when power is applied, the solenoid pushes the locking cam into the locking position and the door
cannot be opened. If the power fails the strike will unlock. This allows access to the building from the exterior in the event of a power failure.
All fail-safe strikes operated by DC solenoids are silent operation. For this reason, it's important the type of strike is determined during the specification phase.
Panic System Specifications: Hardware Installation Conditions
Headers:
A 1 ¾" x 4″ or 4 ½" header can be used with panic devices when an electric strike is used. However, a portion of the strike will be exposed. To eliminate this condition, a 6″ wide header can be utilized concealing the entire strike. If a smaller header is used, the exposed part of the strike is clad to match the header finish.
Door Jamb Conditions:
When installing an exterior horizontal handle, door jamb conditions may become an issue.
Exterior Handles Hitting Door Jambs:
When the door opens, the exterior handle may hit the door jamb if it's too wide. To circumvent this issue, reduce the width of the horizontal bar by adjusting it closer toward the leading edge of the door.
Perpendicular Installation:
If the jamb is a wall that is perpendicular to the door, adjust the pivot point to 3 ½" to allow the horizontal bar to clear the wall.
Code Violation Note: This adjustment will reduce the opening of the door, making it a code violation. To prevent code violations, door openings must be wide enough to allow for a 32″ clear opening when the door is fully opened. It is imperative this condition is addressed during the design phase.
It is advisable to use a no-hold open closer. This will allow the door to return to a closed position, thus locking the door.
Panic Device Test Results
PRL's crash bars have been tested in accordance to the American National Standards for Exit Devices, ANSI (American National Standards Institute), BHMA (Builders Hardware Manufactures Association, Inc.), A156.3-2008 (Grade 1) and UL305 (Underwriters Laboratories) Standard for Safety Panic Hardware.
A156.3-2008:
Type of hardware tested in accordance with 2008 codes.
Grade 1 Cycle Test:
Panic devices must go through 500,000 cycles of operation without failing. PRL's push pads passed.
Understanding Panic Device Test Results:
There are 6 types of Stress Tests that must be completed once the Cycle Test is passed. After each test is completed, the inspector applies a force gauge to the actuator bar and it must open at all times with a maximum force of 15 lbs.
These are the maximum abuse tests crash bars must pass before they can carry the UL label. PRL's panic devices are fully certified and approved by UL.
PRL Panic Device Test Results:
Exit Test:
With the door latched, a force is applied to the actuating bar not to exceed 15 lbs.
Passed at 7.5 lbs.
Pull Test:
With a force of 250 lbs. applied to the exterior bar, a force is applied to the actuating bar not to exceed 50 lbs.
Passed at 35 lbs.
Extended Pull Test:
With an exterior horizontal pull force of 400 lbs. applied to the door at the direction of the swing of the door, the door should not open.
Passed at 450 lbs.
Inside Pull Test:
With the interior horizontal force of 400 lbs. applied to the actuating bar in the opposite direction of the door swing, no damage shall be apparent.
Passed.
Push Test:
With the bar free and the door secured and a force of 400 lbs. applied to the actuating bar in the direction of the door swing, no damage shall be apparent.
Passed.
Force to Latch Door:
With the door closer disconnected, the door must latch with a force of not more than 4.5 lbs.
Passed at 3.5 lbs.
Make Your Panic Devices Count by Counting on PRL!
Quote panic devices at PRL of Los Angeles County! Delivering premium quality products since 1989, we just add up to better.
For Complete Panic Device Hardware Specifications, Estimates and Orders
Please Feel Free to Contact Us Directly
Toll Free (800) 433-7044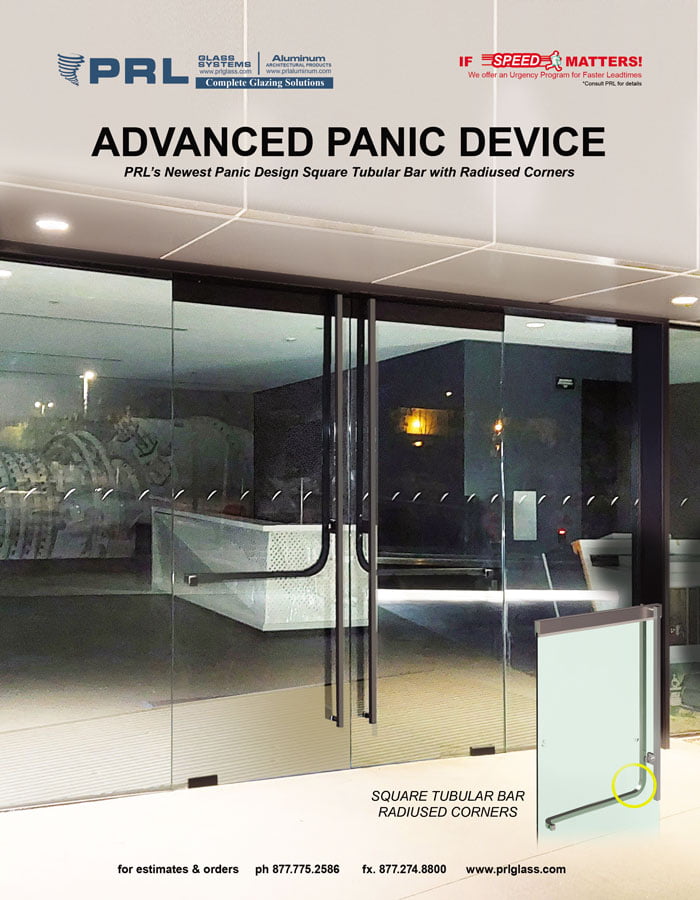 Specify PRL's Advanced panic device! This L-shaped interior crash bar accommodates heavy glass doors up to 120" tall. No wonder we're the go-to fire exit supplier on the West Coast. Crafted with square tubing and radius corners, our panic devices looks beautiful on life-safety egresses. Order yours now! You'll be glad you did. Great for many door styles, you can Read More...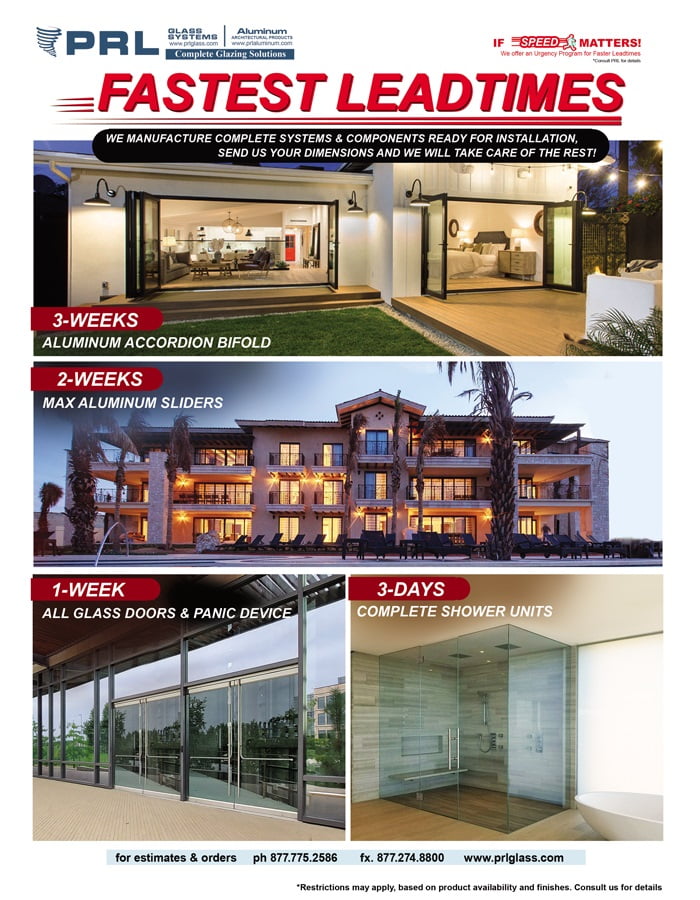 Don't miss out! Right now, you can get the fastest lead times on everything at PRL. That's right! Our entire inventory all product lines, glass lines, and hardware lines are now available with the fastest lead times in the industry! So, hurry and quote those last-minute jobs. Now you can meet their deadlines! Whether your project is a panic system Read More...