Commercial Glass Door Specialties
PRL Glass manufactures custom commercial glass door specialties, pulls and handles to your specifications to compliment each and every Glass and Aluminum Entrance Door System we offer. We manufacture Commercial Door and Specialties such as: All Glass Door Systems, Commercial Full-Frame Clad Doors and Specialties as well as Commercial Sliding Doors and Aluminum Swing Doors Specialties. Our most popular All Glass Commercial Door and Specialties is our P Style with continuous rails top and bottom. Our PL150 tapered rails will comply with ADA codes in most locations. We carry various types of tempered glass colors such as clear, bronze, gray, and low iron.
PRL also fabricates Monumental Style Full-Frame Clad Doors.
We offer 3″ Narrow Stile, 4″ Medium Stile and 5″ Wide Stile (nominal sizes), available to meet your design specifications. We provide you with the complete system including the doors, perimeter framing and all necessary hardware to complete the entrance system. We can also sandblast your corporate name and logo onto your entrance door. PRL can provide you with many glazing solutions, specialties to exceed all your specifications needs.
Simply supply us your Dimensions and let us take care of the rest Toll Free 800-433-7044.
2013 Easy Lock Ladder Pulls Catalog
For Commercial Glass Door Specifications, Estimates and Orders
Please Feel Free to Contact Us Directly
Toll Free (800) 433-7044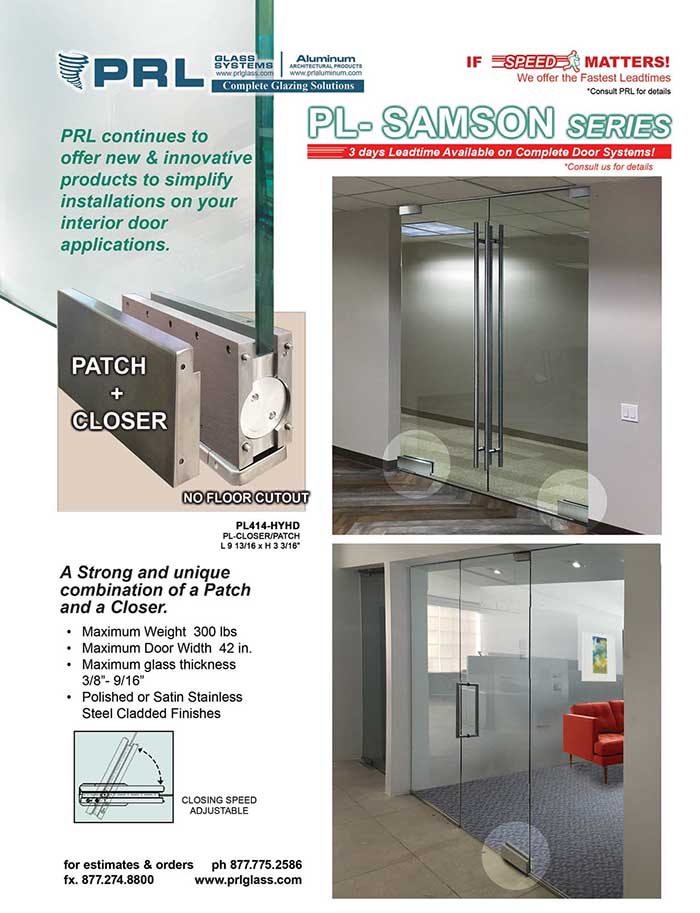 The ever-growing popularity of our samson hydraulic door patch closer has been great hit for use on PRL Frameless Glass Doors. This is just another example of PRL's commitment to provide innovative, economical solutions for our customer's interior glazing applications.
PRL's heavy duty Samson Patch Fitting Closer is not only a patch fitting, but a patch fitting and a closer- all Read More...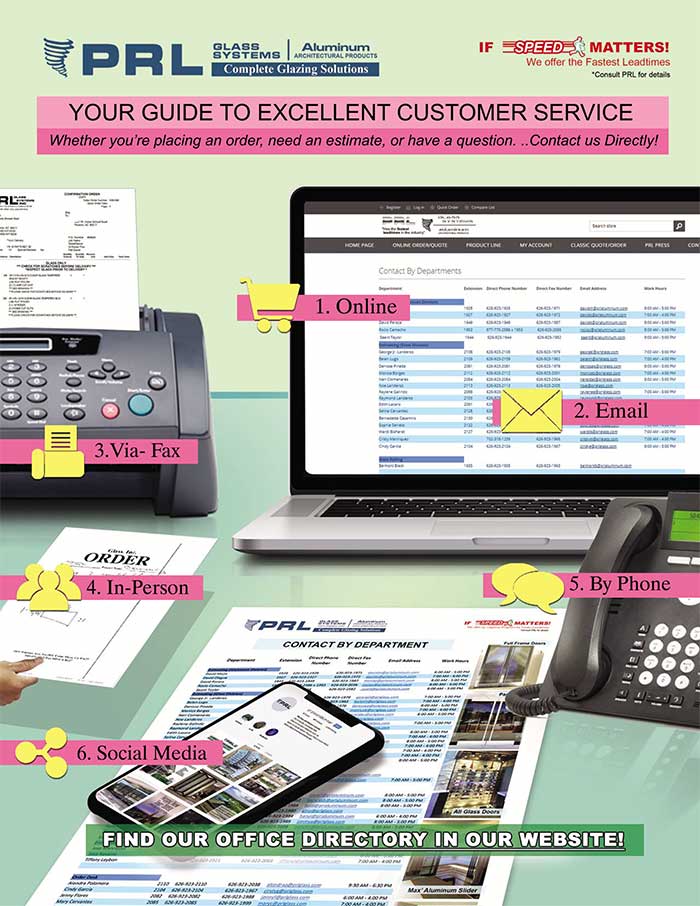 Get in touch with PRL easily by downloading our updated company directory. Your guide to first-rate customer service, this 2020 company directory contains all the contacts needed to get your questions answered. Whether you're placing an order, need an estimate, or have a question about our products or services, our company directory will route you to Read More...