Glass Door Headers and Rails
PRL Dry-set sidelight (fixed panels) door rails are designed to capture 3/8″ and 1/2″ as well as 5/8″ and 3/4″ glass. Dry-set glass door headers are designed to capture 1/2″ glass. Tempered glass is set into door rails and headers with a dry glaze method using EPDM compression vinyl for a perfect fit, making your installation fast and easy with no need for wet glazing.
Sidelight Headers and Rails
Come in standard architectural finishes such as clear or dark bronze anodize, satin or mirror polish stainless steel clad aluminum, satin or mirror brass clad aluminum and custom colors upon your request.
Sidelight pocket headers are available in 1-3/4″ x 4″ and 1-3/4″ x 4-1/2″ and 2 x 4-1/2″. These headers are especially designed with a deep pocket for "up and down" glazing of the glass in the field. The glass "snap-in" pocket filler comes complete with roll-in gasket. For glass other than 1/2″ thick, the tempered glass can be field silicone glazed into the pocket. Because all of our door headers are extruded and fabricated in house, custom size "built up" headers can be fabricated to your door specifications. When it comes to frame systems we can extrude, fabricate and clad whatever shapes and sizes you require.
Sidelight dry-set rails range from 4-1/4″ to 10″ in height, with tapered or square profiles to match your doors. Custom size/stacking modifications are also available upon request to accommodate special design requirements. Sidelights are available with continuous horizontal rails top and bottom, at the top only, or at the bottom only. PRL provides setting tracks for securing sidelight rails to the structure and to align with adjacent doors rails.
Simply supply us your entrance door system, headers and rails specifications and let us take care of the rest Toll Free 800-433-7044.
Nu Vision Entrance Systems Catalog
For Glass Door Header Specifications, Estimates and Orders
Please Feel Free to Contact Us Directly
Toll Free (800) 433-7044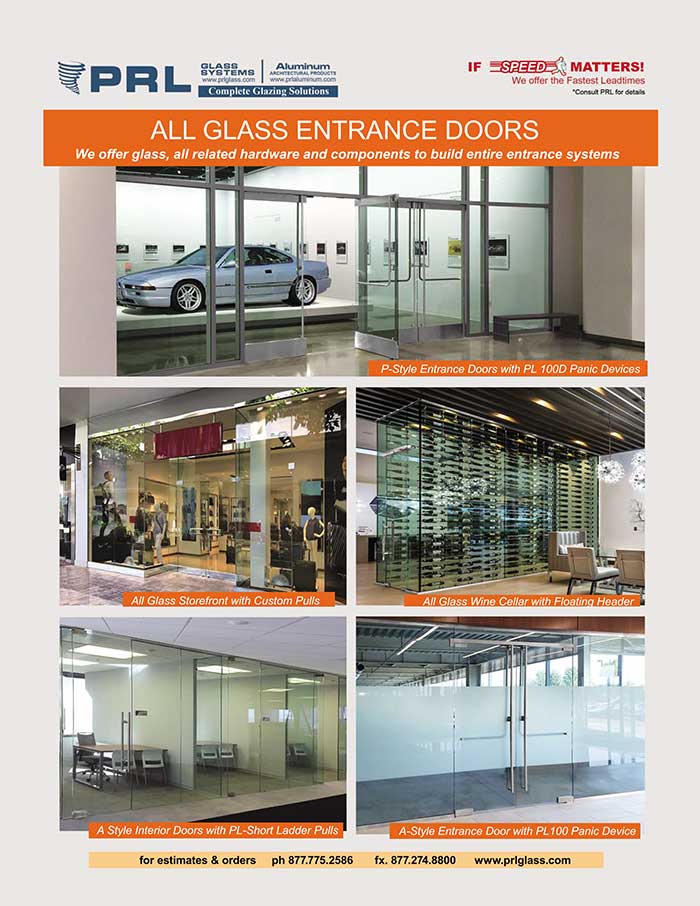 For the best in all-glass entrance doors, check out PRL Glass & Aluminum. We furnish a wide range of standard heavy glass door styles, unlimited customizations, and complete entrance systems. Designed for interior and exterior access ways, this product makes for stunning entrances. Carrying full lines of hardware in stainless steel, brass, anodized and painted metal finishes, our all-glass entry Read More...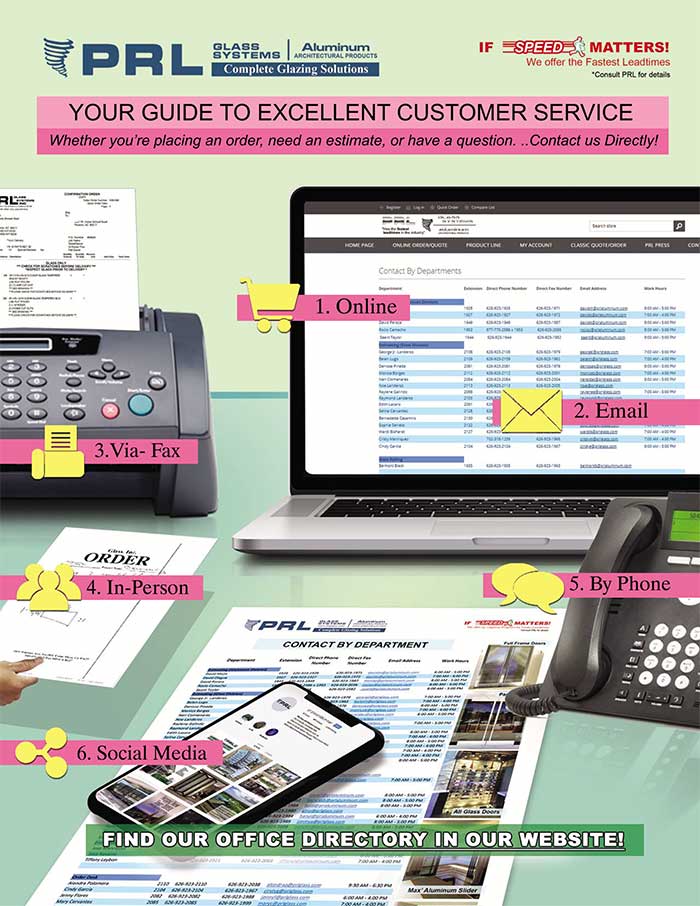 Get in touch with PRL easily by downloading our updated company directory. Your guide to first-rate customer service, this 2020 company directory contains all the contacts needed to get your questions answered. Whether you're placing an order, need an estimate, or have a question about our products or services, our company directory will route you to Read More...