Spandrel Glass.
Opaque Colors for Architectural & Decorative Projects
Need opaque colored glass for architectural or decorative projects? Bid PRL of Los Angeles County's spandrel glass. Practical or ornamental, these coated panels can be used in vast applications. Not only does their opaqueness offer privacy, but you can specify limitless shades to complement décors. We render spandrel sheets in multiple sizes, thicknesses and glass types. Combining the finest coatings with the finest glass fabrication, you're assured a premium quality product. Striking in tabletops, cubical panels and wall cladding, spandrel glass also looks terrific in entry doors, handrails and more.
All About Spandrel Coatings. Get In on Their Benefits!
We produce all spandrel glass in our facility. Using ICD's materials, we apply their OPACI-COAT 300® coatings to sheets of glass we generate ourselves. These opaque films are water-based elastomeric coatings that resemble colored paints. As a certified ICD applicator, we apply them in a controlled environment with specialized equipment. These paints are sprayed or roller-coated onto glass panels for even, smooth application. To meet your contract needs, spandrel glass can be ordered with single or double coatings to achieve your desired opacity.
Architectural or decorative, spandrel glass has many benefits. Did you know ICD's silicone paints satisfy the criteria for safety glazing? That's right. This rubber-like material will replace your need for taping or applying scrim films. And, naturally opaque, spandrel is ideal for camouflage and privacy. Perfect for room dividers and shower partitions, it's also great for multi-story commercial buildings. These tinted panels will hide mechanical components between floors and provide discretion where needed.
Looking for maintenance-free kitchen and bath surfaces? Spandrel glass is your solution! Since these sheets have no grout where mold and mildew can hide, this means less scrubbing for your clients. Available in a boundless array of shades, spandrel glass makes for beautiful backsplashes, countertops and shower enclosure splash back walls. And, if you request Diamond Seal glass coating, it will protect your surfaces and keep them looking new longer.
Glass Types, Colors & Fabrications. We Supply It All!
Spandrel glass coatings can be used on a variety of annealed, tempered, and high performance products. In addition to clear and mirrored panels, these opaque paints can be applied to IG units and low E glass for greater energy efficiency. They can also be used on tinted and reflective sheets to eliminate banding effects on their vision sides. Applied to the backside of glass, you can select complementary spandrel hues to match the front side of either glass type.
We stock 16 standard spandrel glass colors and supply infinite custom shades from ICD. They can even color match to your sample so we can apply the films in-house. Standard hues ship around 3-4 working days and include ranges of blues, greens, whites, blacks and grays. Custom tints arrive in about 2 weeks and can be rendered in purples, coppers, reds and more. Interior or exterior, architectural or decorative, we have a spandrel glass paint for you!
We manufacture spandrel glass sheets in numerous sizes and thicknesses. Made to your field conditions, our experts can also accommodate nearly any customization for businesses and homes. These coated panels can be purchased in sizes up to 110″ x 198" and thicknesses up to ¾". Some exceptions may apply. Please call for details. For customizations, we craft spandrel glass sheets in diverse shapes, with custom cut-outs, and unrivaled flat polished and mitered edges. No wonder we're the first choice amongst architects and installers on the West Coast!
Spandrel Glass: Opaque Colors, Types, Applications & More
PAINT COLORS:
In-Stock Standard Shades:
Lead Times: Approx. 3-4 working days
Harmony Bronze, Lava Bronze & Neutral
Charcoal, Black, Black-Gray & Warm Gray
Harmony Gray, Medium Gray & Harmony Solex
Harmony Blue, Evergreen & Harmony Graylite
Light White, Snow White & Primary White
ICD's Custom Hues:
Lead Times: Approx. 2 weeks
Fjord blue & purples
Coppers, reds & more!
GLASS TYPES:
Architectural & Decorative:
Clear tempered & annealed
Low iron & mirrored
Performance:
IG & low E
Tinted & reflective
SPANDREL APPLICATIONS:
Entrance doors & storefronts
Windows & glass surrounds
Curtainwall infill panels
Vertical glazing & wall cladding
Cubicles & room dividers
Handrail & guardrail panels
Fencing, gates & wind walls
Table tops & countertops
Kitchen & bath backsplashes
Shower unit splash back walls
Glass shower partitions
SHEET SIZES & THICKNESSES:
Sizes (Pending Application):
60" x 120"
110" x 198"
Thicknesses (Pending Application):
¼" & 3/8"
½" & ¾"
Buy Spandrel Glass at PRL! Snag Opaque Colors for Architectural & Decorative Projects
Sold in an endless collection of opaque colors, these coated panels are ideal for heaps of architectural and decorative projects.
Quick Product Photo Gallery
For Specifications, Estimates and Orders
Please Feel Free to Contact Us Directly
Toll Free (800) 433-7044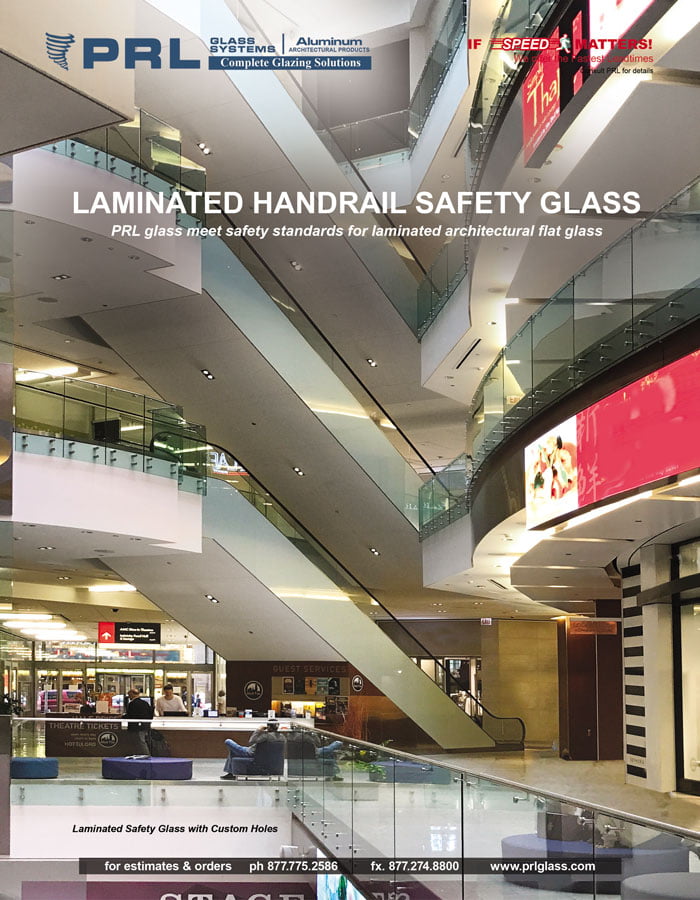 Need glass railing panels customized for your next project? Shop at PRL! Performing the finest glass fabrications with laminated safety glass. Meet the aesthetics and all the safety codes. You can quote oversized handrail panels with custom edging, compound geometric shapes, sectional glass balusters, and more. Offered in diverse glass types, sizes, and thicknesses, our glass guardrail panels are ideal Read More...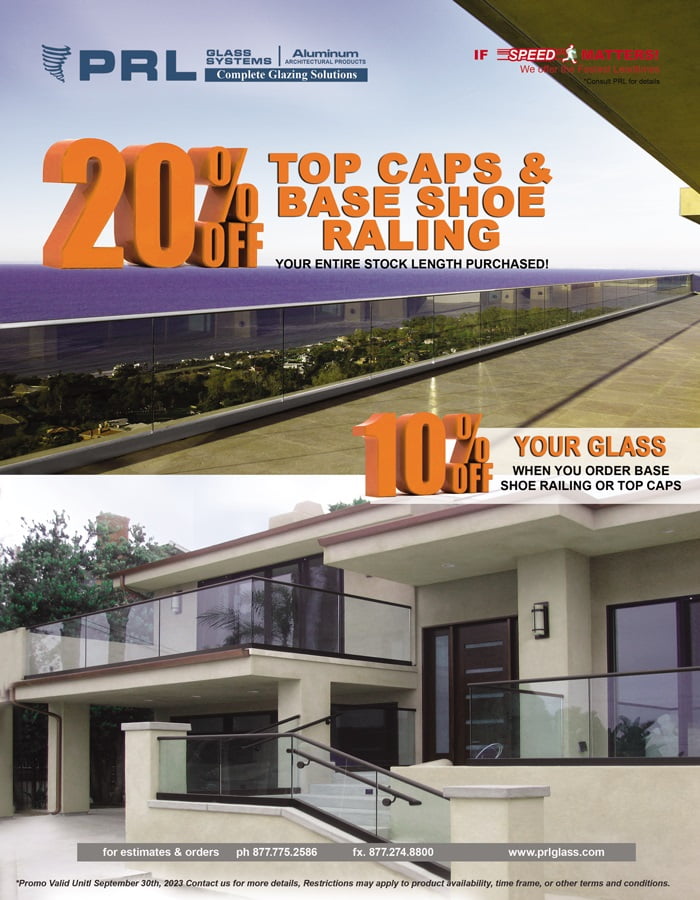 THE MORE YOU BUY, THE MORE YOU SAVE!
Shop base shoes and top caps at PRL. Like never seen before 20% discount on all Stock Length Base Shoe and Top Caps!* We'll price match** these handrail components from our competitors. Also offering technical support and a wide range of services, we can meet your railing needs. 35% lighter Read More...