Spandrel Glass – OPACI-COAT 300® from ICD
We at PRL Glass Systems are always improving our product lines to offer you the best and most up to date innovations in the glass industry including Spandrel Glass. Thanks to the advanced technologies of today and the known affinity of silicone to glass there is now an economic, water-based elastomeric coating that provides the optimum in glass opacification – OPACI-COAT-300®
This spandrel process allows the choice of any type of flat, bent or block glass.
Since OPACI-COAT-300® is applied without heat at the final stage of the glass spandrel fabrication process it can be used with equal effectiveness on annealed, heat-strengthened, fully tempered, clear or high performance reflective products. Tinted or reflective glass colors can be harmonized or matched to eliminate any "banding" effect even on high visible transmission glass.
OPACI-COAT-300® is a water base silicone rolled coated glass coating product that is supplied as flowable, thixotropic emulsion. Upon evaporation of water, the applied coating will cure to a tack-free silicone elastomeric film which provides opacification in any color to glass and related construction materials.
For your convenience, we also offer free color matching on virtually any color. We can also use your color sample as a reference to achieve your ideal color. OPACI-COAT-300® gives us unlimited colors your coated glass may be specified in most any color found on a color chip, no matter how bright or vivid. An average project can become an architectural masterpiece
PRL Glass has the fastest lead times in the industry.
Standard color lead time is approximately 2-3 working days.
Custom color lead time is approximately 2-weeks.
The lead-times are just an estimate only (consult one of our sales representatives for accurate lead time)
Quick Product Photo Gallery
For Complete Spandrel Glass Specifications, Estimates and Orders
Please Feel Free to Contact Us Directly
Toll Free (800) 433-7044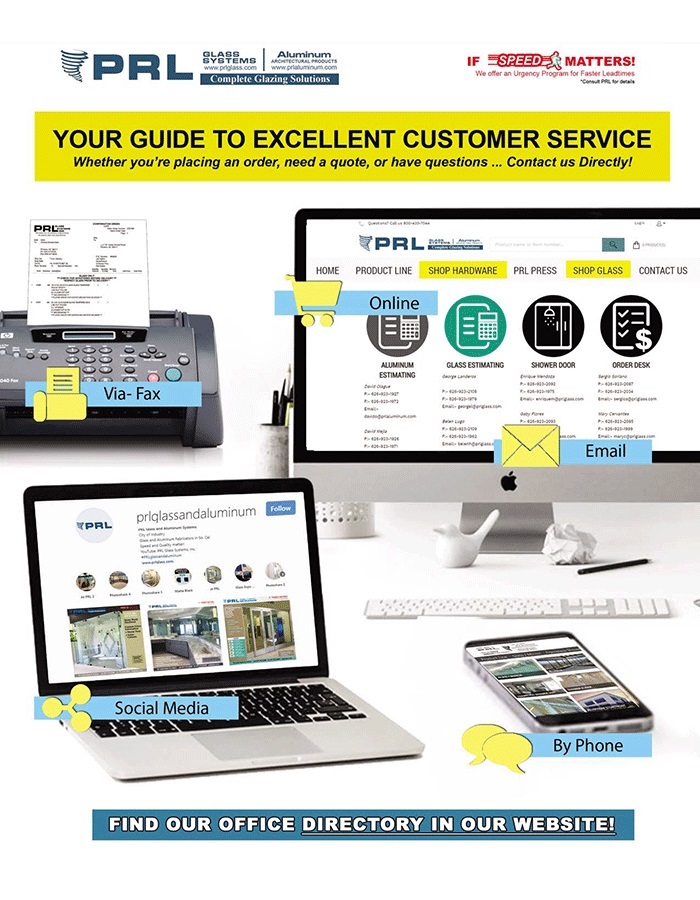 Search PRL 2021 company directory and find the contacts you need. Updated on our new website, it points you to the department to get your questions answered. Want info about one of our products? Have inquiries about orders or billing? Organized by division, our directory is easy to navigate. Learn how below!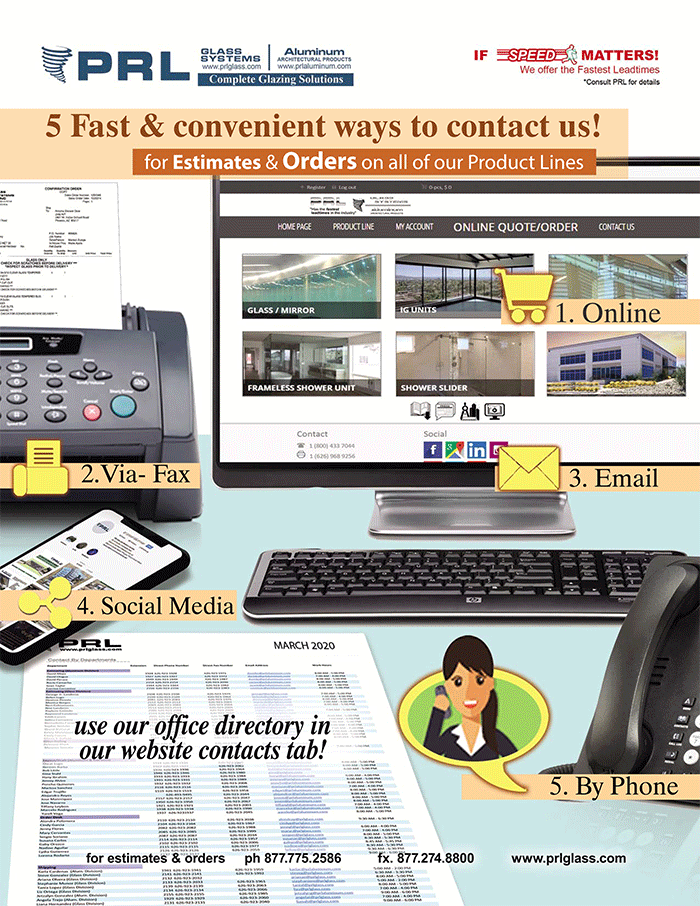 To our will call and walk-in order customers,
In accordance with the new Los Angeles County COVID-19 mandate, PRL has revised our guidelines for our will call customers. Our will call hours are Monday- Saturday. Effective Friday, April 10th all customers and employees will be required to wear face masks or face coverings while in our facilities.
To help protect the health Read More...