Architectural Glass Entrance Doors
PRL Glass Systems, Inc. steady growth has been sustained by the increasing customer trust gained from more than 25 years of unequaled service in the Architectural Metal and Glass Entrance Systems Industry. This customer confidence consequently has created strong ties with Architectural Design Professionals, Builders, Glazing Contractors and Furniture Manufacturers.
As PRL continues to offer an unparalleled level of service, outstanding quality standards all with the fastest production lead-times in the industry. We pride ourselves in continuously introducing new complete services and architectural products that range from single door to complex architectural glass entrance doors and systems.
Included among our extensive entrance systems:
All Glass Sliding Door Systems
Full Framed Clad Entrance Door Systems
Aluminum Storefront Systems
Commercial Interior and Exterior Grade Aluminum Sliding Door Systems
Please visit our Max Sliding Glass Door Catalog, 2011 Architectural Glass and Metal Catalog and our complete 2008 Architectural Glass and Metal Catalog as an aid for you and your customers (homeowners, architects/GC's) to get familiarized with all our entrance systems and extensive specialty product lines.
Our mission is to simplify your purchasing by offering you all of your systems, products and hardware all from one source, Simply supply us your specifications and we will take care of the rest.
Nu Vision Entrance Systems Catalog
For Complete Architectural Glass Entrance Doors and Specifications, Estimates and Orders
Please Feel Free to Contact Us Directly
Toll Free (800) 433-7044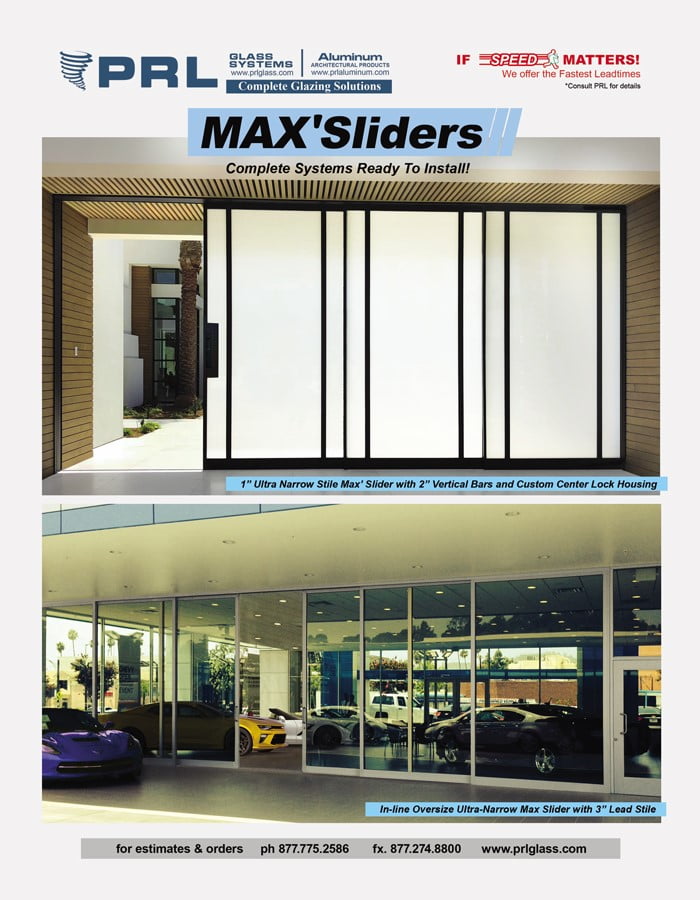 Shop PRL's Ultra-Narrow Max Aluminum Sliders. Our exterior sliding doors have a lot to offer. Rendered in-house in several sliding configurations, these moveable walls meet many project needs. We build Max sliders with durable aluminum frames and sleek 1" vertical stiles. Accepting 1 1/8" IG units, our multi-panel doors grant outstanding sound control, wind and water protection. Read More...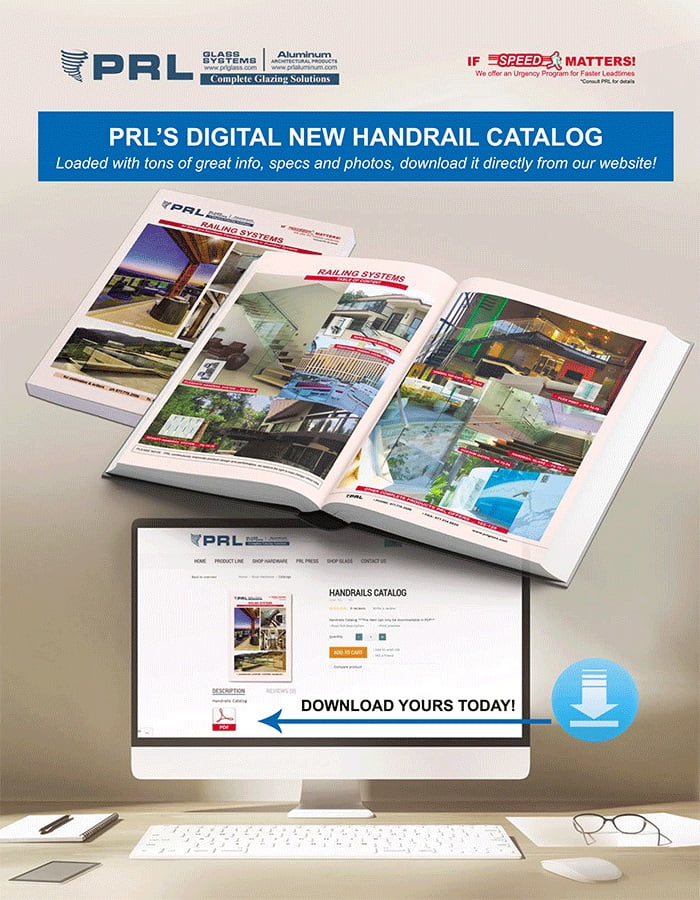 Download PRL's new Digital Handrail catalog! Find out everything you need to know about our systems, components, protective shields and more. Including our entire inventory of railing products, this catalog is a must-have. Loaded with tons of great info, specs and photos, you'll be on your way to designing fabulous projects for your customer's home or office in no time. Read More...