Architectural Glass Entrance Doors
PRL Glass Systems, Inc. steady growth has been sustained by the increasing customer trust gained from more than 25 years of unequaled service in the Architectural Metal and Glass Entrance Systems Industry. This customer confidence consequently has created strong ties with Architectural Design Professionals, Builders, Glazing Contractors and Furniture Manufacturers.
As PRL continues to offer an unparalleled level of service, outstanding quality standards all with the fastest production lead-times in the industry. We pride ourselves in continuously introducing new complete services and architectural products that range from single door to complex architectural glass entrance doors and systems.
Included among our extensive entrance systems:
All Glass Sliding Door Systems
Full Framed Clad Entrance Door Systems
Aluminum Storefront Systems
Commercial Interior and Exterior Grade Aluminum Sliding Door Systems
Please visit our Max Sliding Glass Door Catalog, 2011 Architectural Glass and Metal Catalog and our complete 2008 Architectural Glass and Metal Catalog as an aid for you and your customers (homeowners, architects/GC's) to get familiarized with all our entrance systems and extensive specialty product lines.
Our mission is to simplify your purchasing by offering you all of your systems, products and hardware all from one source, Simply supply us your specifications and we will take care of the rest.
Nu Vision Entrance Systems Catalog
For Complete Architectural Glass Entrance Doors and Specifications, Estimates and Orders
Please Feel Free to Contact Us Directly
Toll Free (800) 433-7044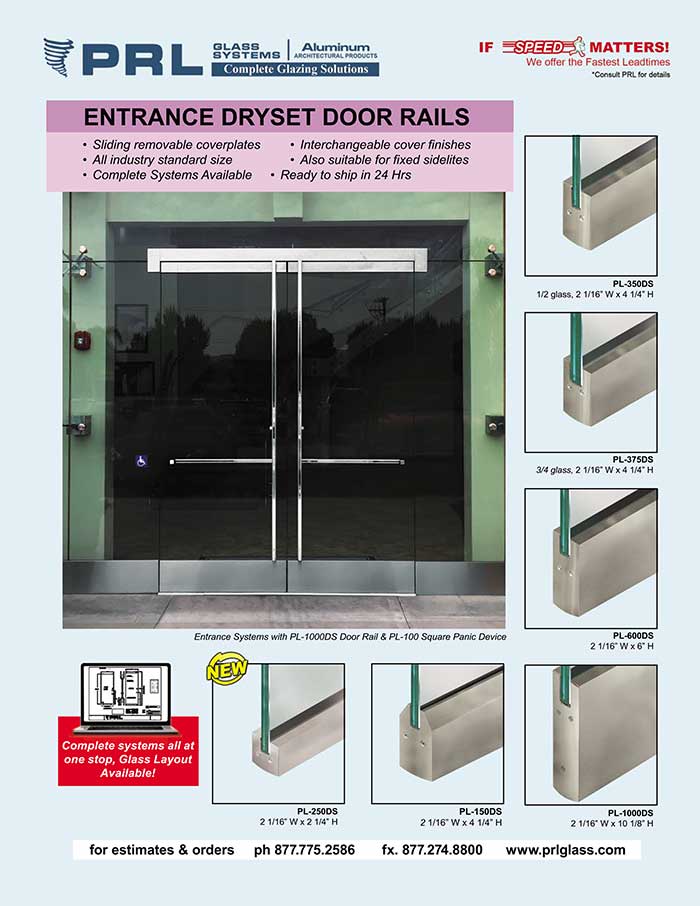 Experience the benefits of PRL's rapid dryset door rails. The clear choice for all-glass entry doors, this hardware line is perfect for interior or exterior commercial and residential applications. Available in a variety of profiles, sizes, lengths and finishes, we can meet endless entrance specifications. And, with interchangeable faceplate covers, our rapid dryset rails make installation and field adjustments a Read More...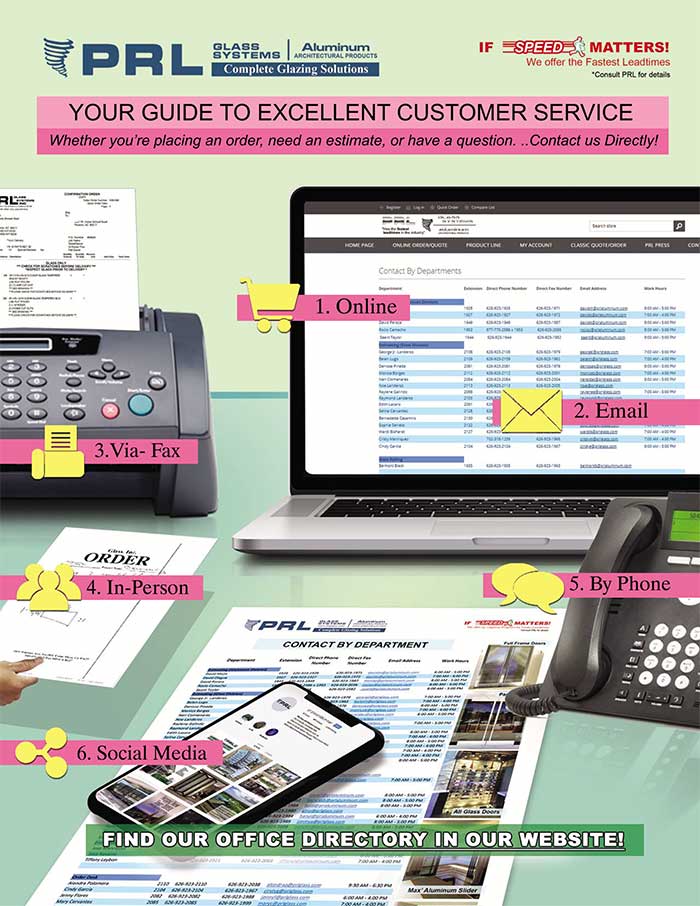 Get in touch with PRL easily by downloading our updated company directory. Your guide to first-rate customer service, this 2020 company directory contains all the contacts needed to get your questions answered. Whether you're placing an order, need an estimate, or have a question about our products or services, our company directory will route you to Read More...