Glass Stacking Wall System
Prl Clearvision Glass Stacking Movable Wall System is the perfect solution were total vision is required or the fronts needs to be open completely.
Parking and Stacking Glass Wall System Options:
Our stacking system will offer you perfect parking every time. Project structures or unusual layouts often require special solutions, particularly in the design of the stacking area. PRL Clearvision Movable Glass Stacking Wall systems can be parked in a range of different positions. The glass panels can be stacked parallel, perpendicular or at angles to the frontage, be readily visible for effect or hidden behind columns. Another possibility is that of parking the system in line but out of the way, behind a wall or in a specially designed closet space. The panels can also perform certain functions when the frontage is open, such as serving as part of an internal store window or showcase, and can be provided with company logos etched on the glass, adding artistic value to a wall.
Sliding partitions with profiles:
By providing the large glazed areas with distinctively shaped fittings top and bottom, harmony is given to the overall appearance of an entry. Pivoting panels and concealed closer hardware can be integrated to the system for the ultimate in function and aesthetics.
Nu Vision Entrance Systems Catalog
For Complete Glass Stacking Wall System Specifications, Estimates and Orders
Please Feel Free to Contact Us Directly
Toll Free (800) 433-7044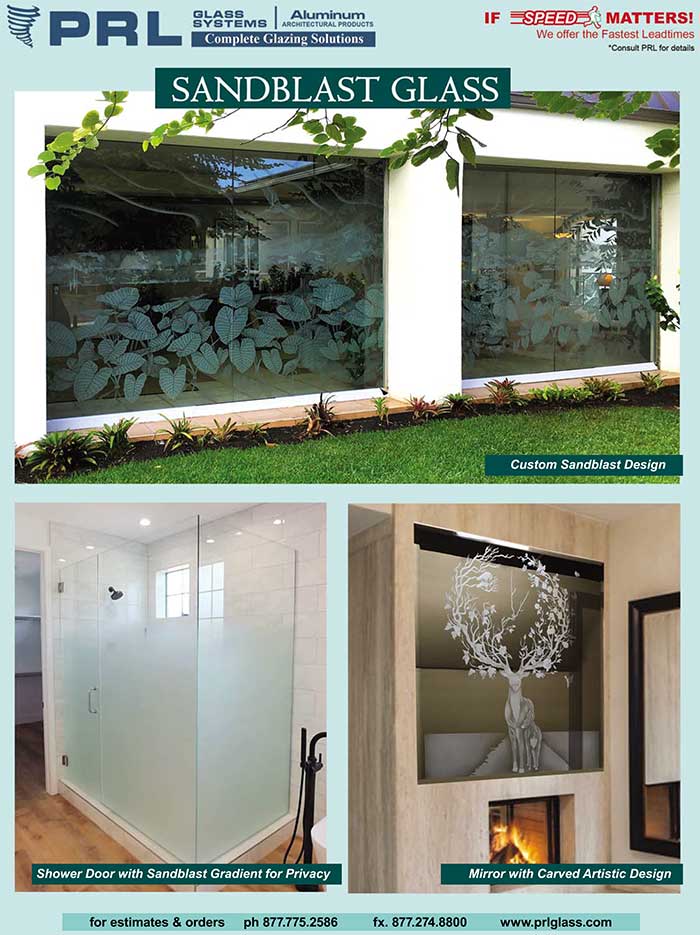 Searching for sandblasted glass designs that transform projects into pieces of artwork? Order at PRL Glass.
We can craft infinite standard and custom graphics for businesses and homes. Available in a huge assortment of sizes, our sandblasted glass designs bring unlimited possibilities to office partitions, shower enclosures, accent walls and more.
It's no surprise PRL can generate a boundless array Read More...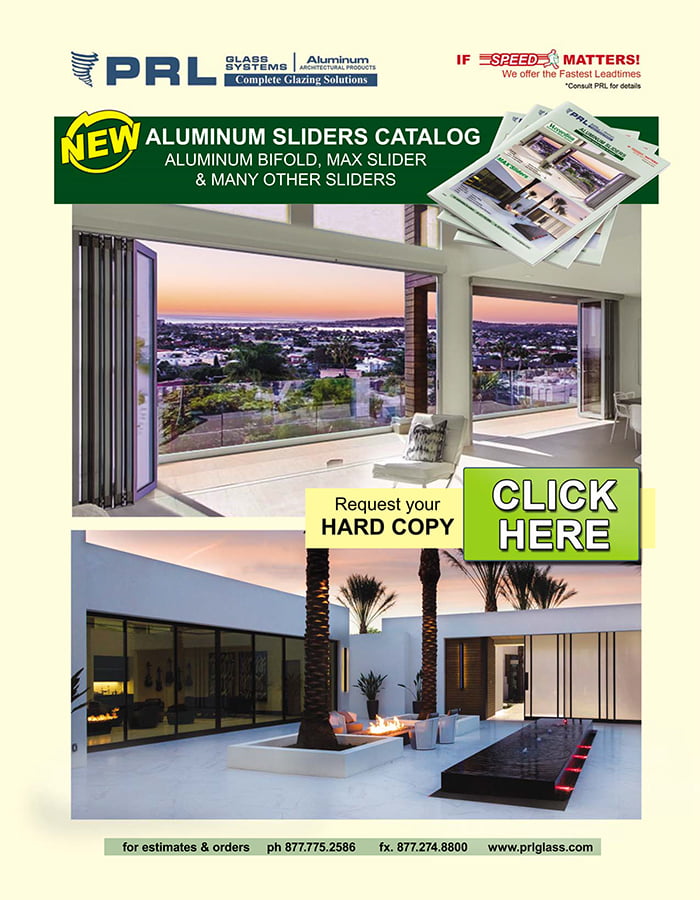 Hot off the presses, PRL's NEW Aluminum Slider Catalog is now available! We put shopping at your fingertips and request yours today. Stay in the know of new sliders trends, all the features on the sliders and amazing photos. Request your catalog now! It couldn't be simpler. Just complete a form on our website.