Glass Stacking Wall System
Prl Clearvision Glass Stacking Movable Wall System is the perfect solution were total vision is required or the fronts needs to be open completely.
Parking and Stacking Glass Wall System Options:
Our stacking system will offer you perfect parking every time. Project structures or unusual layouts often require special solutions, particularly in the design of the stacking area. PRL Clearvision Movable Glass Stacking Wall systems can be parked in a range of different positions. The glass panels can be stacked parallel, perpendicular or at angles to the frontage, be readily visible for effect or hidden behind columns. Another possibility is that of parking the system in line but out of the way, behind a wall or in a specially designed closet space. The panels can also perform certain functions when the frontage is open, such as serving as part of an internal store window or showcase, and can be provided with company logos etched on the glass, adding artistic value to a wall.
Sliding partitions with profiles:
By providing the large glazed areas with distinctively shaped fittings top and bottom, harmony is given to the overall appearance of an entry. Pivoting panels and concealed closer hardware can be integrated to the system for the ultimate in function and aesthetics.
Nu Vision Entrance Systems Catalog
For Complete Glass Stacking Wall System Specifications, Estimates and Orders
Please Feel Free to Contact Us Directly
Toll Free (800) 433-7044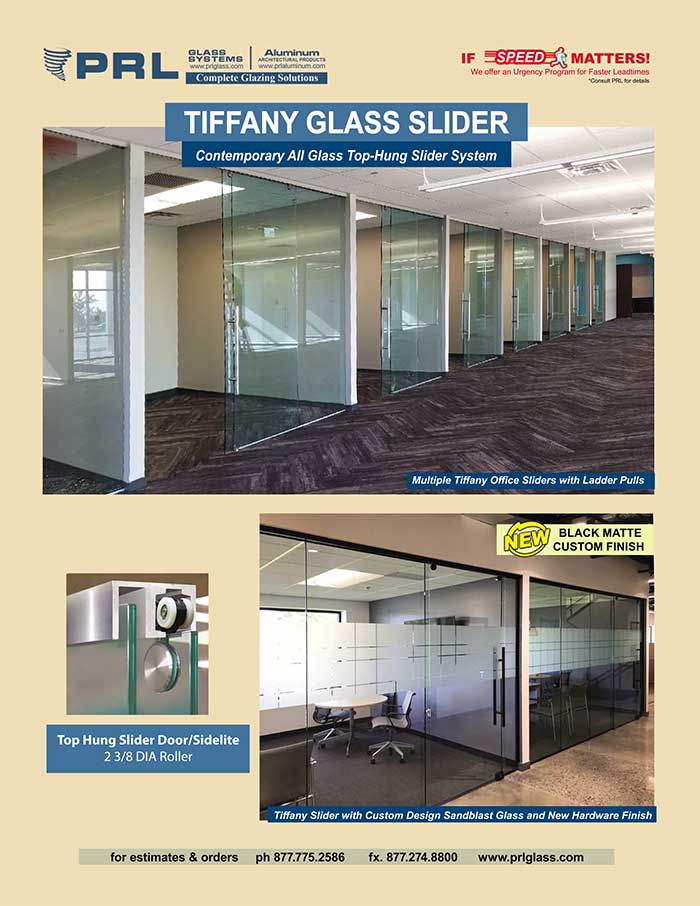 Bid PRL's 3/8" and ½" Tiffany all-glass sliding doors and showcase your client's interior with style. Furnished in a vast array of configurations, glass types, hardware and finishes, our sliders won't disappoint. Built to your specification these doors bring boundless transparency to rooms and entryways. Perfect for commercial or home offices, kitchens, closets and more, it's the perfect system to Read More...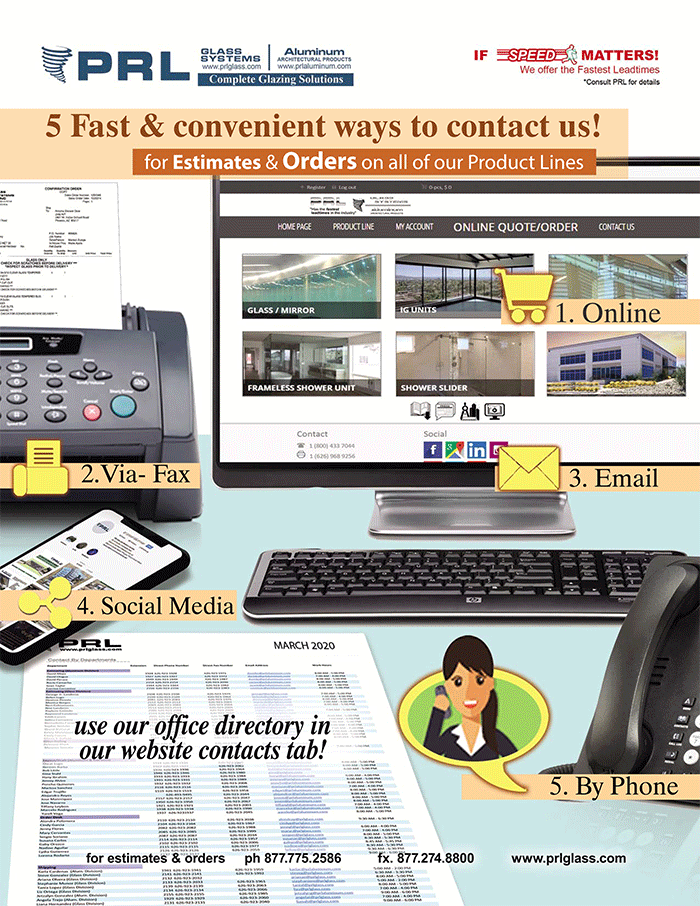 As part of the essential business construction sector, PRL is open in during the corona-virus stay-at-home order throughout California. Our office staff is working at full force throughout this pandemic to ensure you receive the glass and aluminum products you need.
Your business has great value to us so we're reminding you of a fast, convenient way to order and quote Read More...