PRL's custom clad entry doors are manufactured in the City of Industry, California. We have three types of standard clad styles and the ability to produce custom glass clad doors. The architectural metal department offers custom break formed cladding shapes to compliment the clad entry doors. Our team is ready to take your custom field dimensions and we will take care of the rest.
Exquisite Entry Door Systems
Stainless steel, oil rubbed bronze clad doors and brass clad, custom doors are a sure way to turn any basic entrance into an exquisite entry. Both the stainless steel doors and the brass doors are available in either a #4 brushed finish or a #8 polished finish. The top and bottom rails are stocked in standard 4″, 5″, & 10″ heights, however PRL Glass can customize based on the entries design requirements and hardware. The clad door is design to improve the weather control.
In addition, PRL Glass manufactures all surrounding clad storefront frames and different pulls to compliment each doors custom design. PRL extrudes all of our own dies in the U.S. at our own facility and we offer all standard storefront frames from 1-3/4 x 4, 1-3/4 x 4-1/2, 2 x 4-1/2, as well as custom sizes based on your job requirements. Our custom glass clad doors are glazed and ready to install. We have various types and thicknesses of glass available.
Nu Vision Entrance Systems Catalog
For Complete Clad Door Specifications, Estimates and Orders
Please Feel Free to Contact Us Directly
Toll Free (800) 433-7044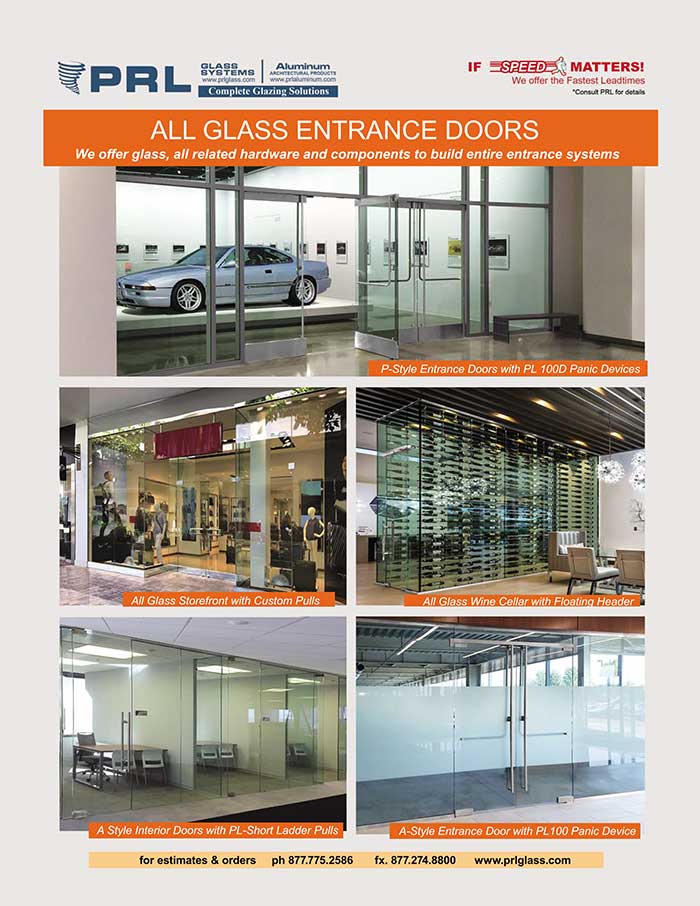 For the best in all-glass entrance doors, check out PRL Glass & Aluminum. We furnish a wide range of standard heavy glass door styles, unlimited customizations, and complete entrance systems. Designed for interior and exterior access ways, this product makes for stunning entrances. Carrying full lines of hardware in stainless steel, brass, anodized and painted metal finishes, our all-glass entry Read More...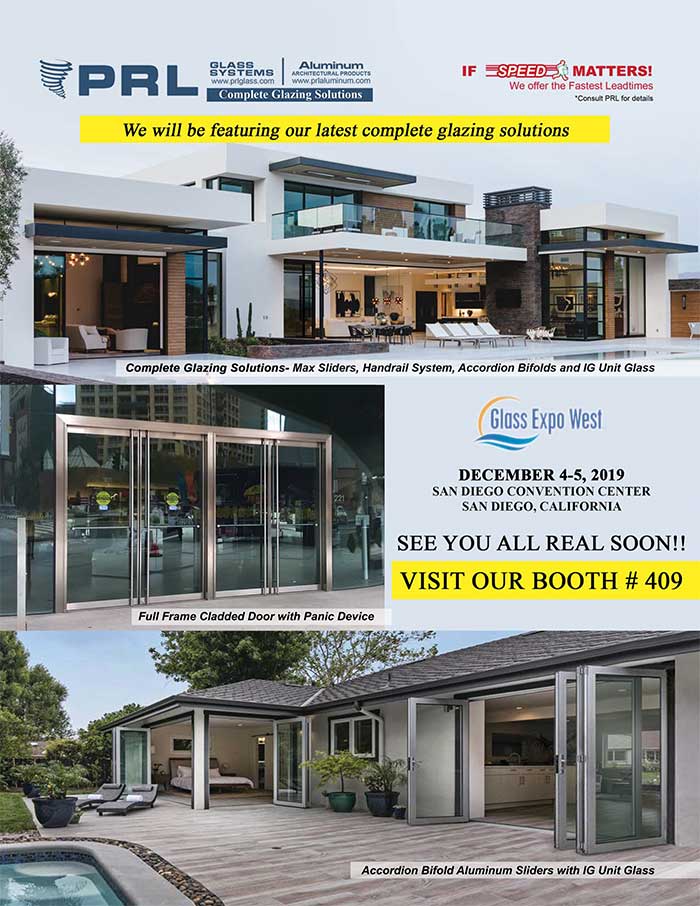 PRL invites you to stop by our booth at this year's Glass Expo West. Come spend the day learning what PRL can do for you! We will be featuring latest products and services in the architectural glass and metal industry. Mark your calendar and come spend a few minutes to learn about us and all the amazing products PRL has Read More...