PRL's newest base shoe that has become one of our best glass handrail systems and sellers is our "Mini-Dryset Base Shoe". With a smaller profile size of 2-1/2 x 2-3/4 these glass handrail systems are lighter and easier to install. This small profile handrail system is a desirable feature when clients are looking for smaller metal sight line and a maximum glass option. It is uses rigid PVC mounting pressure plates and 1/2″ socket head screws for securing the glass, just like our larger dry-set glass handrail system, without requiring special tools.
For top cap system options we extrude our own 2″ (1.9) round aluminum top cap, stocked in 20′ lengths in clear and dark bronze anodized aluminum. Mill finished lengths are stocked for painted finishes or custom anodized colors. In addition to our aluminum top caps we brake-form 2″ round stainless steel and brass top caps in-house. These are typically available in 10′ or 12′ lengths and available in polished or brushed finishes. Our AutoCAD department is available to assist with custom top cap system design as well.
Full Line of Glass Handrail Systems and Accessories
Along with our base shoes and top caps PRL stocks a full line of handrail accessories including handrail tubing, glass and wall mount brackets, standard elbows, splice sleeves and end caps for a complete glass handrail system. Custom elbows are manufactured as needed for special job site conditions. Our in-house machining, welding and finishing capabilities are practically unlimited with state of the art machinery and experienced craftsmen.
At PRL our heavy glass fabrication is unparalleled. Custom angles, notches, cut-outs and corners are where we excel. You can truly say our glass fabrication is the best quality available. And along with our expert glass fabrication we are proud to offer excellent service with a staff of experienced personnel ready to assist you with all your system designs and technical concerns. Test reports on our systems are available upon request. Also be sure to learn about all our handrail system, components and hardware options.
Complete In-house manufactured, experienced and helpful support staff with the fastest lead times available are all reasons why we would like to become your manufacturer of choice!
Simply supply us your handrail system specifications and let us take care of the rest Toll Free 800-433-7044.
2021 PRL Railing Systems Catalog
2012 PRL Guardrail & Handrail Catalog
Architectural Glass and Metal Handrails
For Complete Glass Handrail System Specifications, Estimates and Orders
Please Feel Free to Contact Us Directly
Toll Free (800) 433-7044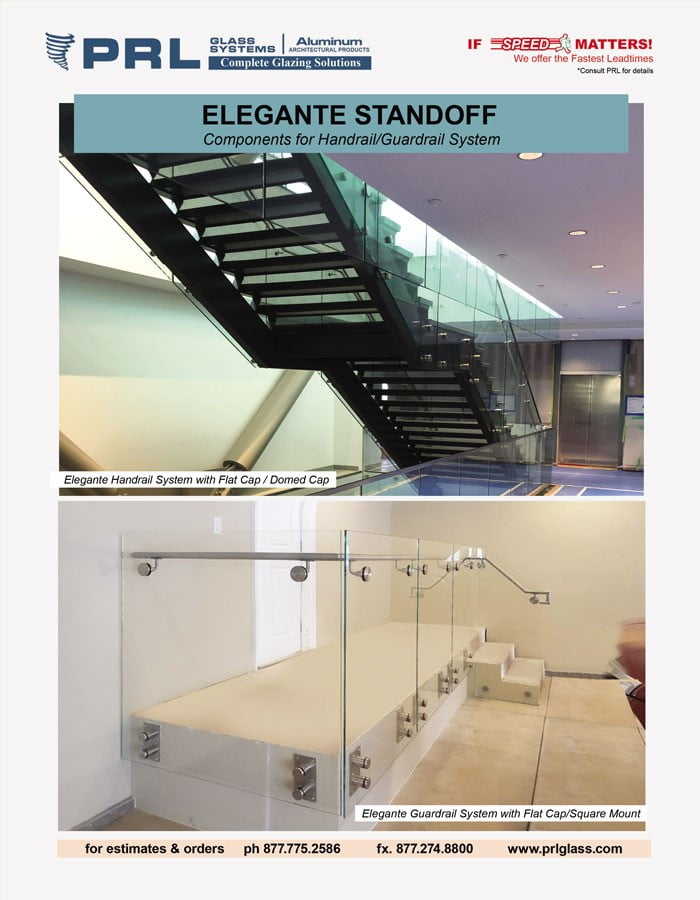 Get PRL's Elegante handrails for your next project. With no posts or base shoes, this railing system delivers limitless glass views. We use standoffs to secure glass panels to the sides of stringers or decks. For additional handrail support, you can bid matching backing plates for substrate mounts. We manufacture all Elegante handrails and railing components in-house. Sold as Read More...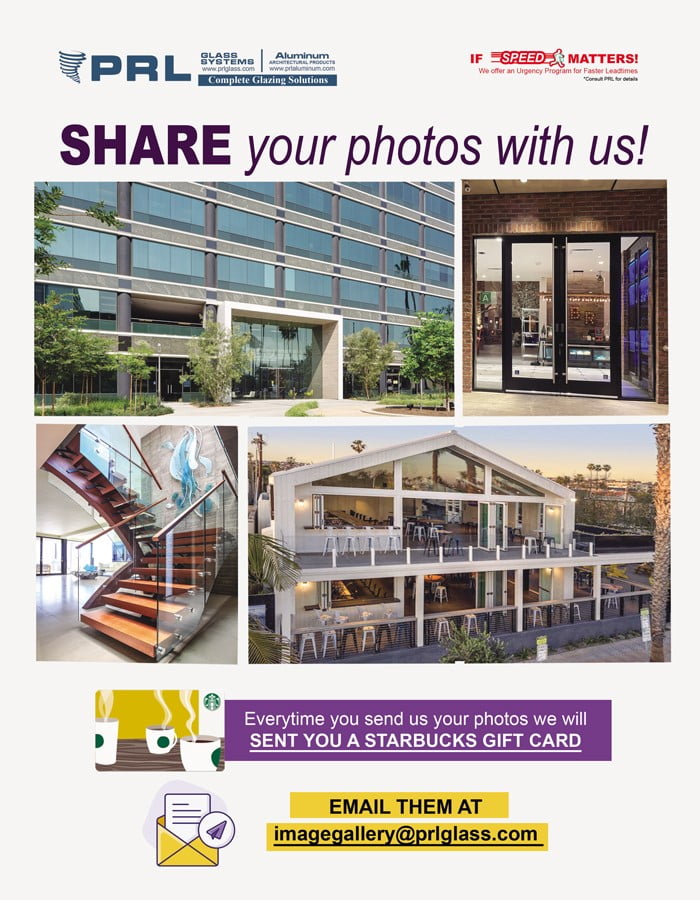 DO GOOD WORK & SHARE IT WITH OTHERS
Send PRL your photos! Your projects could be displayed in our upcoming 2023 calendar! A great promotional tool, it could benefit your business. We'd love to show off what you can do for your prospective customers. Offering multiple glass and aluminum product lines, chances are you have many to choose from. So, Read More...