Our master craftsmen convert ordinary glass products into exquisite "Works of Art Captured in Glass", in unlimited design styles.
Sandblasted Glass, Frosted etched glass and 3D sculpture carved creations are produced for residential and commercial glass products such as frameless all glass doors and complete storefront entry systems, dimensional & 3D Carved door glass inserts surface etched / frosted glass door, entry and interior window glass, frameless shower enclosures, tables, floating bar tops, vanity tops, curtain walls, ceilings, sculptures, mirrors, gate glass and more. Using Diamond Seal will eliminate harsh cleaning methods and staining.
Sandblasted designs on glass add elegance and beauty to the home or office. Sandblasted glass patterns can be carved or flat etched using custom designed or standard patterns.
Sandblasted Glass Methods
The first, most basic and least expensive method is called a SOLID ETCH/FROST. This technique produces a full opaque effect. It is a single-stage sandblasted option. When we use the term "etched", we really mean "surface etched", where we have sandblasted only the surface. The etching does not go deep into the glass and creates a one-dimensional effect.
The second level of sandblasting is SURFACE ETCHING AND SHADING. This is a multi-stage sandblast effect where each and every segment of the design is individually removed and sandblasted, one piece at a time. This is not a solid etch, but areas are "shaded" so the etching will delicately and gradually fade back out to clear glass.
The third level is CARVED AND SHADED. The steps are similar to etching and shading, but the areas are sandblasted longer to create a 3-dimensional, sculpted effect. As with any other type of sculpting, it takes a gifted artist to achieve just the right depth at a consistent and correct level for the perfect result. The carved EDGES within the design image will actually appear whiter and brighter as they pick up and reflect the surrounding light. The image will appear three dimensional, as if it is floating within the glass. All three processes can be done on tempered glass.
Quick Product Photo Gallery
For Complete Sandblasted Glass Specifications, Estimates and Orders
Please Feel Free to Contact Us Directly
Toll Free (800) 433-7044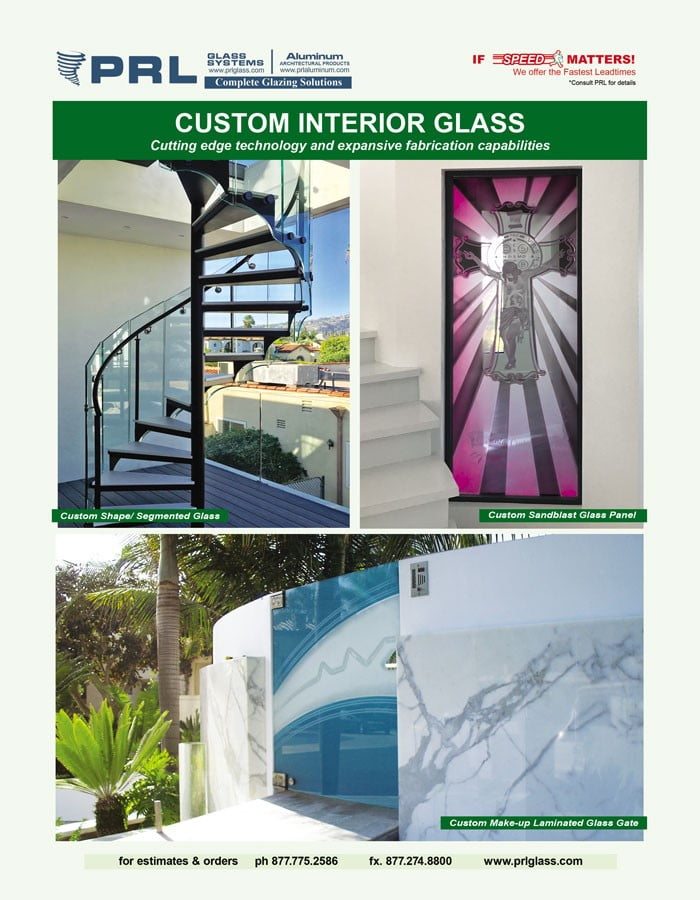 Need a custom interior glass products for your client's interior space? Bid at PRL! We generate huge assortments of cubicles, backsplashes, room dividers and more. Using our cutting edge technology and expansive fabrication capabilities, our glass detailing is superior. All made-to-order in our facility, we render custom glass products in virtually any size or glass type. Great Read More...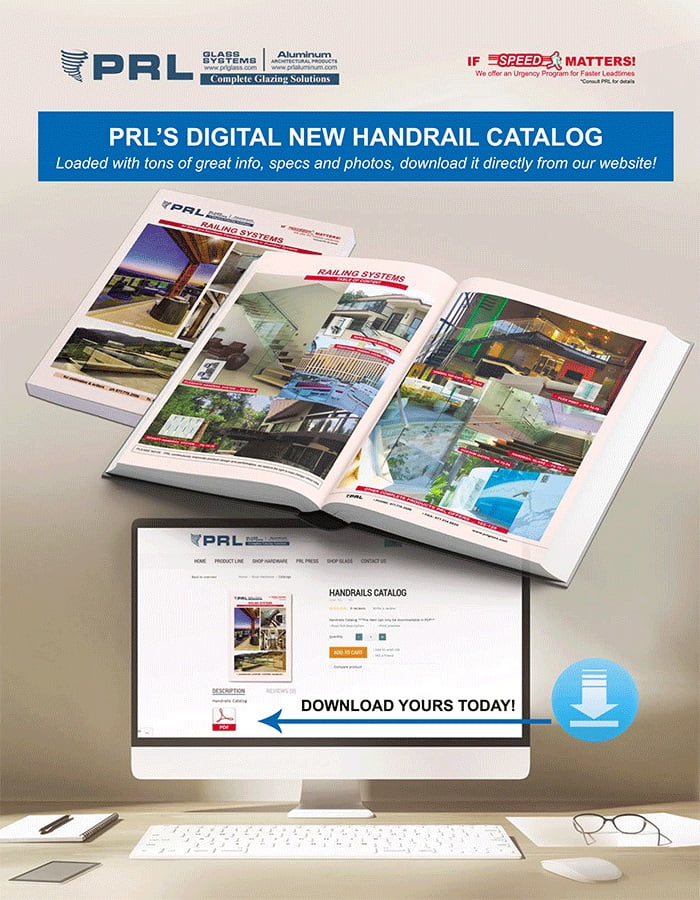 Download PRL's new Digital Handrail catalog! Find out everything you need to know about our systems, components, protective shields and more. Including our entire inventory of railing products, this catalog is a must-have. Loaded with tons of great info, specs and photos, you'll be on your way to designing fabulous projects for your customer's home or office in no time. Read More...