Sandblasted Glass. Infinite Designs & Applications
Innovate your projects with sandblasted glass. Deal direct with PRL of Southern California. We render infinite designs for boundless applications. With us, you're only limited by your imagination. We produce one-dimensional full opaque effects, shading that transitions to clear glass, and lifelike sculpted effects. Whether your client desires a pattern, illustration or theme, we can generate it in vast panel sizes. Indoors or out, business or home, our sandblasted glass brings creativity to entry doors, shower enclosures, tabletops and more.
Sandblasted Glass Designs.
See What You Can Get
We fabricate all sandblasted glass in our facility. Using heavy tempered sheets we make in-house, our master craftsmen execute endless designs with precision. Their sandblasting techniques, hand drawings and computer-generated images are striking. A great way to promote your brand, or add some décor, we fashion everything from borders, accents and patterns, to graphics, logos and slogans. We even render multiple sandblasted glass themes. Mythical, nature, oceanic, and more- if you can envision it, we can create it.
Our sandblasted glass designs are produced with 3 different techniques. The most basic process, surface etching, yields a one-dimensional full opaque effect. A single stage technique, only the surface is sandblasted. Surface etching and shading forms areas that gradually transition to clear glass. A multi-stage technique, each segment of the motif is sandblasted one at a time. With carving and shading, areas are sandblasted longer to grant a sculpted, three-dimensional look. Carved edges within the graphic appear whiter giving the overall image a floating effect.
We offer numerous glass panel options. Equipped with one of the largest tempering ovens, we can fabricate them in sizes up to 110″ x 198″. Want to protect your glass from fingerprints, stains or soap build up? We can apply Diamond Seal coating. Backed with a 10 year manufacture warranty, it will keep your sandblasted designs looking new longer. And our glass cutting lines makes submitting your illustration simple. Just upload it as an auto CAD file to our CAM system, and we'll begin rendering it right away.
Sandblasted Glass: Techniques, Designs, Applications & More
Sandblasting Techniques:
Surface Etching: One-dimensional full opaque effect
Surface Etching & Shading: Shading that fades to clear glass
Carving & Shading: Floating three-dimensional effects
Custom Designs & Themes:
Decorative borders
Corner accents
Ornamental patterns
Artistic portraits
Company logos
Brand slogans
Mythical themes
Nature themes
Oceanic themes
Glass Panel Fabrication:
Tempering Oven Capacity: Sizes up to 110″ x 198″
Glass Cutting Line: CAM system processes orders right away
Diamond Seal Coating: Protects & keeps glass looking new
Sandblasted Glass Applications:
Swing & sliding entry doors
Curtainwalls & storefront systems
Handrails, fencing & gates
Pool enclosures & wind walls
Partitions & cubicles
Table, vanity & bar tops
Shower panels & doors
Decorative glass wall designs
Windows, mirrors & more!
Shop Sandblasted Glass at PRL. You're Only Limited by Your Imagination
Get your heart's desire by crafting infinite designs for endless applications, we can meet your project needs.
Quick Product Photo Gallery
For Complete Sandblasted Glass Specifications, Estimates and Orders
Please Feel Free to Contact Us Directly
Toll Free (800) 433-7044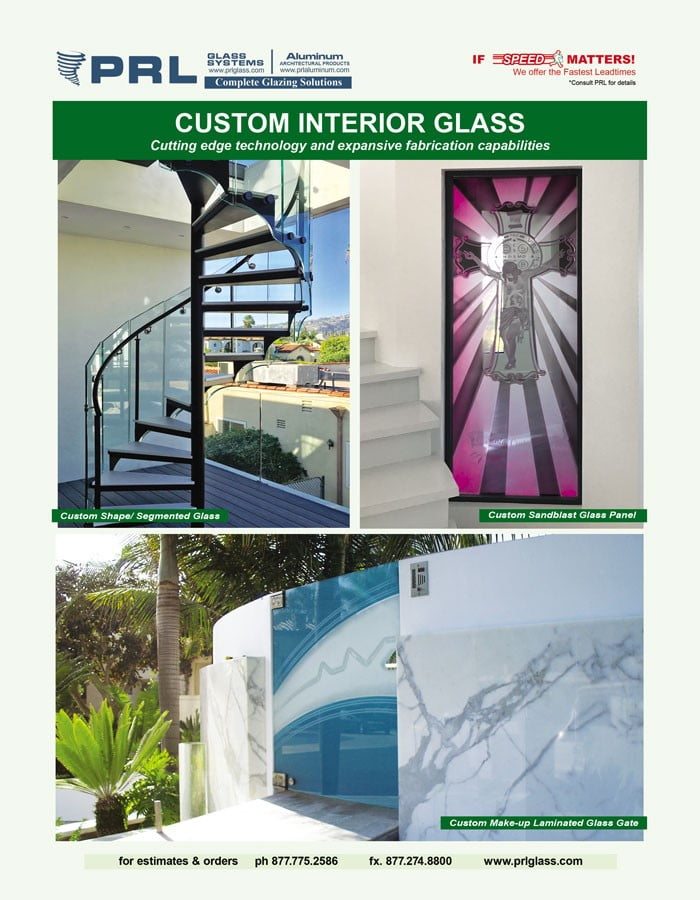 Need a custom interior glass products for your client's interior space? Bid at PRL! We generate huge assortments of cubicles, backsplashes, room dividers and more. Using our cutting edge technology and expansive fabrication capabilities, our glass detailing is superior. All made-to-order in our facility, we render custom glass products in virtually any size or glass type. Great Read More...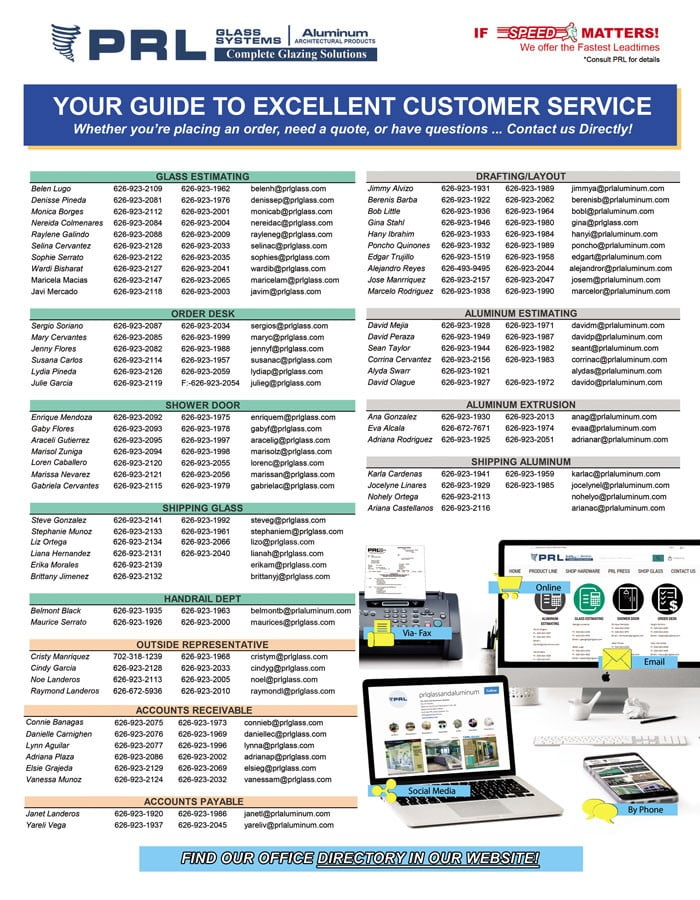 Browse PRL 2023 company directory to find who can answer your questions. We've got an expert for everything. Whether it's ordering, billing, shipping or product specs, this handy resource will guide you to the right person. And our directory's a breeze to use! Accessed via our Contact Us page, just scroll through each department to locate your Read More...