Architectural Glass and Metal Manufacturing Capabilities
Aluminum:
Center glazed Systems
Offset Glazed Systems
Aluminum Doors
Custom Doors
Arch Metals:
14′ Wysong Press-Break
14″ Wysong Shear
Large Inventory of metals
Cutting:
FOX Automatic Cutter
Manual Stations
Entrance Systems:
Newly Designed Dry Set Unit
Machine Shop
Welding Station
Custom Clading
Polish / Finishing dept
Extrusions:
State of the Art Aluminum Press
2400 M. Tons
Custom Shapes
Alloy 6063, 6061
Different Range of Aging Cycle
Fabrications:
Bovone 17/45 Edger
Minimax Bevelers
Master Bevel
Classic Libra
Comet /P
Glass Inv:
Heavy Plate
Db. Strength
Textured
Reflective
Mirror
Special
Table Tops
Holes:
Forvet Franchesca Drill
Besana Drill
Manual Stations
IG Units:
Lisec Seami Automated Line
Sandblasting:
Automated SB machine
Manual Sb Booths
Shower Enclosures:
Custom Swing Unit
Custom Slider Unit
Shower Hardware
Glass for Shower units
Tempering:
86/180 BHF System
60/120 Convection System
98/180 Convection System
Shipping:
Free Local delivery
Fleet of 25 Trucks
For Complete Architectural Glass and Metal Specifications, Estimates and Orders
Please Feel Free to Contact Us Directly
Toll Free (800) 433-7044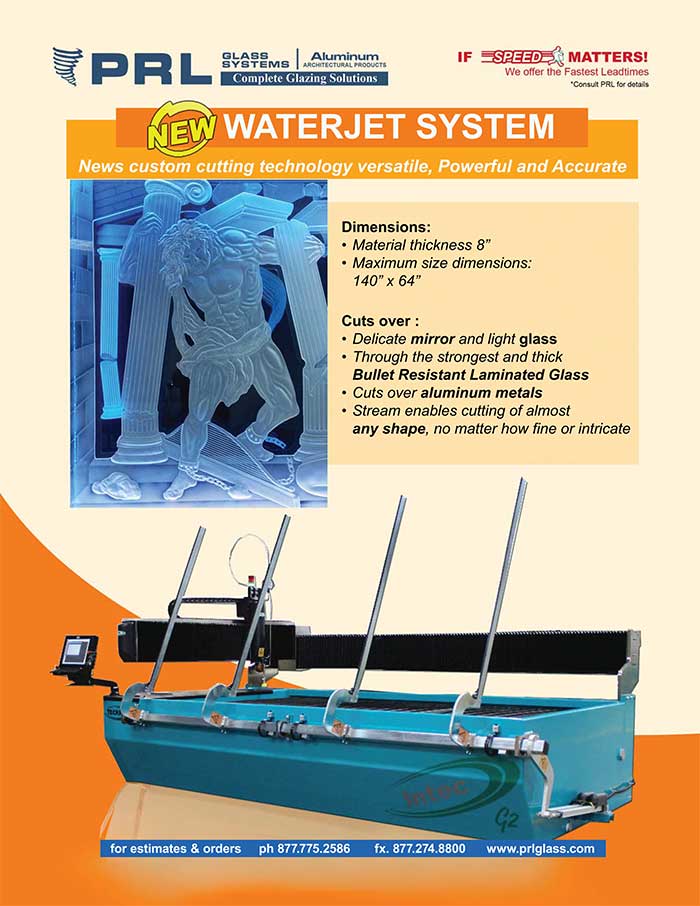 At PRL, it is our continuous goal to be the best glass and metal fabricator in the industry. To do so, we continue to invest in the latest state-of-the-art machine technology to offer our customers the highest quality products with the fastest lead-times.
Therefore, PRL is excited to announce the arrival of our NEW Waterjet System! Modern developments in waterjet cutting Read More...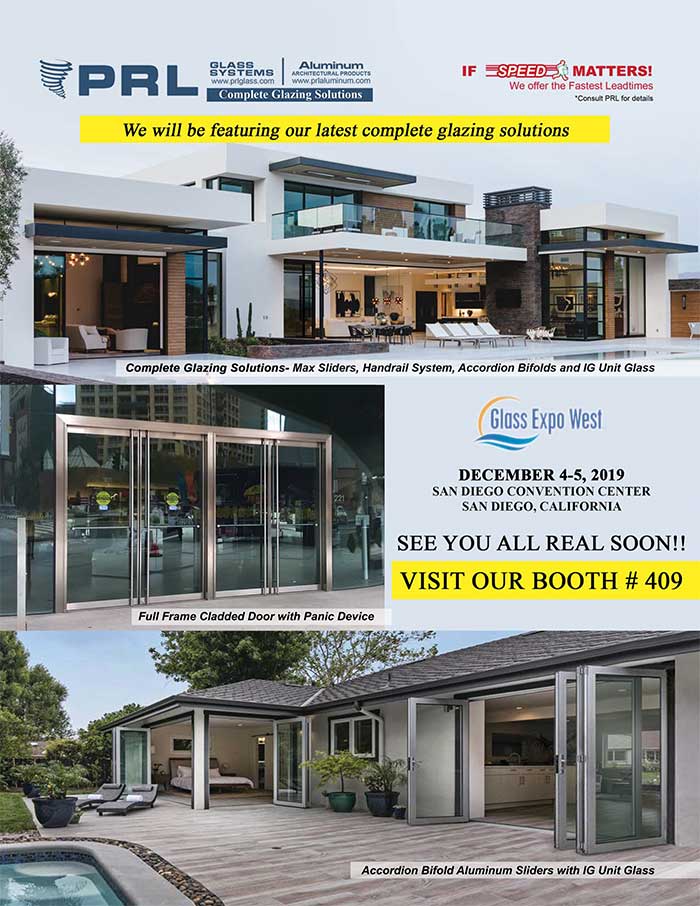 PRL invites you to stop by our booth at this year's Glass Expo West. Come spend the day learning what PRL can do for you! We will be featuring latest products and services in the architectural glass and metal industry. Mark your calendar and come spend a few minutes to learn about us and all the amazing products PRL has Read More...