Architectural Glass and Metal Manufacturing Capabilities
Aluminum:
Center glazed Systems
Offset Glazed Systems
Aluminum Doors
Custom Doors
Arch Metals:
14′ Wysong Press-Break
14″ Wysong Shear
Large Inventory of metals
Cutting:
FOX Automatic Cutter
Manual Stations
Entrance Systems:
Newly Designed Dry Set Unit
Machine Shop
Welding Station
Custom Clading
Polish / Finishing dept
Extrusions:
State of the Art Aluminum Press
2400 M. Tons
Custom Shapes
Alloy 6063, 6061
Different Range of Aging Cycle
Fabrications:
Bovone 17/45 Edger
Minimax Bevelers
Master Bevel
Classic Libra
Comet /P
Glass Inv:
Heavy Plate
Db. Strength
Textured
Reflective
Mirror
Special
Table Tops
Holes:
Forvet Franchesca Drill
Besana Drill
Manual Stations
IG Units:
Lisec Seami Automated Line
Sandblasting:
Automated SB machine
Manual Sb Booths
Shower Enclosures:
Custom Swing Unit
Custom Slider Unit
Shower Hardware
Glass for Shower units
Tempering:
86/180 BHF System
60/120 Convection System
98/180 Convection System
Shipping:
Free Local delivery
Fleet of 25 Trucks
For Complete Architectural Glass and Metal Specifications, Estimates and Orders
Please Feel Free to Contact Us Directly
Toll Free (800) 433-7044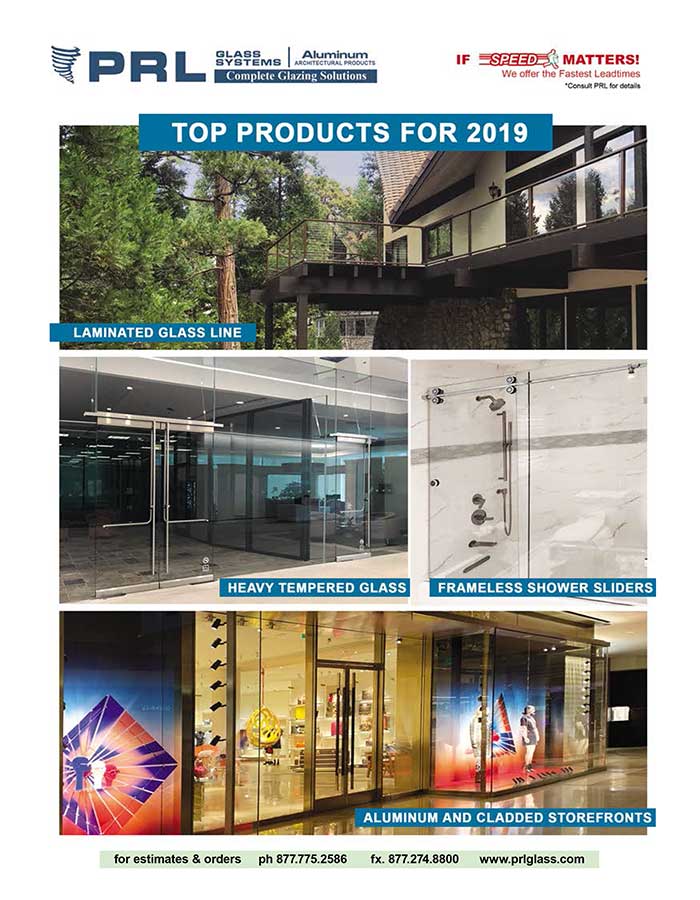 PRL is proud to bring you our top four performing products of 2019; Aluminum and Cladded Storefronts, Heavy tempered, Our new frameless shower systems, and laminated glass line! These 4 product outstanding product lines were a BIG HIT for PRL all year. Let's join the experience together and you too will be satisfied customer.
Complete Aluminum and Cladded Storefronts: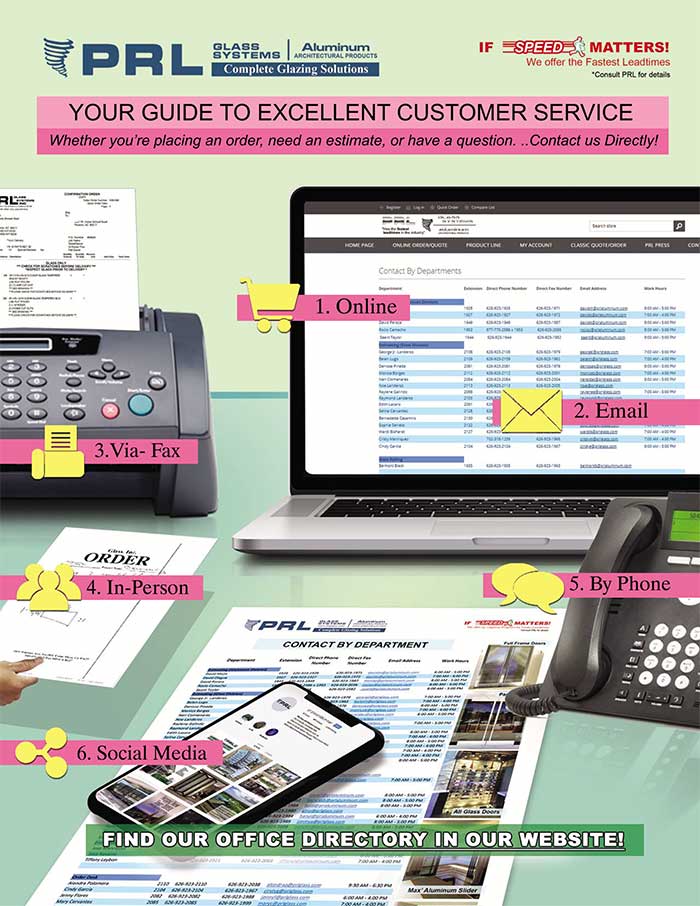 Get in touch with PRL easily by downloading our updated company directory. Your guide to first-rate customer service, this 2020 company directory contains all the contacts needed to get your questions answered. Whether you're placing an order, need an estimate, or have a question about our products or services, our company directory will route you to Read More...