Architectural Glass and Metal Manufacturing Capabilities
Aluminum:
Center glazed Systems
Offset Glazed Systems
Aluminum Doors
Custom Doors
Arch Metals:
14′ Wysong Press-Break
14″ Wysong Shear
Large Inventory of metals
Cutting:
FOX Automatic Cutter
Manual Stations
Entrance Systems:
Newly Designed Dry Set Unit
Machine Shop
Welding Station
Custom Clading
Polish / Finishing dept
Extrusions:
State of the Art Aluminum Press
2400 M. Tons
Custom Shapes
Alloy 6063, 6061
Different Range of Aging Cycle
Fabrications:
Bovone 17/45 Edger
Minimax Bevelers
Master Bevel
Classic Libra
Comet /P
Glass Inv:
Heavy Plate
Db. Strength
Textured
Reflective
Mirror
Special
Table Tops
Holes:
Forvet Franchesca Drill
Besana Drill
Manual Stations
IG Units:
Lisec Seami Automated Line
Sandblasting:
Automated SB machine
Manual Sb Booths
Shower Enclosures:
Custom Swing Unit
Custom Slider Unit
Shower Hardware
Glass for Shower units
Tempering:
86/180 BHF System
60/120 Convection System
98/180 Convection System
Shipping:
Free Local delivery
Fleet of 25 Trucks
For Complete Architectural Glass and Metal Specifications, Estimates and Orders
Please Feel Free to Contact Us Directly
Toll Free (800) 433-7044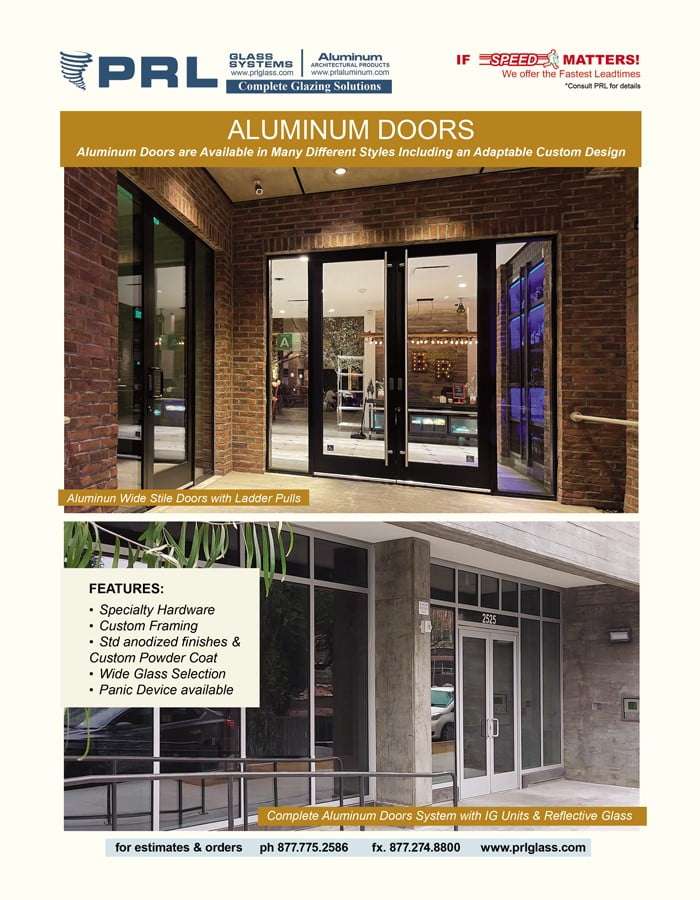 Offered with a wide variety of options, our complete aluminum entrance doors have a lot to offer. Extruded in-house, PRL's aluminum doors are of the finest quality. Constructed with superior heavy-duty and welded aluminum frames, these doors provide the strength and durability needed for exterior entrances. Available in single and double doors, we can manufacture standard as Read More...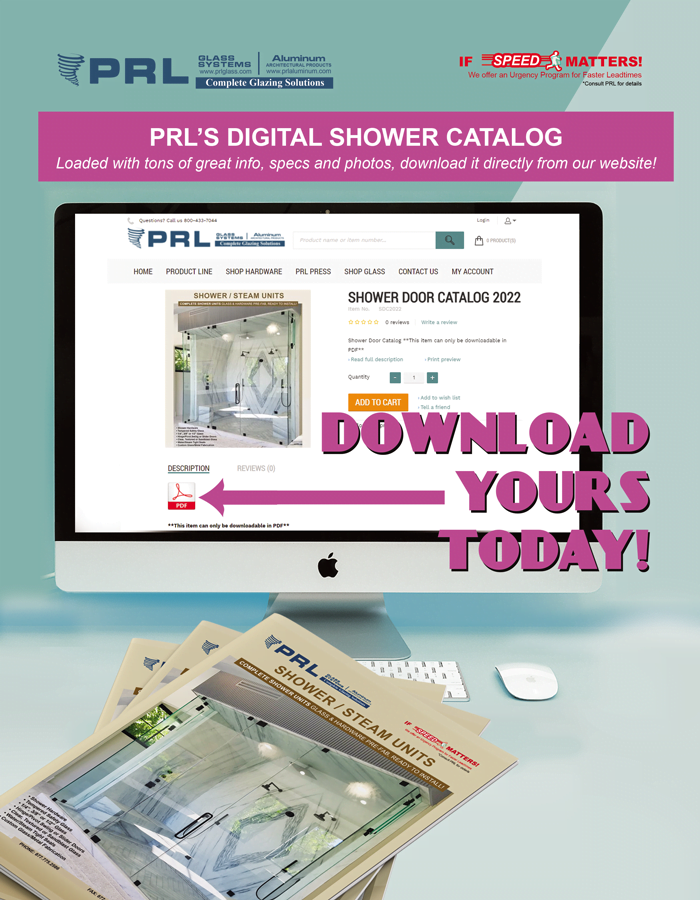 Get PRL's new shower catalog 2022. Browse our enclosures, hardware, handles and more. Showcasing our entire line of shower products, this is your guide of what we can do for you. In addition to brand new photos, our catalog includes all specs and features for each system. So, make shopping for your next shower project a snap. Read More...