Architectural Glass and Metal Manufacturing Capabilities
Aluminum:
Center glazed Systems
Offset Glazed Systems
Aluminum Doors
Custom Doors
Arch Metals:
14′ Wysong Press-Break
14″ Wysong Shear
Large Inventory of metals
Cutting:
FOX Automatic Cutter
Manual Stations
Entrance Systems:
Newly Designed Dry Set Unit
Machine Shop
Welding Station
Custom Clading
Polish / Finishing dept
Extrusions:
State of the Art Aluminum Press
2400 M. Tons
Custom Shapes
Alloy 6063, 6061
Different Range of Aging Cycle
Fabrications:
Bovone 17/45 Edger
Minimax Bevelers
Master Bevel
Classic Libra
Comet /P
Glass Inv:
Heavy Plate
Db. Strength
Textured
Reflective
Mirror
Special
Table Tops
Holes:
Forvet Franchesca Drill
Besana Drill
Manual Stations
IG Units:
Lisec Seami Automated Line
Sandblasting:
Automated SB machine
Manual Sb Booths
Shower Enclosures:
Custom Swing Unit
Custom Slider Unit
Shower Hardware
Glass for Shower units
Tempering:
86/180 BHF System
60/120 Convection System
98/180 Convection System
Shipping:
Free Local delivery
Fleet of 25 Trucks
For Complete Architectural Glass and Metal Specifications, Estimates and Orders
Please Feel Free to Contact Us Directly
Toll Free (800) 433-7044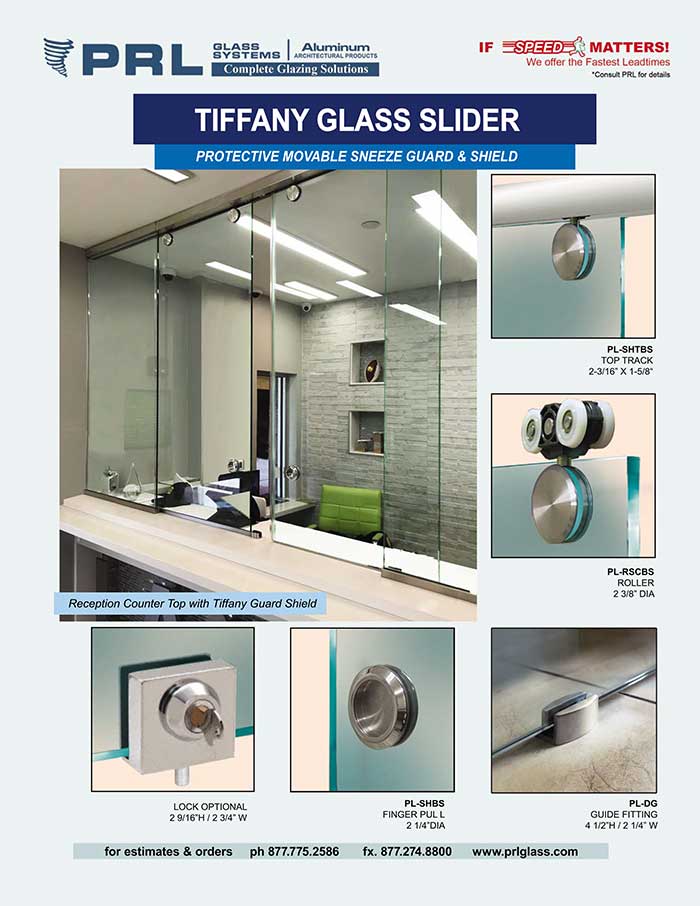 PRL's Tiffany Glass Slider is the new application to protect employees and customers from others while engaging in face-to face transactions. In light of these times, we have seen a significant demand on our Tiffany slider to bring safety and protection but at the same time bring an elegant look and convenient with its movable feature.
Bid PRL's 3/8″ and Read More...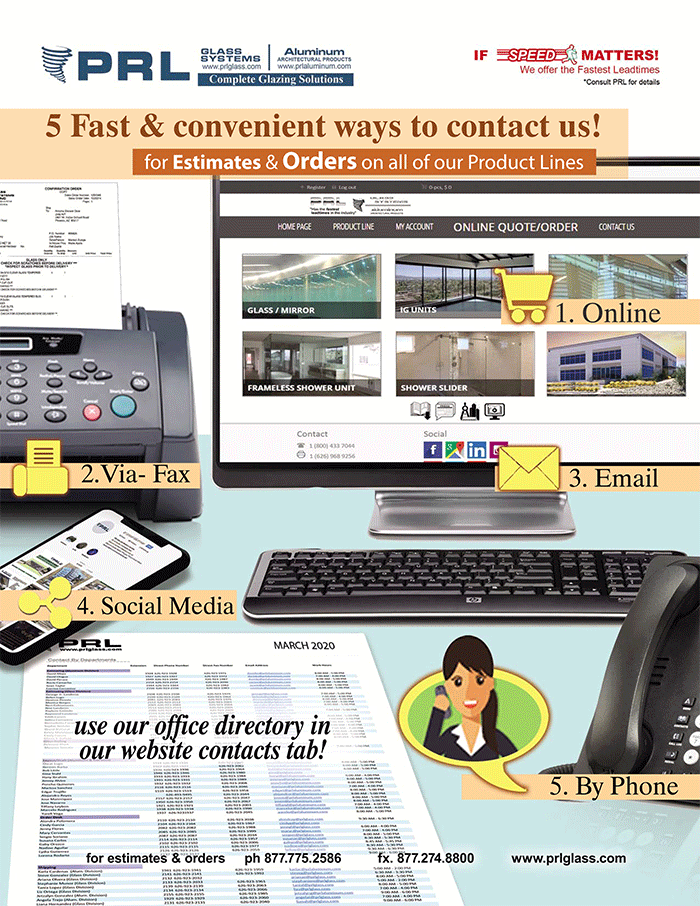 To our will call and walk-in order customers,
In accordance with the new Los Angeles County COVID-19 mandate, PRL has revised our guidelines for our will call customers. Our will call hours are Monday- Saturday. Effective Friday, April 10th all customers and employees will be required to wear face masks or face coverings while in our facilities.
To help protect the health Read More...