Exterior Aluminum Sliding Doors and Top Hung Systems
Our Max Series Exterior Aluminum Top Hung Sliding Doors performance is excellent for air infiltration, water infiltration, structural wind loads, seismic design and hurricane impact resistance. Our exterior aluminum sliding doors are the only premier door with the lowest profile sill that has an AAMA rating for exterior use. The Max slider doors have unlimited adaptability, basic single pocket to multi slider configurations, in-line or 90 degree applications. These exterior aluminum doors provide the finest quality at the most affordable price.
When combined with high performance glass you will receive excellent energy efficiency and can be NFRC certified.
PRL Max Exterior Aluminum Sliding Doors are designed and tested for Commercial and Residential applications
Our heavy-duty aluminum design makes them suitable for larger sliding doors as well, and special hardware allows for a smooth and quiet operation. Our unique 2-point security lock along side our elegant "D" pulls offers high-grade security with aesthetically pleasing sliding door design.
The Max slider has now been tested to meet the CW-45 rating. The exterior Max Sliding Aluminum Doors have been certified to meet the following AAMA ratings. That qualifies our Max Slider to be the best in the Industry.
R-15 with Low profile sill at 3 lbs of water
CW-35 with intermediate sill and 5-1/2 lbs of water
CW-45 with standard sill and 6-3/4 lbs of water
Hurricane Impact Tested
PRL is always working for you to make your glazing solutions easier.
2019 Max Glass and Aluminum Sliding Door Catalog
For Exterior Aluminum Sliding Doors and Specifications, Estimates and Orders
Please Feel Free to Contact Us Directly
Toll Free (800) 433-7044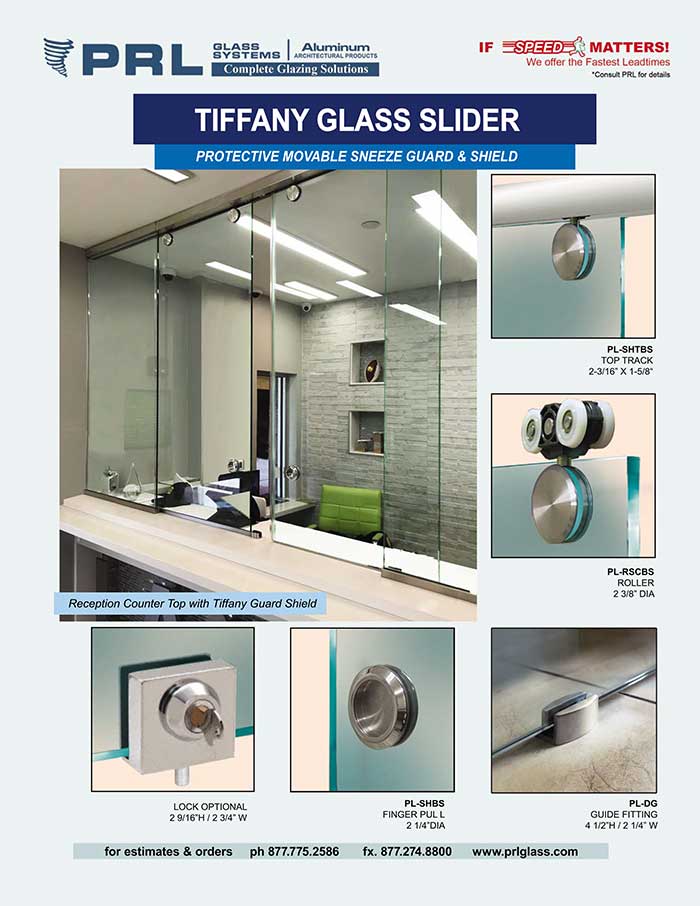 PRL's Tiffany Glass Slider is the new application to protect employees and customers from others while engaging in face-to face transactions. In light of these times, we have seen a significant demand on our Tiffany slider to bring safety and protection but at the same time bring an elegant look and convenient with its movable feature.
Bid PRL's 3/8″ and Read More...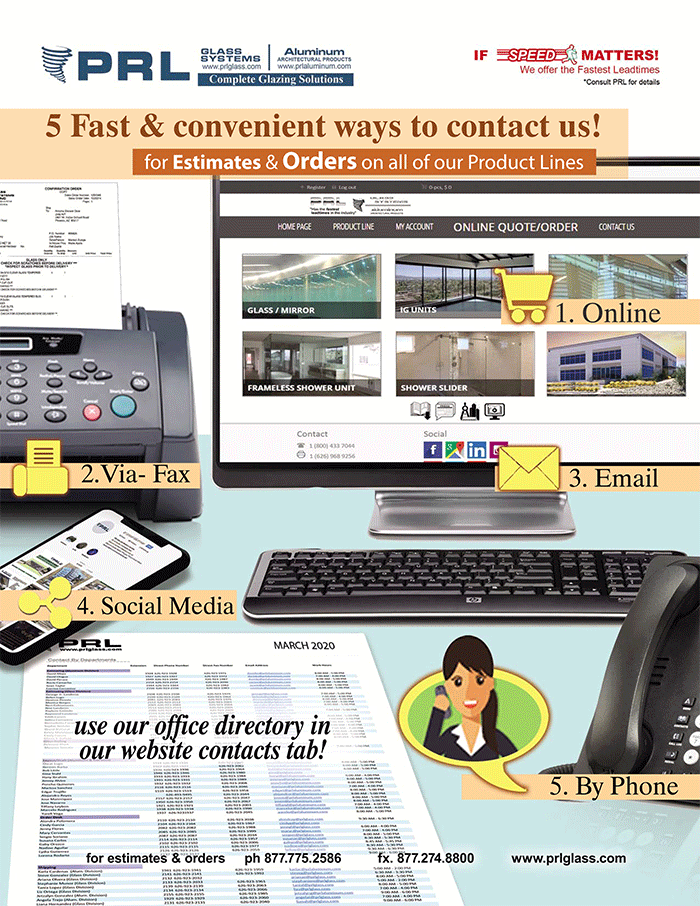 To our will call and walk-in order customers,
In accordance with the new Los Angeles County COVID-19 mandate, PRL has revised our guidelines for our will call customers. Our will call hours are Monday- Saturday. Effective Friday, April 10th all customers and employees will be required to wear face masks or face coverings while in our facilities.
To help protect the health Read More...