Electric Center Lock and Strike Housing
PRL manufactures our own heavy duty electric center locks and strike housings for All Glass Doors. Our lock housing dimensions are 4″ x 10″ or 6″ x 10″, as well as custom sizes, depending on the locking hardware specified. The lock housings are suitable for applications such as entrance systems, storefronts, classrooms, hospitals, offices, apartments, and others.
These Electric Center locks can be operated with levers, cylinders, thumb turns, or pull handles.
To specify center lock housings the most important thing to determine is the function of the lock. Once you know the function required, you can choose a lock manufacturer, decide on levers or accessory hardware and see what finishes are available. Electric strikes are available for use in center lock housings if needed for electronic access control.
PRL heavy duty electric center locks are functional, aesthetically pleasing and offer the convenience of accessing the lock without bending down, as with a bottom rail lock. The tempered glass will have to have a special cut out to receive the housing.
PRL can produce any custom lock very quickly as well as install it to the doors simultaneously while the rails are being installed.
Standard finishes available are standard and electric housing:
Stainless steel #4/brushed & #8/polished
Clear and bronze anodized
Brass (brushed or polished)
Oil rubbed
Powder coated or Kynar painted
2013 Easy Lock Ladder Pulls Catalog
Architectural Glass and Metal Hardware
For Electric Center Lock Estimates and Orders
Please Feel Free to Contact Us Directly
Toll Free (800) 433-7044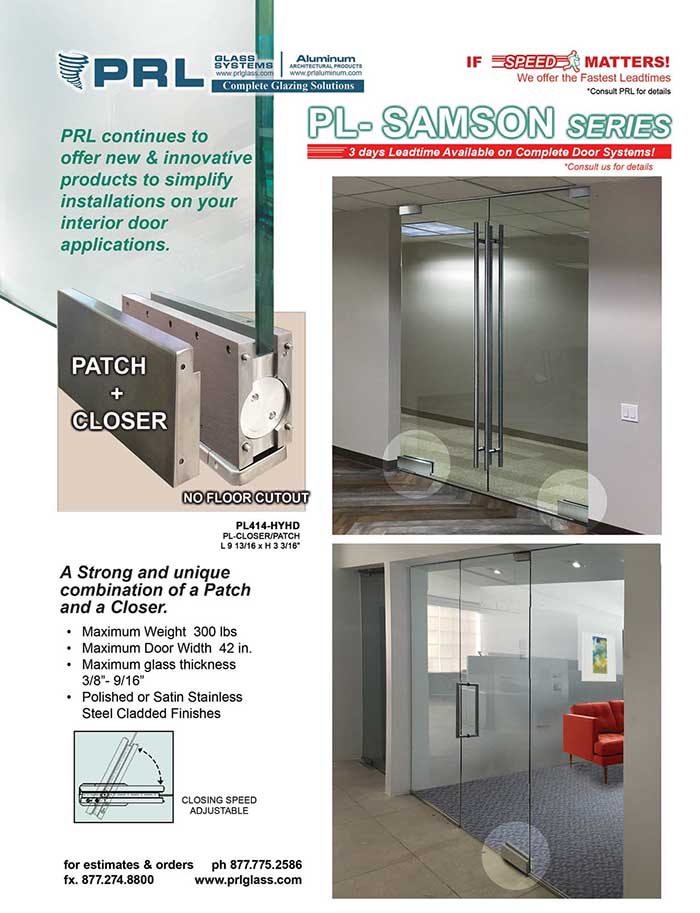 The ever-growing popularity of our samson hydraulic door patch closer has been great hit for use on PRL Frameless Glass Doors. This is just another example of PRL's commitment to provide innovative, economical solutions for our customer's interior glazing applications.
PRL's heavy duty Samson Patch Fitting Closer is not only a patch fitting, but a patch fitting and a closer- all Read More...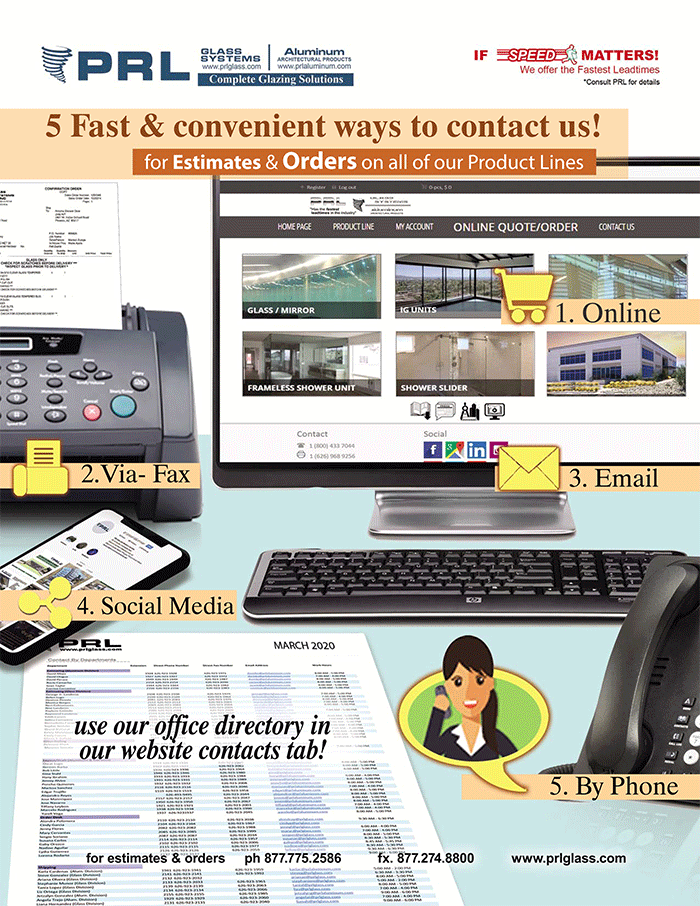 To our will call and walk-in order customers,
In accordance with the new Los Angeles County COVID-19 mandate, PRL has revised our guidelines for our will call customers. Our will call hours are Monday- Saturday. Effective Friday, April 10th all customers and employees will be required to wear face masks or face coverings while in our facilities.
To help protect the health Read More...