Custom Glass Countertops.
How Many Sizes, Shapes, Edges & Corners? Find Out!
Want some info about PRL's custom glass countertops? You've come to the right place. On this page, you'll learn how many sizes, shapes, edges and corners we render. And fabricated in-house with our robot polishers and computerized cutting tables, you'll see what customizations you can get. Beautiful indoors and out, these glass surfaces combine the best of form and function for businesses and homes. We generate countless designs for kitchens, baths, wet bars and more. Made-to-order to your exact specifications, our heavy glass countertops will meet your needs. Read on to discover what you can bid!
Custom Glass Countertops: Common Q&A's
What Glass Types Can I Specify for My Countertops?
You can have your work surface made with 3 different glass types- annealed, tempered or laminated. All fabricated in our facility, we ensure our countertops are the finest quality.
Will These Glass Surfaces Crack or Break Easily?
No. Generated mostly in heavy glass thicknesses, our countertops are just as durable as marble or granite. And, crafted in larger sizes up to 190", these surfaces will stand up to whatever you can deliver.
Can I Order a Variety of Countertop Shapes?
You sure can! Our team produces a vast assortment of shapes. For your glass surfaces you can bid square, rectangular and round shapes as well as triangular, half-moon and waved. We also fashion countertops in ovals and blunt ends in addition to compound and custom shapes.
Which Corners Do You Render? Can I Get Custom Corners for My Surfaces?
Absolutely! We manufacture custom as well as standard corners for glass countertops. Custom corners are created per your glass surface plans. Our standard corners include 45° clipped, square, dubbed, concave, silver dollar, and various angles and radiuses.
How Many Glass Edges Can I Request?
You can select from over 14 edges for your glass surfaces. All hand crafted by our experts, they include single and double bevels, flat and pencil polished, 45° mitered and Rope. We also generate Waterfall, Gemstone, Ocean Surf and more. And if your countertop calls for custom edging, we can do that too. Just consult with us for details.
Custom Glass Countertops: Fabrication Q&A's
What Custom Glass Fabrications Do You Offer for Countertops?
We can render just about anything for your office or home surfaces. Custom glass fabrication is our area of expertise!
We build countertops with customized pattern cuts, decorative inserts, overlays, hole diameters, intricate glass notching, or anything else your project may require.
Can You Produce Elevated Countertops? What Supports the Glass Surface?
Yes we can. Supported by stand-offs, we make raised countertops to your exact dimensions. Size of glass surface, degree of elevation and hole diameters are all manufactured in-house. We even extrude the stand-offs ourselves to your precise diameters and lengths.
My Client Wants a Colored Kitchen Surface. How Many Shades Are Available?
We furnish a huge collection of colored glass for our countertops. You can purchase 12 laminated shades in blues, grays, yellows and reds. Or, if you prefer an earth tone kitchen surface, you could opt from 16 spandrel hues in whites, blacks, greens and neutrals. We also supply unlimited custom glass colors. Call us for info.
I Need a Pattern. Do You Make Textured Glass Countertops?
Yes, we do. Our glass department generates multiple surfaces in textured patterns. You can get over 12 popular styles for your countertops. They include Bubble, Aquatex, Bamboo, Rain and Delta Clear just to name a few. Please consult with us for full inventory.
Will You Sandblast Custom Designs into My Glass Surface?
We sure will! Our highly trained craftsmen can create endless sandblasted designs for glass countertops. We also render glue chipped borders and motifs. So, whether your glass surface calls for a custom graphic, logo or theme, we can do it all.
Custom Glass Countertops. Innovate Your Surfaces at PRL!
Shop custom glass countertops at PRL of Los Angeles County. Innovate your surfaces with us! Regardless of size, shape, edges or corners, we can produce nearly any customization. Offering a multitude of colors, boundless sandblasted images and the finest fabrications, you can be sure of us. Our custom glass countertops just add up to better.
Quick Product Photo Gallery
For Complete Tempered Glass Specifications, Estimates and Orders
Please Feel Free to Contact Us Directly
Toll Free (800) 433-7044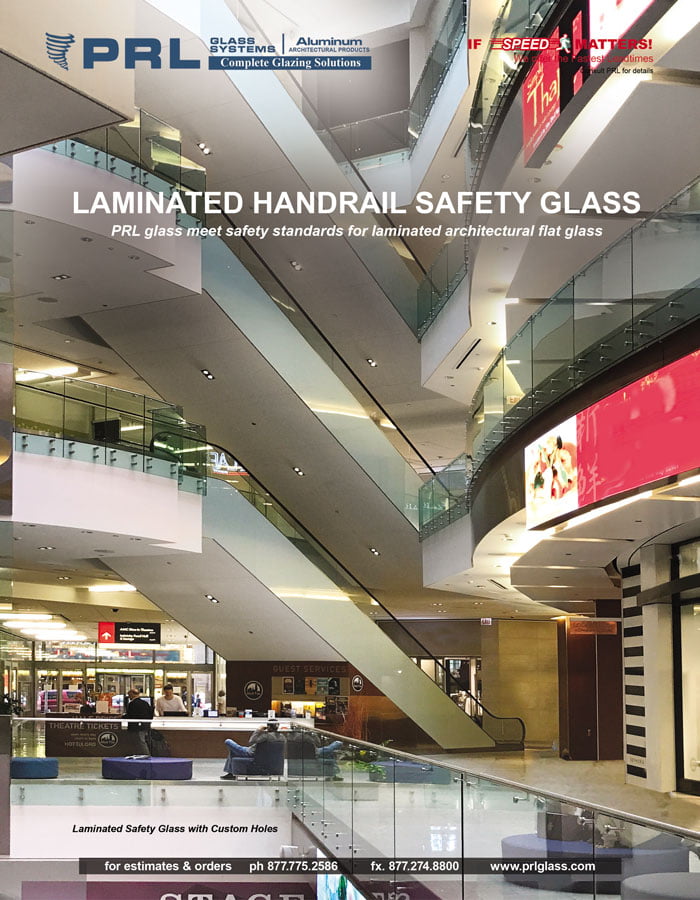 Need glass railing panels customized for your next project? Shop at PRL! Performing the finest glass fabrications with laminated safety glass. Meet the aesthetics and all the safety codes. You can quote oversized handrail panels with custom edging, compound geometric shapes, sectional glass balusters, and more. Offered in diverse glass types, sizes, and thicknesses, our glass guardrail panels are ideal Read More...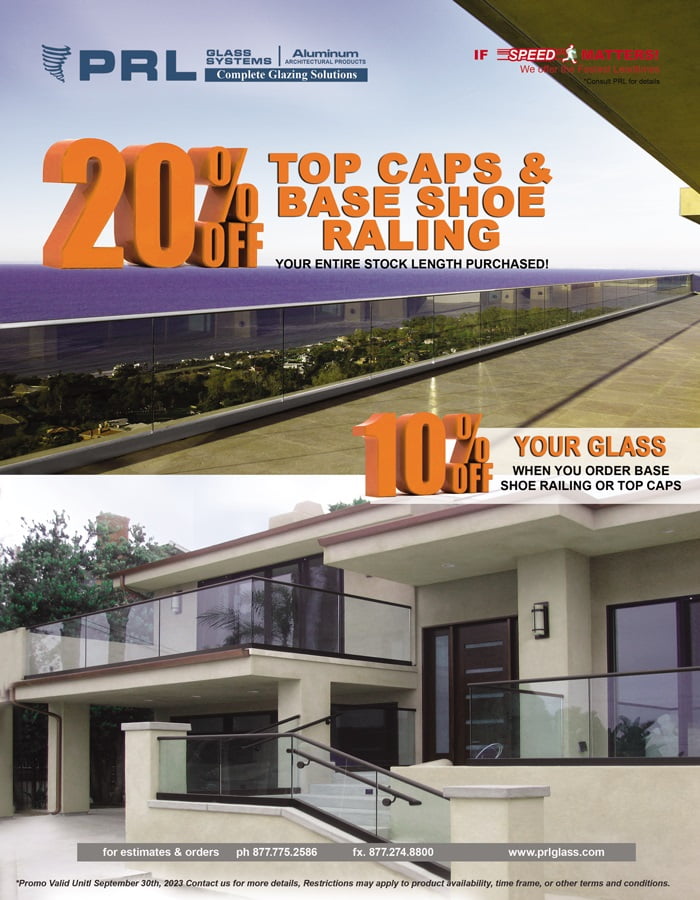 THE MORE YOU BUY, THE MORE YOU SAVE!
Shop base shoes and top caps at PRL. Like never seen before 20% discount on all Stock Length Base Shoe and Top Caps!* We'll price match** these handrail components from our competitors. Also offering technical support and a wide range of services, we can meet your railing needs. 35% lighter Read More...