Aluminum Extrusions – 2350 US Ton Extrusion Press
PRL has always been a strong believer in customer service, and to that end producing more items in-house provides better control of delivery times. In saying this PRL Aluminum continues to move forward in producing our own Aluminum Extrusions using our 2350 US Ton Extrusion Press.
Our Aluminum Extrusion Department
Is well appointed with experienced office and production staff to provide our customers with high quality product while keeping the costs low.
Using modern automated equipment, we operate with lower staffing levels while still maintain fast lead-times. Computerized automated systems help us optimize our raw material to reduce scrap and then pass the savings on to our customers.
PRL specializes in producing extrusions using 6000 series alloys including 6005, 6063, 6061 and 6063. Our extrusions capabilities include extrusions up to an 8″ Circumscribing Diameter; depending on the profile of the shape we can accommodate larger sizes.
Please consult your PRL sales representative for specifics, as we are capable of producing lengths of up to 50′ in length, though generally we produce 24′ or less.
When it comes to finishing, we offer anodizing, paint and powder coating. Anodizing is offered in Clear, Bronze and Black. Other colors may be available on request. Bright-Dip finish is also available.
We also offer painted finishes using Polyester and Kynar and Powder Coating using acrylics, urethane and polyesters.
Quick Product Photo Gallery
For Aluminum Extrusion Specifications, Estimates and Orders
Please Feel Free to Contact Us Directly
Toll Free (800) 433-7044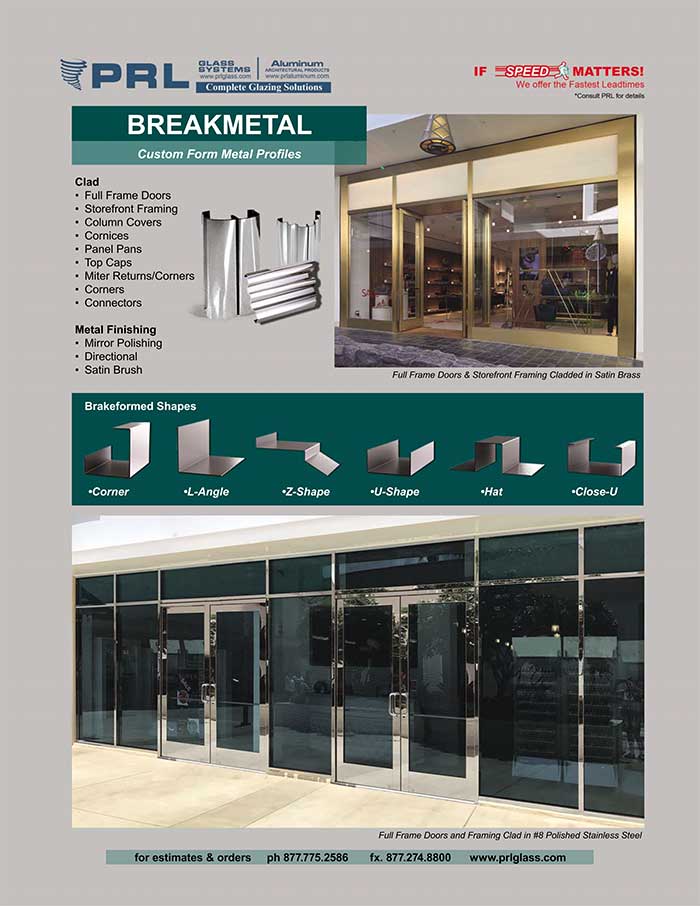 Offering a huge selection of top-quality architectural break metal products, PRL is your go-to source! Whether you're designing storefront cladding, full framed cladded doors, or a handrail system, we can produce a wide assortment of break formed products to meet your needs.
We stock a large supply of the most popular metal sheets (48 x 120 and Read More...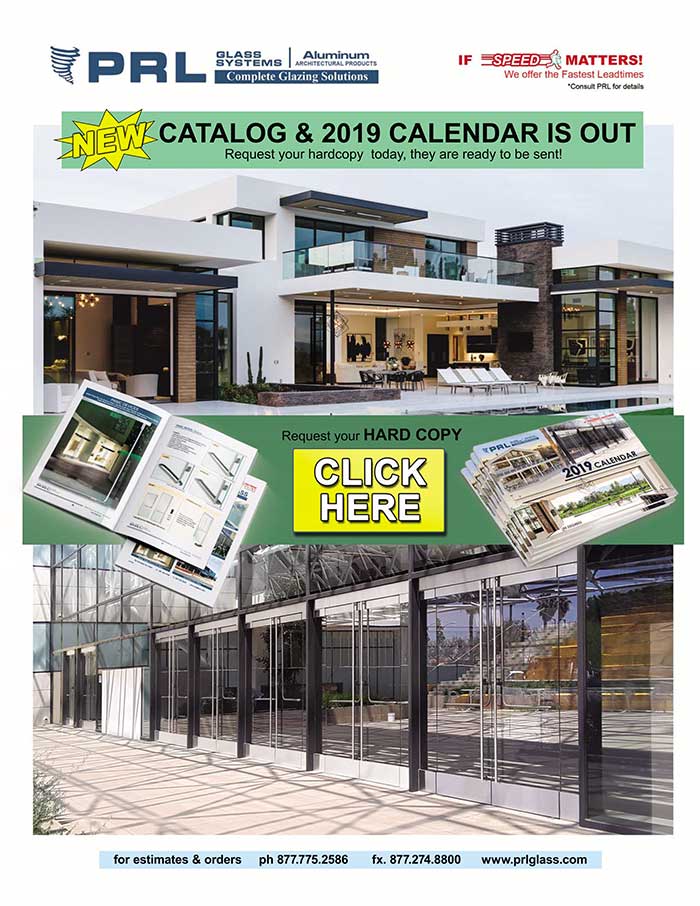 Start the new year out right with a New 2019 PRL Calendar. Featuring terrific monthly photos of our glass and aluminum products, our calendar will keep you organized while learning about all we have to offer.
Also, A must-have tool provides wealth of useful information is PRL's new 2018 Architectural Glass catalog request your hard Read More...