Need storefront glass types that bring increased performance or stylish accents to front entries? Do business with PRL Glass & Aluminum. We furnish a sweeping selection of the finest glass products for framing systems. Beautiful indoors or out, our craftsmanship graces glass and aluminum storefronts with excellence. Available in a huge assortment of thicknesses and sizes, our storefront glass types meet numerous specifications. So, deal direct with us today! Standard or custom, we'll meet your glass and aluminum storefront needs.
Experience the benefits of our storefront glass types. Whether your passageway calls for increased security, sound control or reduced energy costs, we can accommodate your needs. Our collections of architectural, high performance and laminated safety glass are top-notch. Job site plans stipulate custom colors, sandblasted designs or textures? Affording unlimited hues, images, patterns and themes, our assortment of colored and decorative glass types will fit the bill.
At PRL, we take pride in delivering premium quality commercial and residential entrance materials. That's why we fabricate virtually all storefront glass types in-house. Equipped with four tempering ovens, two robot IG lines and a state-of-the-art lamination line, we produce everything from expertly crafted oversized glass panels to insulated units with arched or patterned shaped spacers and grids. Intended for a wide range of access doors and glazing systems, our glass types are offered in ¼" to 1″ glass thicknesses.
See how easily you can meet your glass and aluminum storefront designs. Assign your project to us. Rendering a huge inventory of functional and aesthetic glass product lines, we can satisfy a host of specifications. Choose our storefront glass types. Not only do we make your client's framing system look good, but we make you look good too.
Architectural Glass Types
Perfect for exterior and interior thresholds, our group of architectural glass types has a lot to offer. Available in a mixture of colors and brands you trust, this medley of clear, low iron and mirrored glass is the right choice. Supplied in annealed and tempered options, our storefront glass types yield high light transmittance and superior clarity for ingresses.
Features:
Outstanding clarity
High light transmittance
Practically colorless appearance
Variety of colors
Glass Options:
Annealed glass
Tempered glass
Architectural Glass Types:
Clear: Standard & oversized glass panels
Low Iron Brands:
Starphire®
Diamante® & Optiwhite™
Mirrored Colors (Annealed Only):
Bronze & gray
Acid etched blue
High Performance Glass Types
For the best selection of high performance glass types, buy at PRL of California. We furnish everything from IG units and low E glass to reflective, tinted and tinted uncoated options. Stocking a large quantity of well-known manufacturer's hard and soft coats, these storefront glass types increase energy efficiency for institutions and homes. Delivered in a vast array of sizes and colors, our solar control products accommodate several glass and aluminum storefront specifications.
Features:
Increases energy efficiency & U-values
Improves solar heat gain coefficients.
Provides excellent thermal performance
Reduces energy costs
Huge assortment of glass colors
Glass Options:
Corner offset IG units manufactured to your specs
IG unit breather tubes & argon gas filled options
IG unit spacers: Numerous arched & patterned shapes
IG unit grids: Wide range of patterned & arched designs
Spacers & Grid Colors:
Clear, bronze & white
High Performance Glass Types:
Insulated Units:
Maximum sizes: 98″ X 137
Minimum sizes: 6″ x 6″
Low E Brands:
Sungate® hard coats
Guardian SunGuard® soft coats
Reflective Colors:
Blues, greens, bronzes & more!
Over 10 industry standard shades
Tinted & Tinted Uncoated Colors:
Greens & blues
Bronzes & greys
Laminated Safety Glass Types
Meet those building code requirements with our laminated safety glass types. Carrying a large inventory of top quality interlayers, we manufacture endless make-ups for framing systems. Whether your glass and aluminum storefront requires sound reduction, impact resistance or bullet protection, this glazing collection has it all.
Want some privacy or vibrant color for your interior or exterior entry? We've got what you need. In addition to a host of PVB, bullet resistant and Structural SentryGlas® interlayers, we also furnish a wide assortment of Rainbow colored coatings and Switch-It Privacy Glass. Meeting or exceeding ANSI and ASTM standards, our storefront glass types get the job done.
Features:
Meets building code requirements
Conforms to ANSI safety standards
Meets or exceeds ASTM standards
Offers added strength & security
Increases UV protection
Improves sound control
Vast array of colors
Glass Options:
Annealed glass
Heat strengthened glass
Tempered glass
Unlimited Laminated Glass Make-Ups:
Tinted
Reflective
Patterned
Mirrored
And more!
Laminated Safety Glass Types:
Maximum sizes: 96″ x 155″
Minimum sizes: 12″ x 12″
PVB Interlayers:
Clear
7% Shinning White
65% Translucent White
81% Sand White
Structural SentryGlas® Interlayers:
Impact rated & hurricane resistant
Stronger & more rigid than traditional PVB interlayers
UL tested for ammunition levels 1-8!
Rainbow Color Interlayers:
Over 10 standard colors & infinite custom colors
Blues, pinks, reds, yellows & more
Switch-It Privacy Glass Interlayers:
Go from transparent to opaque with the flip of a switch!
Colored & Decorative Glass Types
You wouldn't want to miss PRL's line of colored and decorative glass types. We provide an abundance of artistic accents for glass and aluminum storefronts. Offering everything from the subtlest of hues to extravagant glass carvings, we're the manufacturer installers and architects trust. We transform residential and professional doorways into show-stopping entrances. When you're bidding your next ingress proposal be sure to specify these storefront glass types.
Boundless colors, textures, borders and motifs. That's what you can find in our colored and decorative glass types. Available in a variety of tempered, annealed and acid etched options, we can satisfy a tremendous scope of architectural designs. We supply a rich array of spandrel glass colors, a lavish selection of popular textures and five exclusive glue chipped borders and patterns. Utilizing the finest sandblasting techniques, our master craftsmen render limitless sandblasted glass logos, images and more.
Features:
Over 14 standard colors & endless custom shades
Precise color matching from ICD
High durable paints
OPACI-COAT 300® water based silicone coatings
Textured Glass:
Over 15 popular textures & patterns
Glue Chip Glass:
5 exclusive PRL borders & patterns
All glue chipping made-to-order
Sandblasted Glass:
Infinite custom graphics, logos & themes
Expert etching, frosting, carving & shading
Beautiful opaque & three-dimensional effects
Glass Options:
Tempered glass
Annealed glass
Acid etched glass: Textured
Low iron acid etched glass: Textured
Colored & Decorative Glass Types:
Whites & blacks
Greens & blues
Reds, purples & more!
Textured Patterns:
Delta Clear
Rain
Bamboo Frost
Aquatex & more!
PRL's Glue Chip Borders & Patterns:
Borders: Classic, Deco, & Rope
Patterns: Bamboo & Lilly
Sandblasted Designs:
Mythical
Nature
Oceanic
Borders
Corporate slogans
And more!
Storefront Glass Types. Get Endless Options for Endless Projects at PRL!
Quote our storefront glass types. Architectural, high performance, safety and decorative, we've got it all!
For Complete Panic Device Hardware Specifications, Estimates and Orders
Please Feel Free to Contact Us Directly
Toll Free (800) 433-7044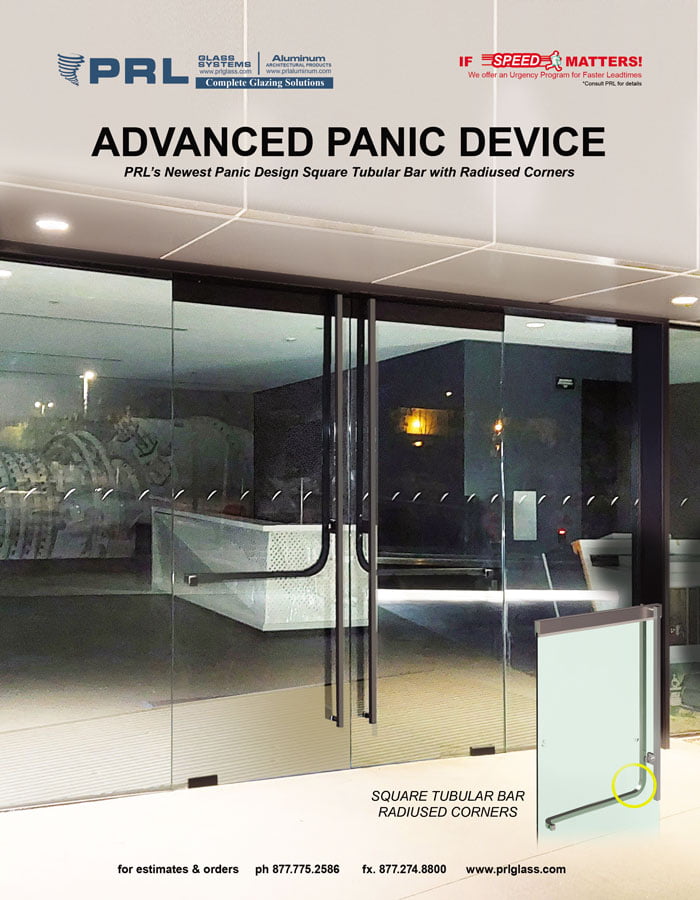 Specify PRL's Advanced panic device! This L-shaped interior crash bar accommodates heavy glass doors up to 120" tall. No wonder we're the go-to fire exit supplier on the West Coast. Crafted with square tubing and radius corners, our panic devices looks beautiful on life-safety egresses. Order yours now! You'll be glad you did. Great for many door styles, you can Read More...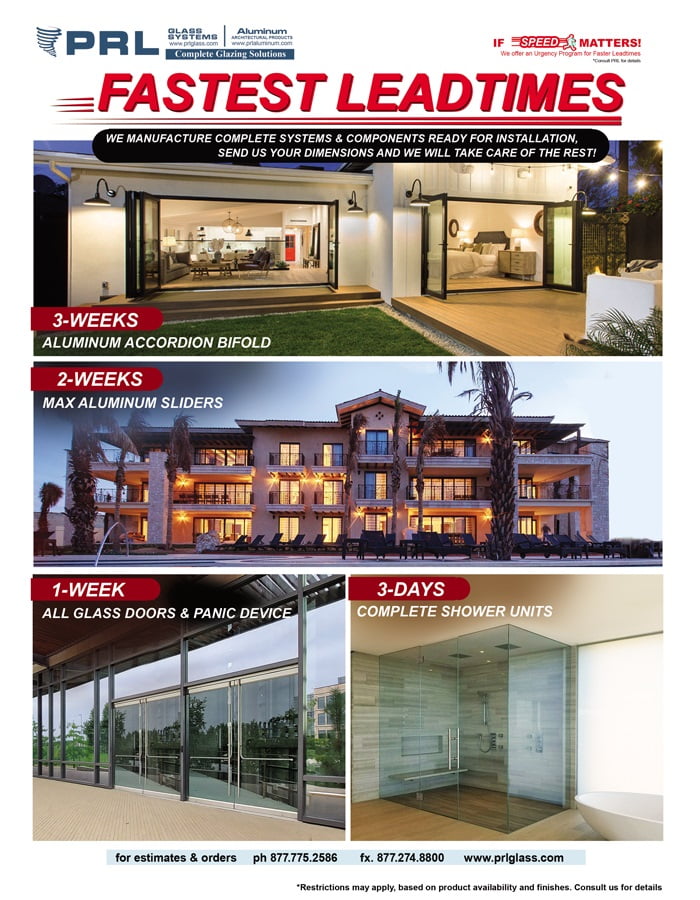 Don't miss out! Right now, you can get the fastest lead times on everything at PRL. That's right! Our entire inventory all product lines, glass lines, and hardware lines are now available with the fastest lead times in the industry! So, hurry and quote those last-minute jobs. Now you can meet their deadlines! Whether your project is a panic system Read More...