All Glass Railing Systems
PRL offers complete all glass railing, handrails and guard railing systems. We manufacture and extrude most of the railing components in house. The Elegante All Glass Railing System brings exciting innovation to architectural all glass railing systems.
This handrail system is unique due to its frameless features. The system uses 1/2″ tempered glass or tempered laminated glass. Our 2″ diameter x 1-3/4″ tall standoffs are made from 316 alloy stainless steel. Custom lengths and diameters are available upon request when job conditions require.
The 4″ x 8″ stainless steel back plate can be utilized depending on the structural substrate condition. The back plates have predrilled holes which make installation less complicated and allows for more adjust-ability.
Consult our all highly experienced staff for special design and engineering. Our team is ready to go work for you. Send us your system requirements and field dimensions and let PRL do the rest! All you have to do is the installation.
2012 PRL Guardrail & Handrail Catalog
Architectural Glass and Metal Handrails
For Complete Architectural Handrail Specifications, Estimates and Orders
Please Feel Free to Contact Us Directly
Toll Free (800) 433-7044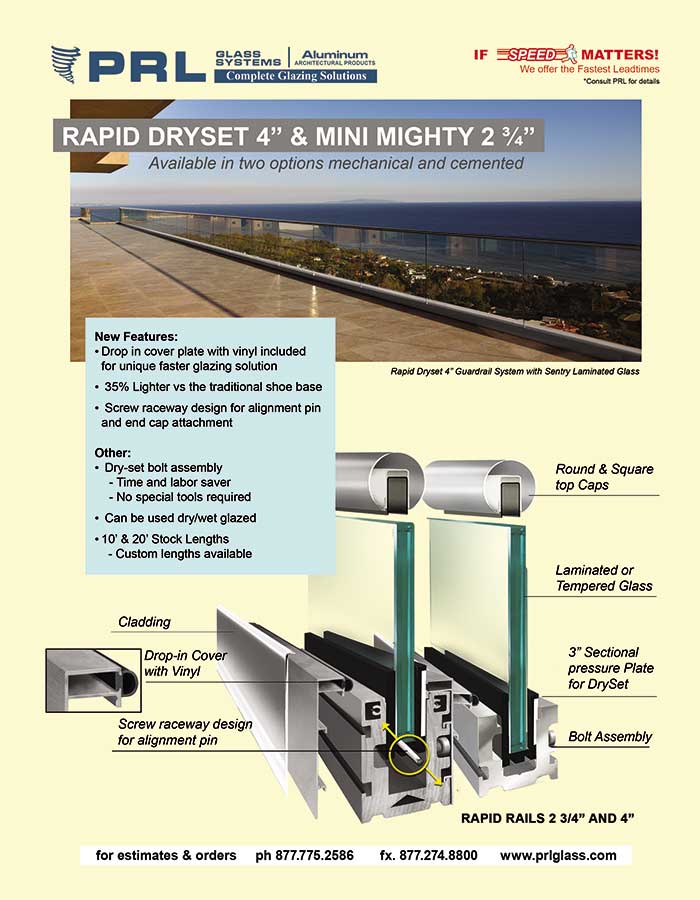 Order PRL's rapid dryset handrail base shoes to get in on the perks of our groundbreaking features. Suitable for mechanical or cemented applications, this product has a lot to offer. 35% lighter than the original heavy base shoe, these base shoes boast a higher strength and durability. Interchangeable drop-on covers make repairs a cinch, and our dryset design forgoes the Read More...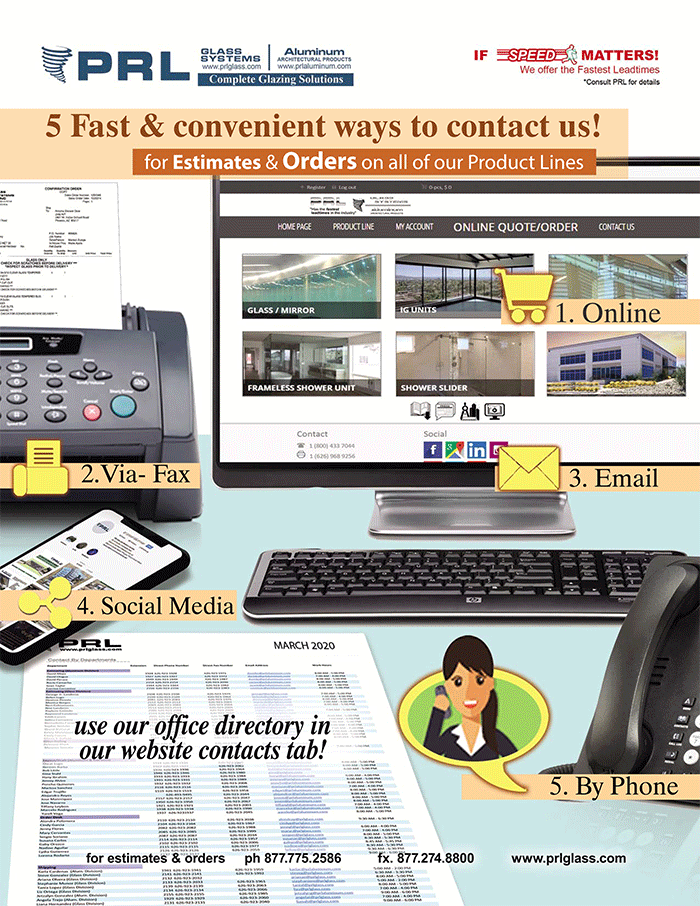 To our will call and walk-in order customers,
In accordance with the new Los Angeles County COVID-19 mandate, PRL has revised our guidelines for our will call customers. Our will call hours are Monday- Saturday. Effective Friday, April 10th all customers and employees will be required to wear face masks or face coverings while in our facilities.
To help protect the health Read More...