2012 Architectural Glass and Metal Handrail Catalog
PRL is honored to present its 2012 Glass Guardrails/Handrail Systems Catalog. We offer complete manufactured architectural handrail systems as well as loose components (top cap, bottom base, glass, etc). PRL manufactures its own top cap and bottom rails all in house. Try our Rapid mechanical bottom base shoe and experience its quickness to install (labor & money saver!!).
We are a very unique company in that we fabricate both Architectural Glass and Architectural Metal products all in our facilities. This makes PRL one of a few companies capable of producing complete Architectural Glass and Metal Handrail Systems.
This single source advantage gives our customers an edge, providing convenience, quality control and the fastest production time in the industry.
Our mission is to simplify your purchasing of Complete Systems, Simply supply us your specifications and let us take care of the rest Toll Free 800-433-7044.
For Complete Handrail and Guardrail Specifications, Estimates and Orders
Please Feel Free to Contact Us Directly
Toll Free (800) 433-7044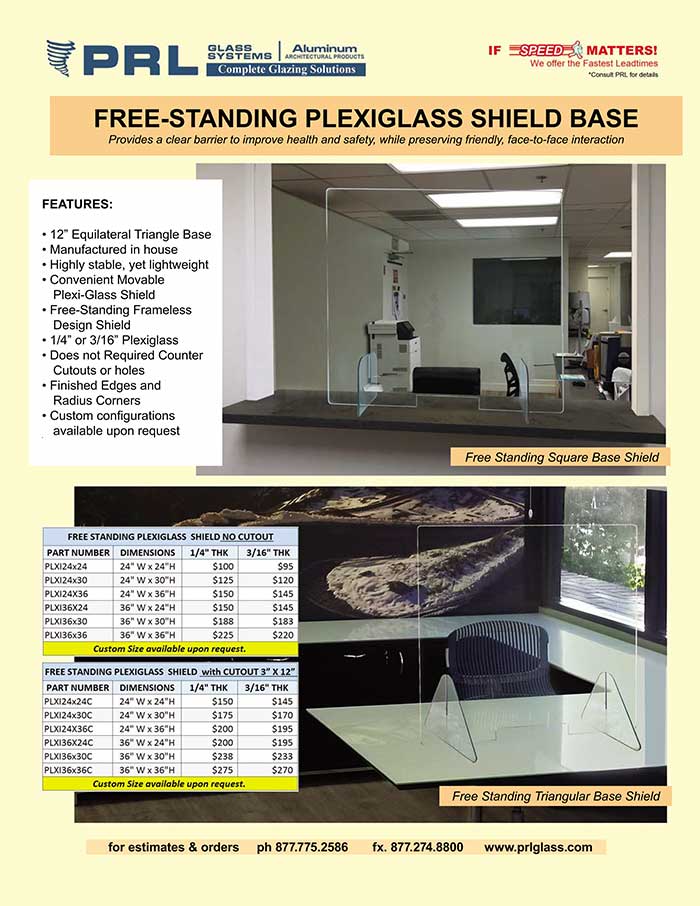 Bid protective plexiglass shields at PRL to bring flexibility to essential business projects. Lighter in weight, self-supporting and movable, these employee-customer barriers easily transport from one surface to another. Adaptable for multiple uses, and crafted with sturdy triangular and rectangular plexiglass bases, our protective shields are a must-have for work desks, reception countertops, check-out areas and Read More...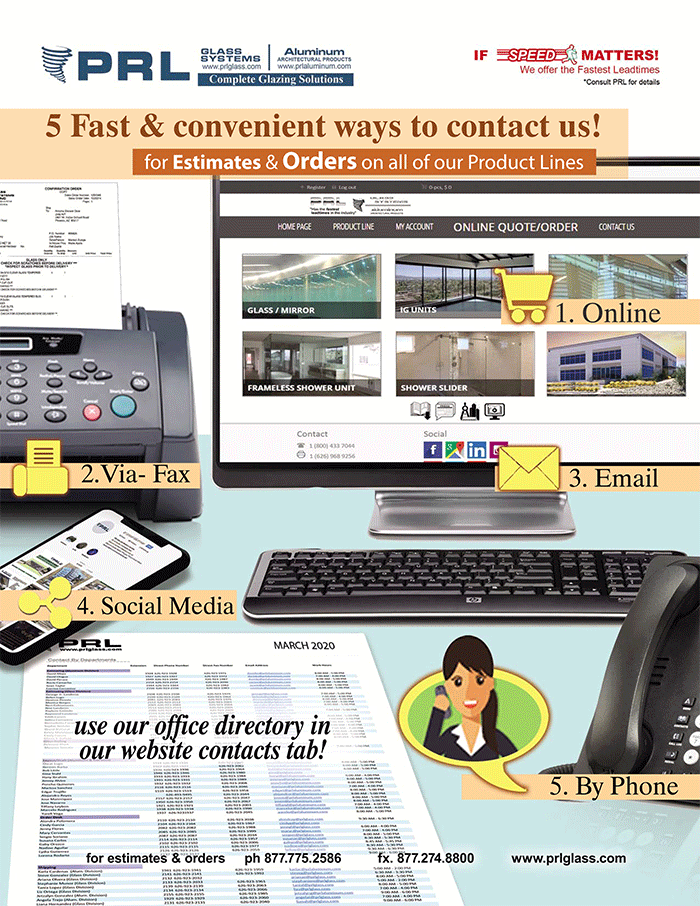 To our will call and walk-in order customers,
In accordance with the new Los Angeles County COVID-19 mandate, PRL has revised our guidelines for our will call customers. Our will call hours are Monday- Saturday. Effective Friday, April 10th all customers and employees will be required to wear face masks or face coverings while in our facilities.
To help protect the health Read More...