Textured Glass in Los Angeles, CA.
PRL is a frameless shower door manufacturer that offers a variety of different glass types and thickness. We stock from the simple clear tempered glass to exotic textured patterns from Europe. We can manufacture custom glue-chip and sandblast custom textured designs. The low iron acid etched tempered glass has become a very popular shower door glass product. PRL has the textured glass and quality you need to get that Wow! factor you are looking for.
Textured glass gives elegance and privacy. If you're looking to upgrade from the traditional clear glass and add an elegant look to your bathroom look no further.
Textured Glass from Simple to Exotic
Here are just a few options PRL offers:
5/16″ master-ray
5/16″ master-lens
5/16″ master-point
5/16″ master-ligne
3/8″ & 1/2″ glue-chip
3/8″ & 1/2″ acid etch
3/8″ & 1/2″ low iron acid etch
3/8″ rain
3/8″ krystal rain, storm, and glacier
3/8″ master-carre
Simply supply us design and let us take care of the rest Toll Free 800-433-7044.
2016 Shower Door and Enclosure Catalog
Be sure to check out our quick photo gallery
For Complete Textured Glass Specifications, Estimates and Orders
Please Feel Free to Contact Us Directly
Toll Free (800) 433-7044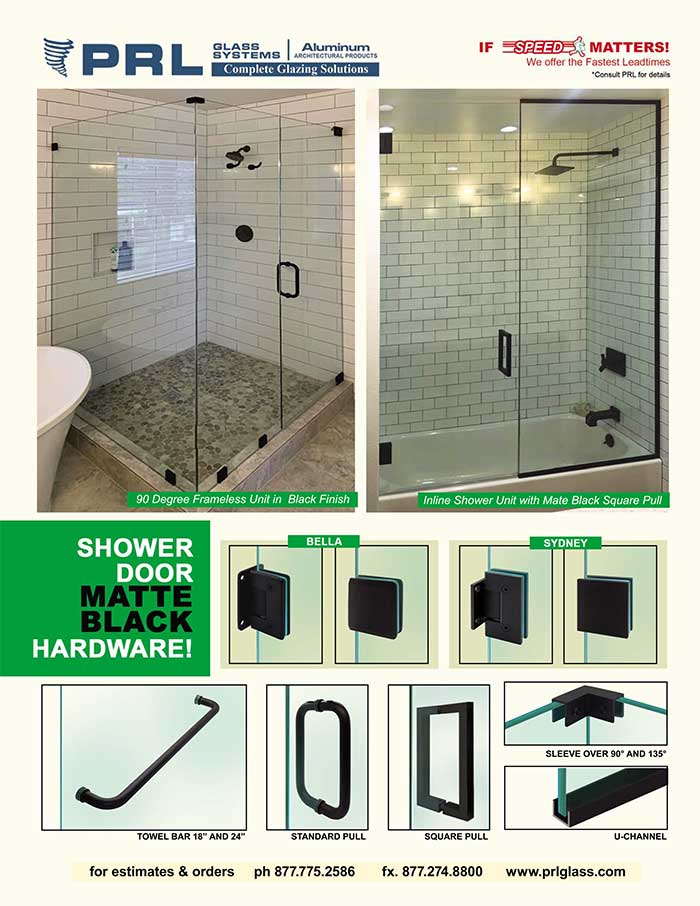 Now at PRL get the most popular matte black shower hardware finish, the latest trend for designers and homeowners! Now available for our lines of hinges, clamps and pull handles, this new product brings even more design choices to high-end resort and residential baths.
Experience the beauty of our matte black hinges and clamps. We supply a huge collection for Read More...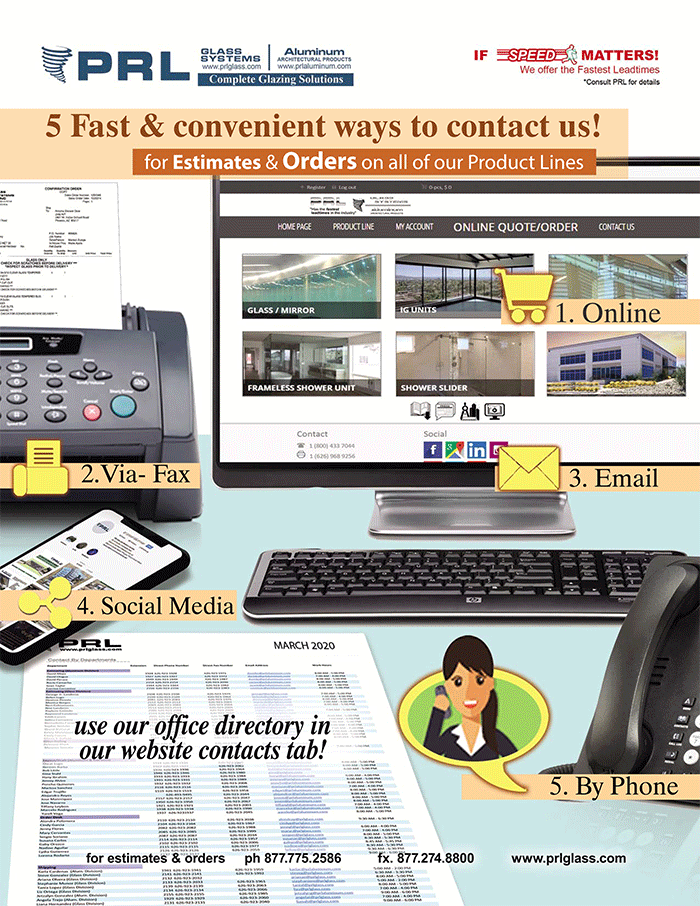 As part of the essential business construction sector, PRL is open in during the corona-virus stay-at-home order throughout California. Our office staff is working at full force throughout this pandemic to ensure you receive the glass and aluminum products you need.
Your business has great value to us so we're reminding you of a fast, convenient way to order and quote Read More...