Textured Glass in Los Angeles, CA.
PRL is a frameless shower door manufacturer that offers a variety of different glass types and thickness. We stock from the simple clear tempered glass to exotic textured patterns from Europe. We can manufacture custom glue-chip and sandblast custom textured designs. The low iron acid etched tempered glass has become a very popular shower door glass product. PRL has the textured glass and quality you need to get that Wow! factor you are looking for.
Textured glass gives elegance and privacy. If you're looking to upgrade from the traditional clear glass and add an elegant look to your bathroom look no further.
Textured Glass from Simple to Exotic
Here are just a few options PRL offers:
5/16″ master-ray
5/16″ master-lens
5/16″ master-point
5/16″ master-ligne
3/8″ & 1/2″ glue-chip
3/8″ & 1/2″ acid etch
3/8″ & 1/2″ low iron acid etch
3/8″ rain
3/8″ krystal rain, storm, and glacier
3/8″ master-carre
Simply supply us design and let us take care of the rest Toll Free 800-433-7044.
2016 Shower Door and Enclosure Catalog
Be sure to check out our quick photo gallery
For Complete Textured Glass Specifications, Estimates and Orders
Please Feel Free to Contact Us Directly
Toll Free (800) 433-7044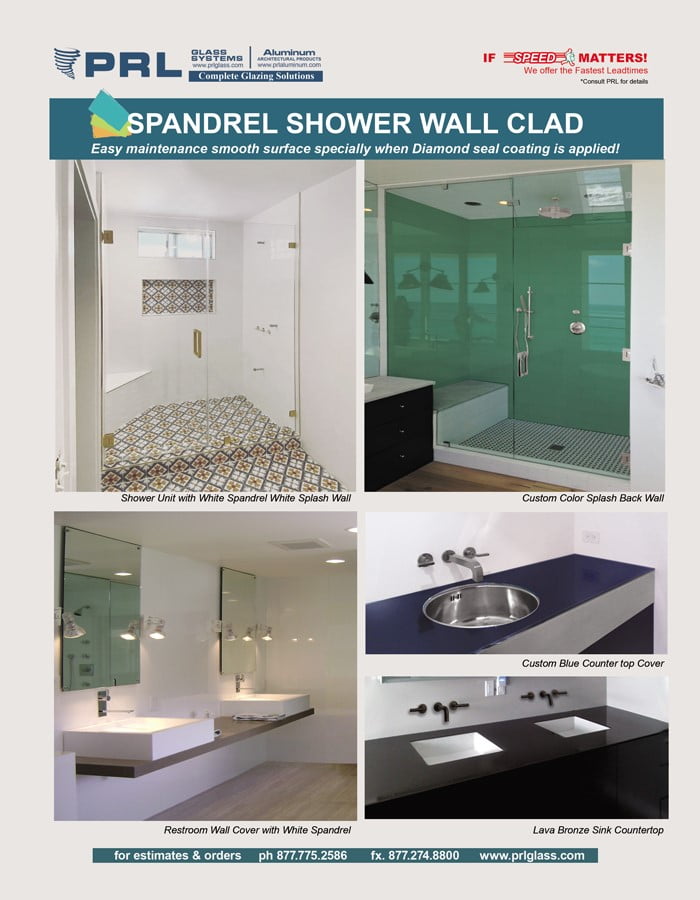 Shop PRL's spandrel glass bath products for your commercial or residential jobs. Our shower enclosure splash back walls, countertops and back splashes bring beautiful color to numerous baths. Offered in a variety of glass thicknesses and sizes, we apply ICD OPACI-COAT 300® water-based silicone coatings in-house. Delivering over 15 standard spandrel shades, and measuring colors electronically, we Read More...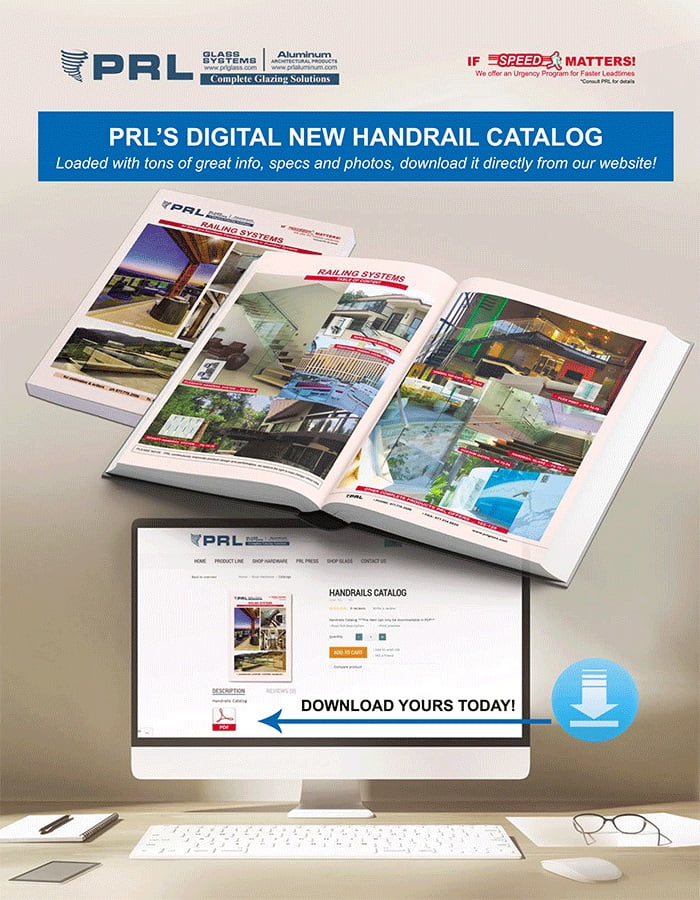 Download PRL's new Digital Handrail catalog! Find out everything you need to know about our systems, components, protective shields and more. Including our entire inventory of railing products, this catalog is a must-have. Loaded with tons of great info, specs and photos, you'll be on your way to designing fabulous projects for your customer's home or office in no time. Read More...