Glass Partitions & Cubicles.
Not Just for Offices. Designs for Homes & More
Looking for a way to create privacy or section off spaces? PRL's glass partitions and cubicles are the answer! Not just for offices, these custom specialties deliver attractive solutions for homes, restaurants and more. Versatile and accommodating, our glass partitions can be produced with several supports and panel options to meet your project needs. And, available in a large collection of finishes and glass types, these dividers bring elegance to spaces. Say goodbye to those traditional padded fabric cubicles. Get beautiful, translucent glass partitions from us.
All-Glass Room Dividers to Meet Your Needs
We generate all our glass partitions and cubicles in-house. Supported with posts or rapid dryset rails, adjoining panels are secured with brackets or glass fasteners. Our team manufactures these room dividers to your exact specifications. Made-to-order, they can be built in any length, width or height with single or multiple panels. Rendered as in-line, corner and angled configurations, our glass partitions and cubicles will accommodate virtually any floor plan or layout.
These room dividers are offered in numerous panel options. Fabricated with flat polished or mitered edges, you can quote sizes up to 110" x 190" in a variety of thicknesses. Furnished in a sweeping selection of glass types, our partitions and cubicles combine the best of form and function. When visibility is required, we'll craft them with clear tempered or laminated panels. If your space needs privacy, you can use textured glass or opaque spandrel colors. For something more ornate, we can etch cubicle panels with endless sandblasted or glue chipped designs.
We supply a range of supports for our glass partitions and cubicles. Ideal for in-line configurations, our dryset rails are a great choice. Sold in 36" and custom lengths, they feature interchangeable face plate covers. Need dividers to fit angles or corners? Our collection of posts will get the job done. They're better suited for these cubicle layouts. Extruded to your exact heights, you can bid glass partitions with stainless steel flex posts, standard aluminum, or custom posts in a host of finishes.
Glass Partitions & Cubicles: Design, Posts, Rails & Panels
CONSTRUCTION & DESIGN:
Glass panels supported with posts or dryset rails

Built in any length, width or height

Single or multiple panels
Configurations: In-line, corner, 90° & 135° angles
AVAILABLE PARTITION POSTS:
Stainless steel flex posts
Standard aluminum posts
Custom post shapes & widths
Heights: All extruded per your plans
All made with premium materials
GLASS PANEL TYPES:
Clear tempered & laminated
Industry standard textures
Spandrel colored earth tones
Vibrant laminated Rainbow hues
Glue chipped patterns & borders
Custom sandblasted graphics, logos & more!
GLASS PANEL OPTIONS:
Sizes: Standard & oversized up to 110" x 190"
Glass Thicknesses: 3/8", ½" & 9/16"
Edgework: Flat polished & mitered
All fabricated in-house
AVAILABLE DRYSET RAILS:
Profiles: Tapered & square
Include interchangeable face plate covers
Heights: 2 ¼", 4 ¼", 6", 10 1/8" & custom
Widths: 2 1/16"
Lengths: 36" & custom
CUBICLE POST & RAIL FINISHES:
Posts:
Stainless steel, clear & bronze anodized
Brushed nickel & custom powder coats
Rail Covers:
Various cladded & anodized
Kynar paints & custom powder coats
Get PRL's Glass Partitions & Cubicles. They're Not Just for Offices!
Create beautiful dividers for homes, lobbies and more. Shop glass partitions and cubicles at PRL of the West Coast. Delivering innovative solutions since 1989, why do business with anyone else?
Quick Product Photo Gallery
For Complete Tempered Glass Specifications, Estimates and Orders
Please Feel Free to Contact Us Directly
Toll Free (800) 433-7044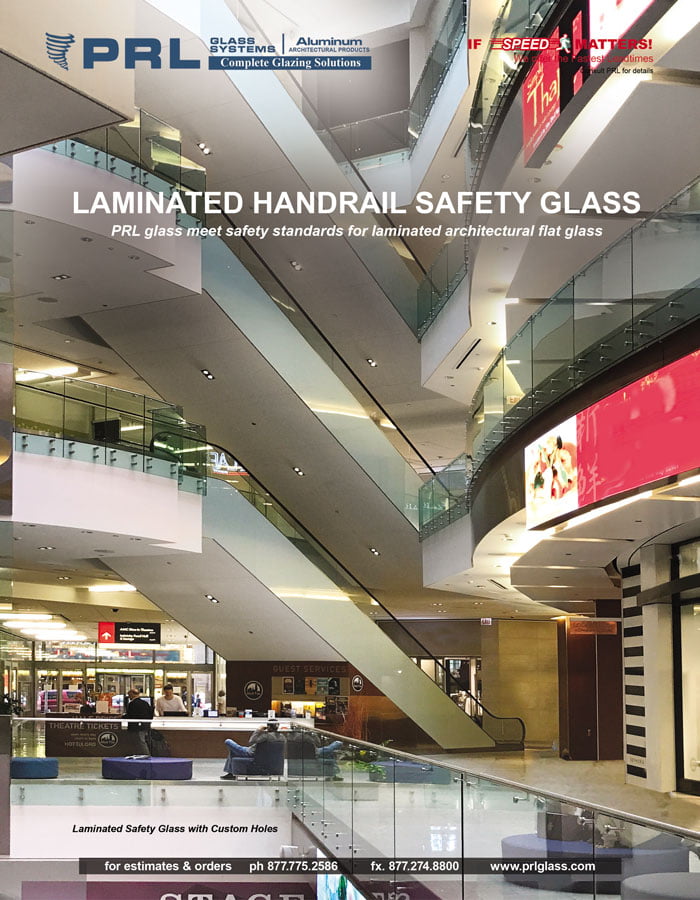 Need glass railing panels customized for your next project? Shop at PRL! Performing the finest glass fabrications with laminated safety glass. Meet the aesthetics and all the safety codes. You can quote oversized handrail panels with custom edging, compound geometric shapes, sectional glass balusters, and more. Offered in diverse glass types, sizes, and thicknesses, our glass guardrail panels are ideal Read More...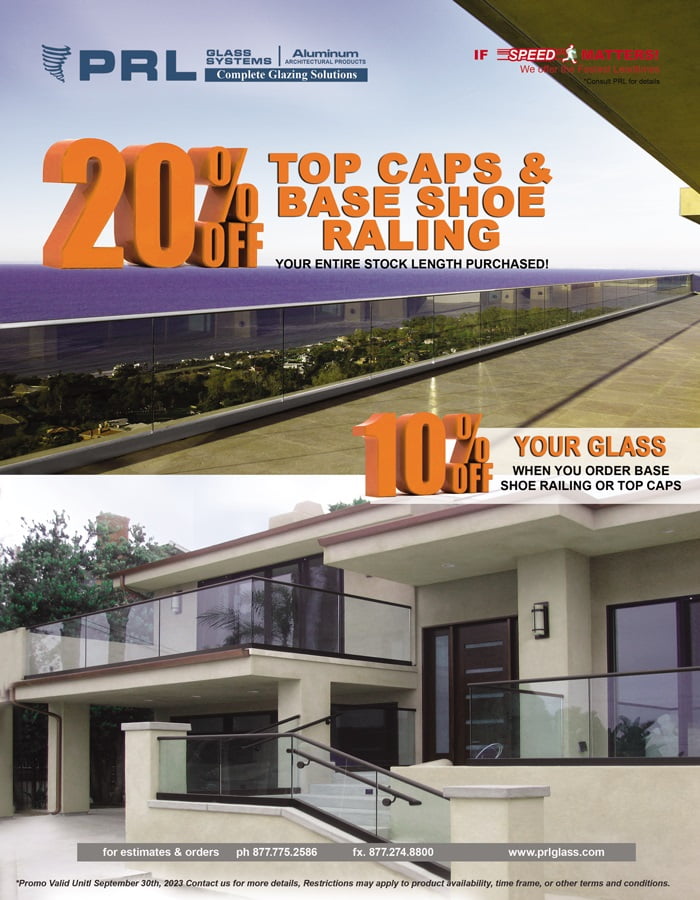 THE MORE YOU BUY, THE MORE YOU SAVE!
Shop base shoes and top caps at PRL. Like never seen before 20% discount on all Stock Length Base Shoe and Top Caps!* We'll price match** these handrail components from our competitors. Also offering technical support and a wide range of services, we can meet your railing needs. 35% lighter Read More...