Low E Glass.
10 Facts About Energy Efficient Hard & Soft Coats
Be in the know about low E glass! Read PRL's 10 facts about the hard and soft coats we carry. Increasing energy efficiency for businesses and homes, this is one solar control product you won't want to miss. After all, low E glass delivers excellent thermal performance, low to medium reflectivity and the highest visible light transmission. Meeting or exceeding many building energy codes, you'll find out which hard and soft coats you can buy, what sizes we fabricate and more. Discover the benefits of this high performance glass below. Supplying the finest glazing materials since 1989, we're your low E experts.
Low E Glass. Learn All About It.
How Does Low E Glass Work & Increase Energy Efficiency?
This solar control glass increases energy efficiency by doing 2 things. It's hard or soft coats decrease the amount of heat transmitted into a building but don't limit the amount of light allowed in. So, low E products significantly improve overall heating, cooling and lighting costs because less heat gets through.
What makes this high performance glass work is its high-tech transparent coating. Affixed to the glass surface, it reflects UV rays and infrared energy away from a building. So, regardless of which hard or soft coats you purchase, they will perform better than clear glass. This is because low E coatings decrease solar heat gain by more than half.
Will These Coatings Protect My Client's Interior Furnishings from Fading?
Yes. Low E glass will help prevent interior furnishings from fading. Since these hard and soft coats block damaging UV rays from entering homes or offices, items such as flooring, carpeting, curtains and furniture will be less likely to fade over time.
Can Solar Control Glass Be Used in IG Units?
Yes it can. These energy efficient coatings are one of the many IG unit combos we offer. When low E glass is included in IG units, they yield even higher performance.
Which Low E Hard Coats Can I Specify from You?
You can get low E hard coats from 2 well-known manufacturers. Currently, we sell Sungate® by Vitro® and Energy Advantage™ by Pilkington. Since our inventory can change, we suggest consulting with us prior to ordering.
Do You Stock Varieties of High Performance Soft Coats?
We sure do! Supplying brands you trust, we furnish 4 low E glass soft coats. These solar control products include SunGuard®, Super Neutral® and ClimaGuard® by Guardian; and we also carry Solarban® by Vitro®.
Low E Glass. Get What You Need- And Fast!
What Sheet Sizes Can I Buy Energy Efficient Panels In?
You can choose this high performance glass in a wide range of sizes. The minimum sheet size we generate is 84" x 184", and the maximum is 110" x 198". We also produce custom and oversize low E panels to meet your project needs. Please contact us for details.
How Many Low E Glass Thicknesses Do You Offer?
We extend 3 options. Rendering all low E glass in our facility, we craft this energy saving product in 1/8", 3/16" and ¼" thicknesses.
Where Can I Use These Hard & Soft Coats? What Kind of Projects?
These hi-tech materials can be used in multiple exterior applications. Whether you opt for a hard or soft coat, low E glass will reduce heating and cooling costs when installed in windows, entry doors, storefronts, curtain walls and more.
When Will My Solar Control Glass Arrive?
Our standard lead-times are 2-3 working days. And, because we fabricate all low E glass in-house, you can even get it with next day service! Yep! That's right. You can receive your high performance products with the fastest lead-times in the industry. Please note: Expedited fees may apply to next day orders.
Why Can You Produce Low E Glass So Fast?
There's 2 reasons we can manufacture energy efficient panels so quickly. First, we do everything ourselves, so we have complete control over the low E process. Secondly, our glass department operates a total of 4 tempering ovens daily. 2 of these furnaces are convection tempering systems that specialize in soft coats. So, our in-house quality control and state-of-the-art machinery enable us to make low E glass faster than anyone else.
Shop Low E Glass at PRL. We Stock the Best Hard & Soft Coats
Score high performance and brands you trust. Bid low E glass at PRL of City of Industry. Delivering the finest hard and soft coats in Southern California, there's no reason to shop anywhere else. Offered in numerous sizes and thicknesses, this solar control glass brings energy efficiency to many projects. Get in on the benefits today!
Quick Product Photo Gallery
For Complete Tempered Glass Specifications, Estimates and Orders
Please Feel Free to Contact Us Directly
Toll Free (800) 433-7044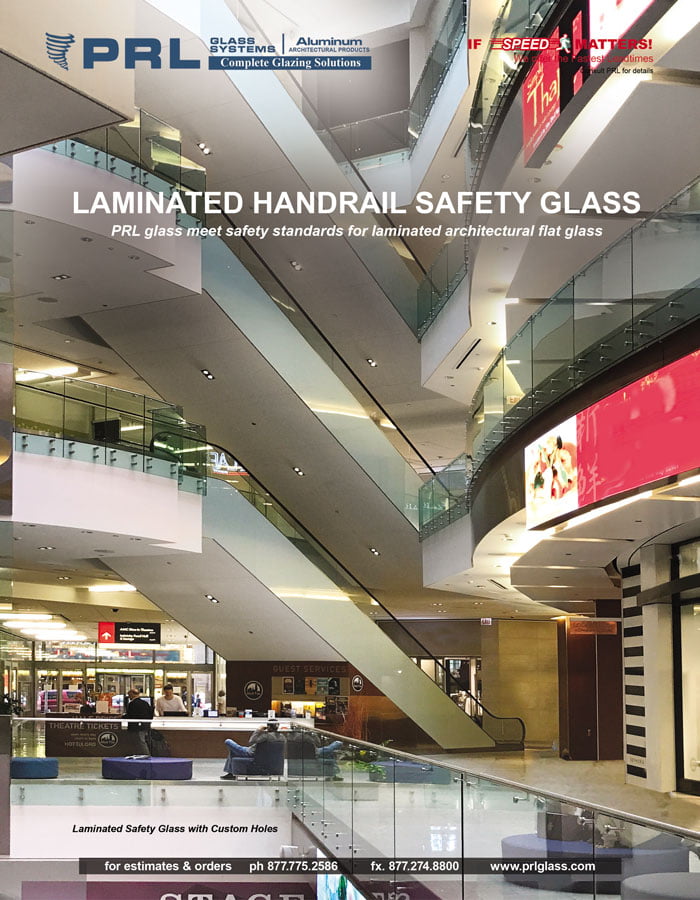 Need glass railing panels customized for your next project? Shop at PRL! Performing the finest glass fabrications with laminated safety glass. Meet the aesthetics and all the safety codes. You can quote oversized handrail panels with custom edging, compound geometric shapes, sectional glass balusters, and more. Offered in diverse glass types, sizes, and thicknesses, our glass guardrail panels are ideal Read More...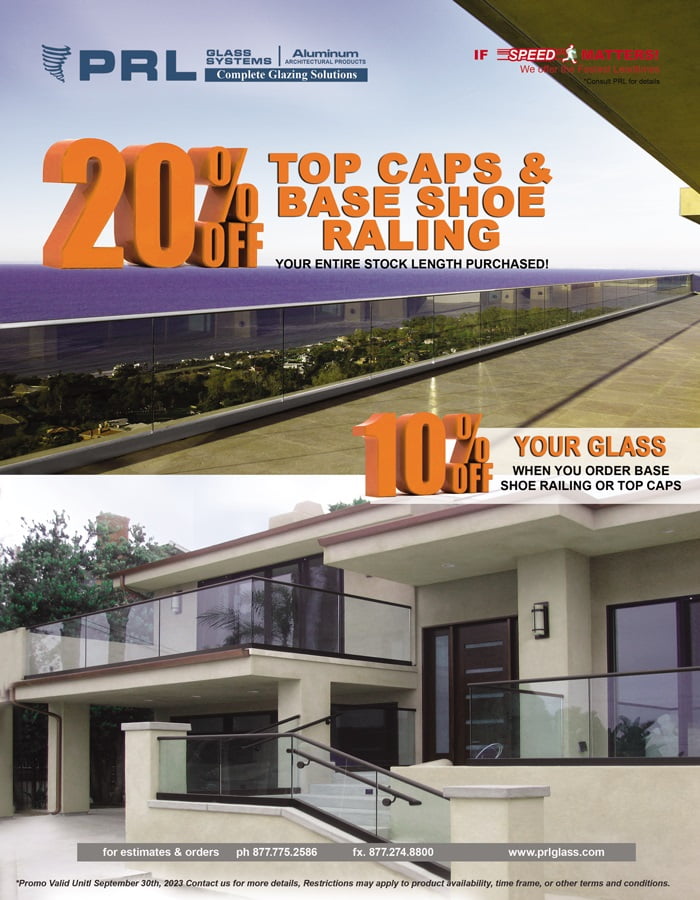 THE MORE YOU BUY, THE MORE YOU SAVE!
Shop base shoes and top caps at PRL. Like never seen before 20% discount on all Stock Length Base Shoe and Top Caps!* We'll price match** these handrail components from our competitors. Also offering technical support and a wide range of services, we can meet your railing needs. 35% lighter Read More...