Sliding Glass Wall System
PRL Clearvision movable glass wall system sliding frontages can be flexibly adapted to a wide range of applications, such as straight, angled or curved wall configurations. The sliding glass wall system uses 1/2″ tempered glass and makes for a very strong and elegant stacking wall system. The beauty of the system is that floor guides are not required, allowing the use of one flooring material throughout, without breaks. In addition, virtually any shade and color combination for the fitting surface is possible – so the system can be perfectly aligned with the decor and framework of an integrated facade and interior design solution. Moveable Glass Wall System sliding frontages are equally suitable for both renovations and new construction. The system has many applications but primarily it just opens up space. We will make it easy for you to send us your wall dimensions and we will take care of the engineering.
Sliding Glass Wall System and Stacking Sliding Glass Doors
The transparent moving, sliding wall system can be positioned in just a few moments. With pivoting or double acting doors they provide the option of continual access when walls remain closed. Our movable glass walls can be relied upon to cast any establishment in a favorable light with its wares or decor perfectly displayed behind wide transparency. Whether it's a question of design, practical scope, seals, thermal insulation or soundproofing, PRL's Clearvision glass wall system specifications meet the highest standards.
Glass panels can remain visibly stacked to one side in a number of available positions when opened, or hidden a small closet enclosure, making Clearvision Movable Glass Wall Systems visually unobtrusive and welcoming. Top and bottom door rails give the panels stability. Uncovered lateral glass edges ensure the maximum transparency of the overall system and guarantee that nothing distracts the eye.
Nu Vision Entrance Systems Catalog
For Complete Sliding Glass Wall Systems and Specifications, Estimates and Orders
Please Feel Free to Contact Us Directly
Toll Free (800) 433-7044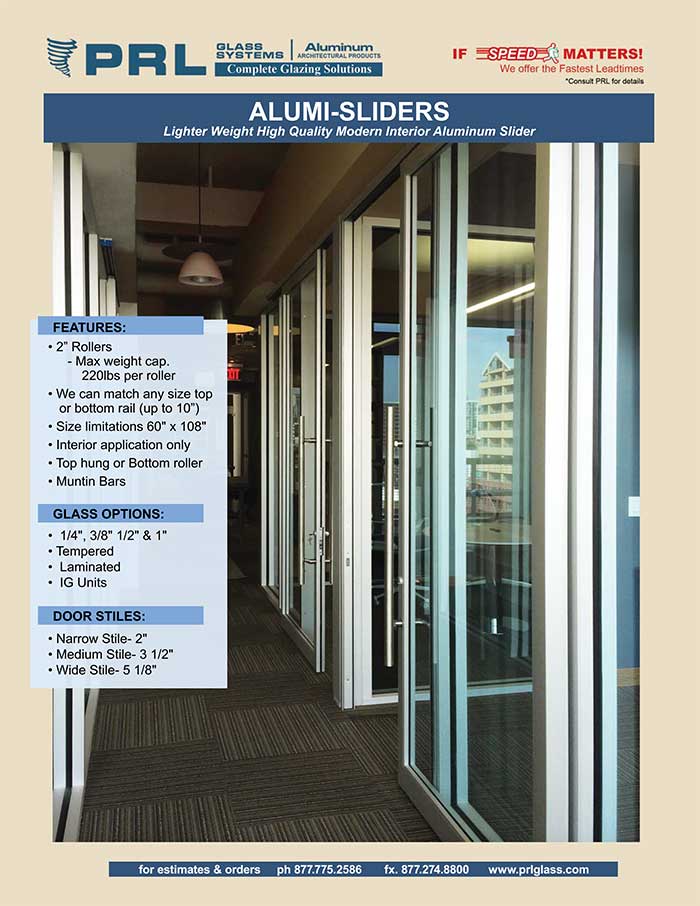 Shop at PRL for your next exterior or interior aluminum sliding doors in a variety of stiles and sizes. Durable, yet light weight, our aluminum sliding doors make operating business and home entries effortless. Available in a large assortment of glass types, pull handles and finishes. Whether you're designing room dividers or moveable wall partitions, our high-quality Alumi-sliders bring the Read More...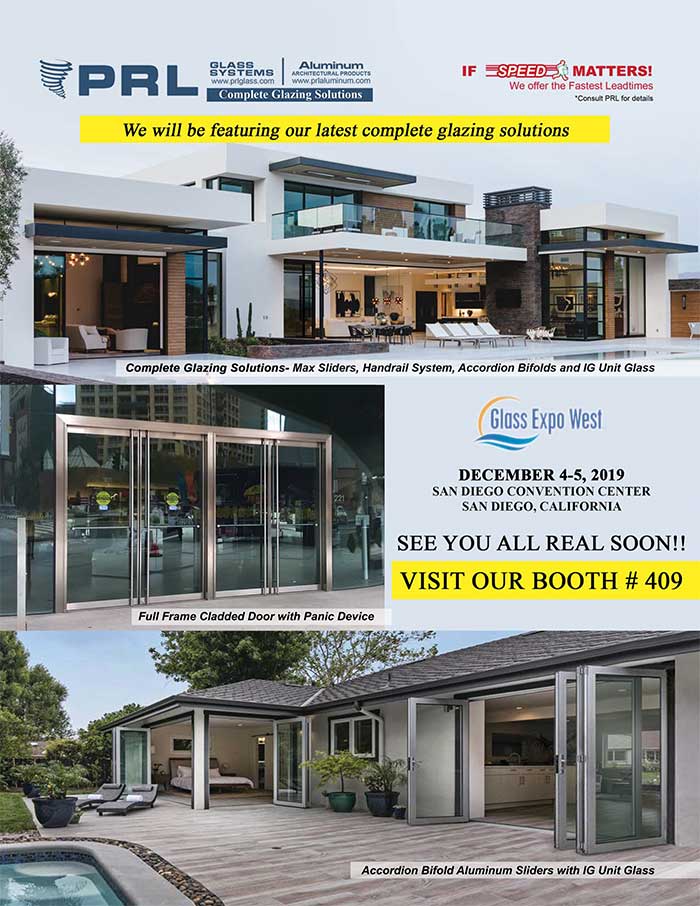 PRL invites you to stop by our booth at this year's Glass Expo West. Come spend the day learning what PRL can do for you! We will be featuring latest products and services in the architectural glass and metal industry. Mark your calendar and come spend a few minutes to learn about us and all the amazing products PRL has Read More...