Protective Glass Shields & Plexiglass Barriers
PRL of Southern California offers protective glass shields and plexiglass barriers for essential businesses. Perfect for reception areas, desktops, check-outs and more, this PPE is a must-have for today's face-to-face interactions.
We deliver 4 safety shield designs to meet the demands for retail, hospitality, health, food service and educational industries. Whether you require lightweight portable protection to move from surface to surface, or stationary counter guards, we're the place to shop. All manufactured in-house, our glass and plexiglass barriers are rendered in a wide range of standard and custom sizes, glass types and finishes.
Portable & Stationary Shields for Social Distancing
At PRL, we know protection needs to be in many places. That's why we produce portable and stationary safety shields. Regardless of your client's public space, our social distancing dividers can be used in endless settings. Fabricated in glass and plexiglass, we deliver a number of choices.
Our portable shields are just that- portable. Free standing, and sold in 4 base designs, these panels sit on top of workstations, cashier stands, or anywhere you need them. Requiring no holes or surface cut-outs, our sneeze guard barriers can be easily repositioned or moved from one area to another. These transparent portable screens are available in glass and plexiglass.
Plexiglass Screens:
Arrive pre-cut & easy to assemble
Made with & without transaction window cut-outs
2 Sturdy Base Designs: Triangular & rectangular
Constructed with lightweight plexiglass
Glass Safety Partitions:
Free-standing dividers
2 Metal Base Designs: Clamps & tubular bars like our panic devices
Base Finishes: 3 standard & custom Kynar paints
Panels fabricated in diverse glass types
Stationary shields are supported with posts or sliding tracks. Mounted to surfaces, walls or overhead, they satisfy multiple conditions. Our flex post barriers are installed on countertops. Creating a protective glass wall, these no-contact partitions accommodate straight and corner configurations.
Sliding Tiffany shields mount inside openings. Just like reception windows at urgent care centers, they utilize track systems, so panels glide open and closed effortlessly. To meet your specifications, sliding tracks can be installed on walls or overhead. Both stationary dividers are made with glass only.
Flex Post Protective Glass Walls:
Accommodate straight & corner configurations
Supported with durable aluminum posts
Supplied Posts: End, center & corner in several heights
Post Finishes: 2 anodized
Glass guards offered in numerous types
Sliding Tiffany Glass Dividers:
Mount inside reception openings
Top hung & lateral surface mount options
Seamless operation & gliding
Track & Hardware Finishes: 3 standard & custom
Sliding screens generated in many glass types
Portable Plexiglass Barriers: Lightweight, Contact-Free Protection
Our portable plexiglass shields have a lot to offer. Lightweight, simple to assemble, clean and disinfect, they're perfect for school contracts and hotel or offices jobs. Easy to transport from surface to surface, our free-standing partitions bring safety to desks, register areas and conference tables.
Easy Assembly & Stand Where You Need Them
PRL's plexiglass barriers are a cinch to put together and use. Without the need for drilling or mounting, your customers will be contact-free in no time. Each base just slides into its shield's pre-cut slots, then voila- these clear dividers can be placed wherever they're needed. And our protective sneeze guards are a snap to sanitize. There's no hardware to clean around or finishes to worry about. Just smooth, flat, plexiglass surfaces.
Plexiglass Bases & Screens
Our free-standing portable shields are stable and reliable. Equipped with sturdy plexiglass bases, they won't tip over or wobble. Available in 2 base styles, we generate these barriers in several standard and custom sized panels. Plexiglass screens are rendered in 2 shapes with finished edges and radius corners. Sold with or without transaction window cut-outs, our protective shields meet numerous physical separation guidelines.
Quick & Simple Barrier Assembly:
No holes or surface cut-outs required
Plexiglass shields arrive pre-cut
Base slides into screen's slots & rests on table tops
Safety Partition Features:
Crafted with finished edges & radius corners
Available with or without transaction window cut-outs
Transaction Window Size: 3″ x 12″ & custom
Shield & Base Styles:
Divider Shapes: Square & rectangular
Base Styles: Triangular & rectangular
Plexiglass Panel Sizes & Thicknesses:
Widths: Standard 24", 36" & custom
Heights: Standard 24", 30", 36" & custom
Thicknesses: ¼" & 3/16″
Portable Protective Glass Shields: Stylish PPE for 6 Foot Apart Safety
Find a great selection of portable PPE at PRL of the West Coast. Our protective glass shields / glass barriers help maintain 6 foot protection for employees and customers. Stylish in 2 metal base designs, ranges of finishes and diverse glass types, our free-standing shields bring the best of form and function to essential businesses.
Safety Shield Sizes
We craft glass barriers in many standard sizes. Available in ¼" and 3/8" thicknesses, panels are fabricated with your choice of flat polished or mitered edges. All manufactured in our facility, we also render custom sized glass shields. Made-to-order, these sneeze guard partitions are produced to your specifications.
Glass Screen Options
Our portable dividers are furnished in several glass types. For your projects, you can bid protective barriers with clear tempered glass, volumes of textured patterns and vast laminated colors. Glass shields can also be etched with an array of glue chipped borders, custom sandblasted graphics or company logos.
Sturdy Metal Bases
Free-standing glass barriers are supplied with preaffixed bases. Extruded with premium quality metal, they're strong and durable. These safety panels stand securely wherever you put them. Without the need for assembly, our shields' bases provide top-notch stability. Carried in 2 styles in a variety of finishes, these counter guards are attractive in any setting.
Reposition & Transport Easily
Our portable protective glass shields / glass screens are versatile. Requiring no holes or surface-outs, they offer protection in numerous areas. Whether your client needs social distancing for lobby tables or office cubicles, our transparent shields can be placed on any surface, moved, and repositioned easily.
Glass Barrier Features:
Free-standing, portable & secure
Versatile for many uses
No drilling or mounting needed
Available with flat polished or mitered edges
Metal Base Styles & Finishes:
Base Styles:

Clamps & tubular bars like our panic devices
Base Finishes: Stainless steel, clear & dark bronze anodized
Custom Base Finishes: Multiple Kynar paints
Custom brackets available for added stability
Shield Sizes & Thicknesses:
Standard Sizes:

Wide assortment

Custom Sizes:

Per your dimensions

Thicknesses:

¼" and 3/8"
Safety Panel Glass Types:
Clear tempered
Laminated colors
Textured patterns
Glue chipped borders
Custom sandblasted accents, logos & more
Stationary Flex Post Glass Barriers: Protective Face-to-Face Sneeze Guards
Our flex post glass shields deliver stationary safety for face-to-face interactions. Ideal for a wide range of proposals, these dividers adapt to straight and corner conditions. Offered in many standard and custom post heights, our barriers can be designed to satisfy customers' no-contact needs. Great for a host of public areas, these glass wall partitions just add up to better.
Countertop Screens for Reassurance
PRL constructs all flex post barriers in-house. Built with glass panels attached to aluminum posts, our stationary sneeze guards mount to countertops and other flat surfaces. These protective shields are the clear choice for stores, restaurants, hotels and more. Providing reassurance, they're what businesses require in today's world. Available in 2 post finishes and large assortments of glass types, our flex post screens will meet your specifications.
Adjustable Aluminum Posts
Just like any good tradesperson needs the right tools for the job, so do contractors and architects. That's where our flexible glass shields come in. Adaptable in design, these posts accommodate several physical separation lay outs.
We stock 3 styles produced with the finest aluminum. Sold in 4 standard heights, you can order end, center and corner posts that adjust to 3 or 4-way uses. Custom heights can also be generated so glass barriers grant the right amount of coverage.
Our flex post counter guards are rendered in numerous panel options. With glass fabrication as our specialty, you can purchase stationary shields with flat polished or mitered edges, screen sizes made per your dimensions, and in ¼" or 3/8" thicknesses. Our glass selection can't be beat. Whether your project calls for something functional or decorative, you can buy these protective barriers in everything from clear tempered glass to laminated colors or with sandblasted slogans.
Flex Post Glass Shield Features:
Accept straight & corner configurations
Mounted with sturdy aluminum posts
Available with flat polished or mitered edges
Post Styles, Heights & Finishes:
Post Styles: End, center & corner
Corner Posts: 90° & 135° for 3 or 4-way uses
Post Heights: 12″, 18″, 24″, 30″ & custom
Post Finishes: Clear & bronze anodized
Panel Sizes & Thicknesses:
Sizes:

Made-to-order per your plans

Thicknesses:

¼" & 3/8″
Sneeze Guard Glass Types:
Clear tempered
Color laminated interlayers
Textured designs
Glue chipped perimeters
Custom sandblasted images & trademarks
Stationary Tiffany Glass Shields: Fitted, Sliding Panels for Physical Separation
Need sliding PPE for your client's workplace, pharmacy or spa? PRL's Tiffany glass barriers are the answer. As your trusted industry leader since 1989, you can be sure of our safety shields.
Stationary in design, and fitting inside openings, Tiffany partitions operate like doctors' office check-out windows. Our shields glide open and closed for protection. Offered in several glass types and installation options, these sliding barriers meet multiple plans.
Sliding Tiffany glass shields are available as top-hung and lateral surface mount dividers. Arriving with finger pulls preaffixed, you can bid keyed cylinder locks for security if required. We also supply bottom guide fittings when needed. Sold in standard and custom finishes, our glass screens complement vast interiors.
Reliable Operation & Simple Cleaning
These transparent barriers utilize track systems and 2 small suspension points. Equipped with durable round rollers, our safety panels glide smoothly every time. Tiffany sliding glass shields are a great choice for your customers. Not only do they deliver reliable social distancing, but their round rollers make for easy cleaning and sanitizing.
Tiffany Header Track Advantages
Our stationary sneeze guards grant many installation options. Regardless of where these glass barriers are mounted, the Tiffany's header track provides loads of benefits.
First, our system's tracks and channels include reglets. This feature enables sidelites to be wet glazed into sliding screens. Secondly, we manufacture each glass shield made-to-order. This customization allows you to run header tracks a variety of ways.
They can be anchored full width of elevation for even head sightlines, or for less of a metal look, we can use end caps so tracks can be positioned at partition openings and sliding areas only.
And Tiffany glass barriers can also be surface mounted. Extruding all tracks ourselves, you can specify custom header pieces to fasten protective dividers directly to walls.
Glass Wall Selections & Sizes
We render sliding glass shields with single, double and bypass panels. Generated in 3/8″ and ½" glass thicknesses, Tiffany screens are fabricated per your dimensions. Produced in any size, these stationary barriers help keep people 6 ft. apart.
Our safety partitions can be crafted in scopes of glass types. Fitted with clear tempered, laminated colors, or textured glass patterns, they look superb in reception areas. Also sandblasting accents and company branding, sliding Tiffany barriers bring life to lobbies.
Protective Shield Features:
Top hung or lateral surface mount sneeze guards
Smooth gliding operation
Easy to clean & disinfect
Equipped with finger pulls
Optional keyed cylinder locks & bottom fittings available
Tiffany Header Tracks:
Include reglets for wet glazing

Track Installation Options:

Full width of elevation
Inside openings & sliding areas
Surface wall mount with custom tracks
Track & Hardware Finishes:
Standard Finishes:

Brushed stainless steel, polished stainless steel & matte black
Custom Finishes: Kynar paints
Sliding Panels, Sizes & Thicknesses:
Single, double & bypass dividers
Sizes: Fabricated to your specifications
Thicknesses: 3/8″ & ½"
Barrier Glass Types:
Clear tempered
Laminated colors
Textured motifs
Glue chipped outlines
Custom sandblasted graphics, slogans & more
Experience the benefits of our protective glass shields and plexiglass barriers. Deal direct with PRL of Los Angeles County. Delivering portable and stationary partitions for a wide range of industries, these safety screens provide the social distancing essential businesses need.
Quick Product Photo Gallery
For Complete Tempered Glass Specifications, Estimates and Orders
Please Feel Free to Contact Us Directly
Toll Free (800) 433-7044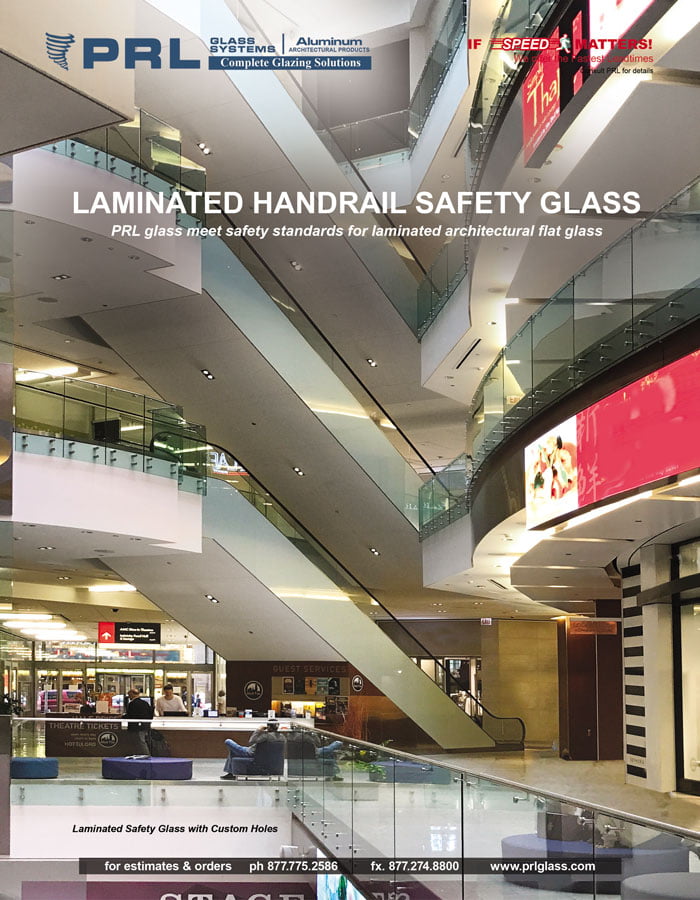 Need glass railing panels customized for your next project? Shop at PRL! Performing the finest glass fabrications with laminated safety glass. Meet the aesthetics and all the safety codes. You can quote oversized handrail panels with custom edging, compound geometric shapes, sectional glass balusters, and more. Offered in diverse glass types, sizes, and thicknesses, our glass guardrail panels are ideal Read More...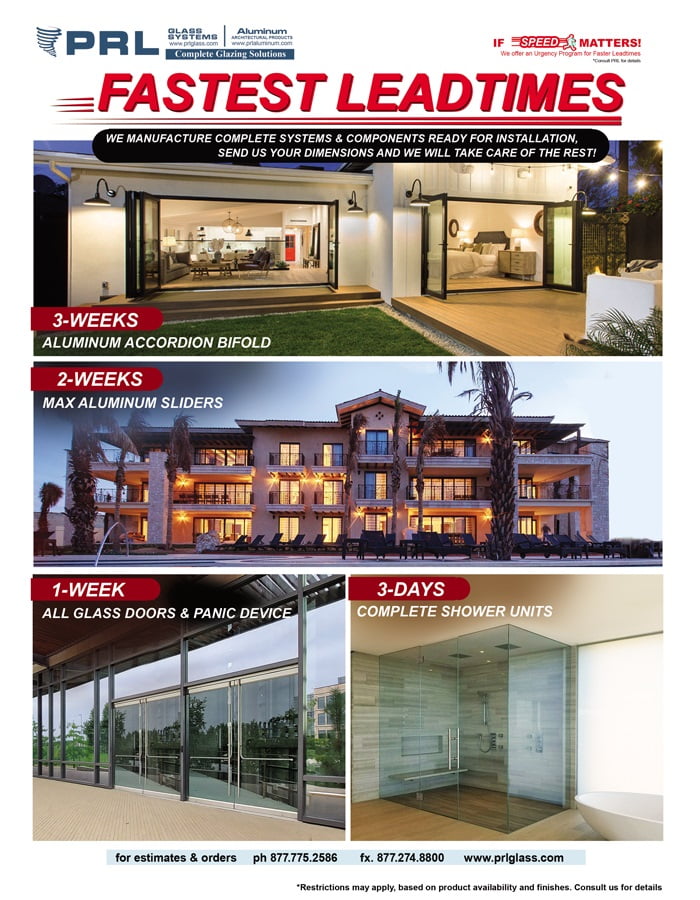 Don't miss out! Right now, you can get the fastest lead times on everything at PRL. That's right! Our entire inventory all product lines, glass lines, and hardware lines are now available with the fastest lead times in the industry! So, hurry and quote those last-minute jobs. Now you can meet their deadlines! Whether your project is a panic system Read More...