All Glass Door Slider System by PRL Glass Systems, Inc.
PRL's Ruby all glass slider door system is a contemporary design for an interior top hung sliding door system. The offset top hung Ruby rod can be installed on a wall or as a glass mounted application. The Ruby Slider Door System, when fully opened, butts against the adjacent wall or sidelight to maximize floor space while providing the most access to the opening.
The Ruby All Glass Door Slider System works with 3/8″ or 1/2″ Tempered Glass
The Ruby all glass slider door is similar to a barn door slider in that it is suspended from above leaving a trackless and uninterrupted floor. In this slider system the glass is connected to the rod by attractive hardware. The roller is secured flush to the glass surface with counter sunk holes on the glass instead of straight thru holes.
Our PRL staff would be glad to assist you with any and all technical details on our Ruby Systems.
Every job is custom and we can customize to all your system design requirements, as in our Tiffany system.
All your Architectural Glass and Metal PRODUCTS, all from one source. Toll Free 800-433-7044
Quick Product Photo Gallery
For Complete All Glass Door Slider System Specifications, Estimates and Orders
Please Feel Free to Contact Us Directly
Toll Free (800) 433-7044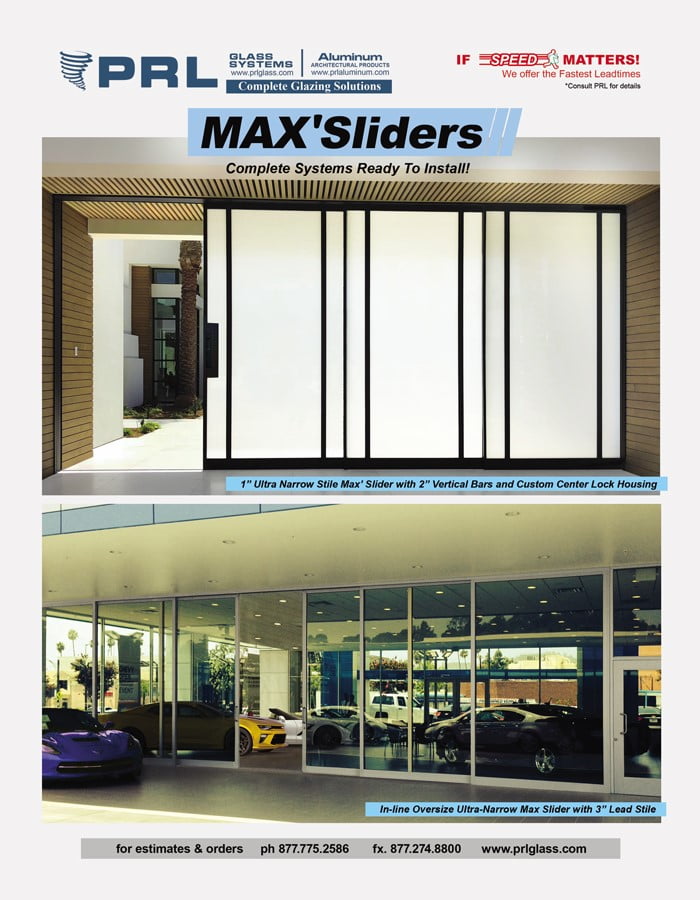 Shop PRL's Ultra-Narrow Max Aluminum Sliders. Our exterior sliding doors have a lot to offer. Rendered in-house in several sliding configurations, these moveable walls meet many project needs. We build Max sliders with durable aluminum frames and sleek 1" vertical stiles. Accepting 1 1/8" IG units, our multi-panel doors grant outstanding sound control, wind and water protection. Read More...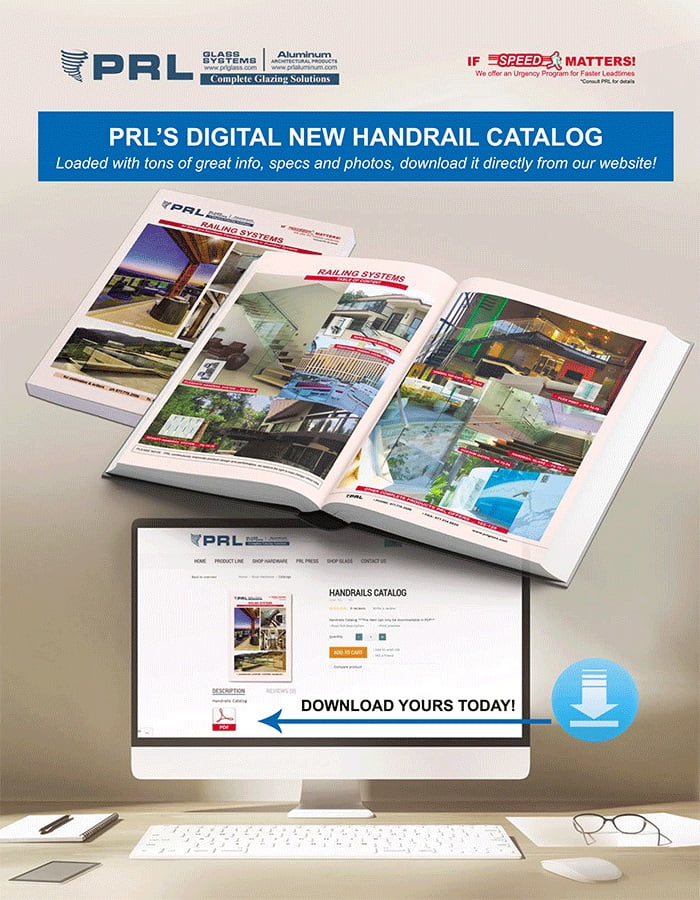 Download PRL's new Digital Handrail catalog! Find out everything you need to know about our systems, components, protective shields and more. Including our entire inventory of railing products, this catalog is a must-have. Loaded with tons of great info, specs and photos, you'll be on your way to designing fabulous projects for your customer's home or office in no time. Read More...