European Patch Fitting Hardware
Total Vision Door Systems are created by using small but strong European patch fitting hardware to pivot the doors and hold glass panels in place. In this type of European hardware system, the glass is the structural element and the hardware serves simply to pivot the doors.
Our PL-400 series European style fittings are typically 2″ tall by 6-1/2″ long. Available for use on the top and/or bottom of the door. Top patch fitting hardware accommodate appropriate insert blocks to mate with a top pivot or overhead closer mechanism. Bottom patch fitting hardware accommodate appropriate insert blocks to mate with a bottom pivot or floor closer mechanism. When glass transoms are involved, patch fitting hardware is available for holding the transom to an adjacent glass sidelight panel or wall. When glass stabilizer fins are required, European style fin support fittings are available to connect the glass fin to the pivot bracket and to the structural frame above. Patch lock fittings are available in the same profile size as the door fittings to maintain a consistent appearance.
PRL stocks a full line of standard metal finishes in the PL-400 European style hardware.
Patch fittings are available in Stainless Steel (polished and brushed), Brass (polished and brushed), Anodized Aluminum (Clear and
Bronze) and custom finishes such as painted or oil-rubbed.
Standard Fittings part numbers are as follows:
PL414 Bottom Door Fitting
PL424 Top Door Fitting
PL440 Transom Sidelight Pivot Bracket
PL 442 Transom Sidelight Stop Bracket
PL434 Wall Pivot Bracket
PL450 Transom Pivot Bracket with Fin Support
PL16500 Lock fitting
Although European patch fittings, when properly used are strong and capable of accommodating most standard opening conditions, thoughtful design considerations need to be used when specifying these fittings.
For over sized door openings or special configurations custom European style fittings can be manufactured by PRL.
Please consult with our Entrance Door Department technical staff for assistance with designing your Total Vision System Toll Free 800-433-7044.
2013 Easy Lock Ladder Pulls Catalog
Architectural Glass and Metal Hardware
For European Patch Fittings Hardware Estimates and Orders
Please Feel Free to Contact Us Directly
Toll Free (800) 433-7044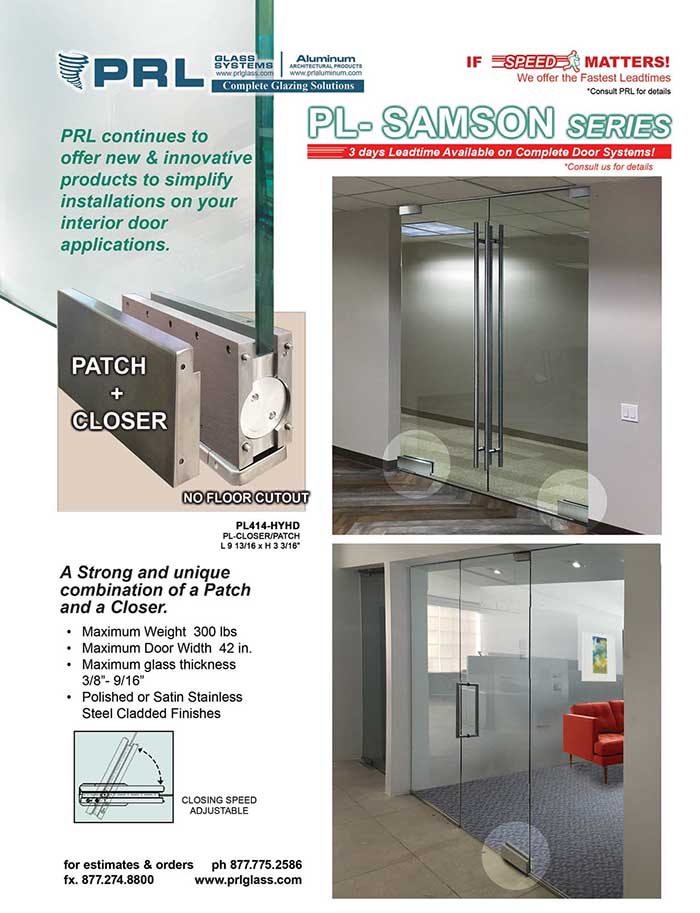 The ever-growing popularity of our samson hydraulic door patch closer has been great hit for use on PRL Frameless Glass Doors. This is just another example of PRL's commitment to provide innovative, economical solutions for our customer's interior glazing applications.
PRL's heavy duty Samson Patch Fitting Closer is not only a patch fitting, but a patch fitting and a closer- all Read More...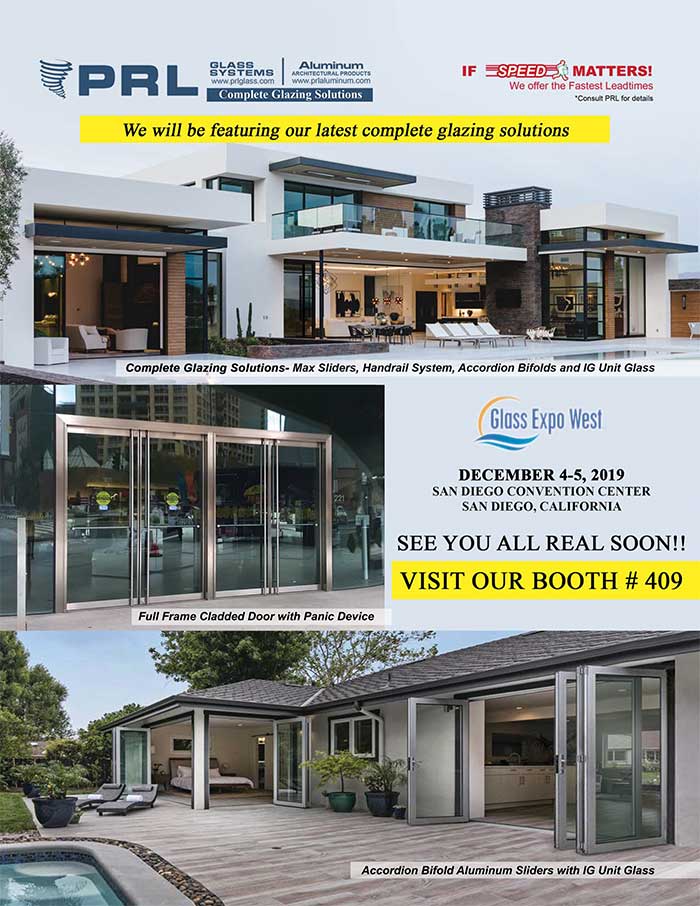 PRL invites you to stop by our booth at this year's Glass Expo West. Come spend the day learning what PRL can do for you! We will be featuring latest products and services in the architectural glass and metal industry. Mark your calendar and come spend a few minutes to learn about us and all the amazing products PRL has Read More...