Panic Device Guide for Specifiers & Architects
This panic device guide was compiled to help specifiers and architects better understand PRL's panic devices and to assist ordering decisions. If you'd like further information on our crash bars, emergency exit systems, or panic products please contact one of our knowledgeable PRL representatives toll-free at 877-775-2586.
Panic Device Functions & Construction
What Functions Do Your Panic Devices Serve?
PRL's push pads serve three functions. They meet emergency egress requirements allowing unhindered emergency exits, safely secure the building exterior and provide beautiful, minimally obstructed glass door views on panic systems. For specifiers and architects seeking fire exit doors, our panic devices serve all three functions in one door handle device.
How Are Your Crash Bars Constructed?
PRL's panic devices are constructed from sleek, 1 ¼" diameter stainless steel tubing in a contemporary L-shaped handle. These tubular bars look like handles, but they're actually very intricately designed pieces of hardware. With their simple, slender tubular design, PRL's panic devices look like modern, horizontal interior push bars instead of wide, mechanical devices most commonly available to specifiers and architects.
PL-100 Top Latching Panic Device:
The PL-100 top latching push pad is designed to latch into the door header. This design meets A.D.A regulations making it the perfect choice for installers.
PL-110 Floor Latching Panic Device:
The PL-110 floor latching crash bar is designed to run down the door and latch at the floor. This design does not comply with A.D.A codes. The PL-110 accepts a ramp or a dome strike to secure latch bolts into the threshold. Due to safety issues, ramp strikes are more commonly used than dome strikes. To ensure compliance with A.D.A regulations specifiers and architects are advised to consult building codes prior to ordering.
Fire Exit Device Features & Finishes
Push Pad Features:
Slim, 1 ¼" diameter L-shaped interior push bar
Constructed from stainless steel tubing
Meets emergency egress requirements
Allows unhindered exits in the event of emergencies
Safely secures building exteriors
Panic Device Finishes:
Brushed & polished stainless steel
Satin & polished brass*
Oil rubbed bronze
Powder coats & Kynar paints
Custom finishes
*Brass finishes have some unique maintenance conditions that need to be addressed. Therefore, specifiers and architects are advised to consult with PRL's door design department for maintenance information.
Panic Device Certification & How They Work
Are Your Crash Bars UL Certified & Tested?
Yes. PRL's panic devices are UL certified and have been tested in accordance with ANS, ANSI, BHMA and UL requirements. Because PRL's push pads are life-safety devices, our chief concern is to assure safe exits from a building.
PRL's panic devices have been tested up to 2.0 million cycles in accordance to the American National Standard safety for panic devices (UL305), American Standard Institute (ANSI) and Builders Hardware Manufacturers Association, Inc. (BHMA) A 156.3-2008, Grade 1 certified.
Our fire exit devices have been fully tested to comply with all Cycle, Stress and Load testing. For more detailed information, please refer to our Panic System Specifications & Test Results page.
How Do Your Panic Devices Work?
PRL's push pads work by way of their tubular handles, latches and a dogging feature that all function together. When the panic device's interior tubular handle is depressed, it releases a latch from the keeper allowing the door to open for exit. The crash bar has three points of movement that allow smooth operation when depressed. When the tubular handle is released, the latch springs back up to secure the door.
During the day, when the dogging feature is activated, the latch retracts to an open position allowing the panic device to operate as a simple push-pull bar. People entering the building from the exterior simply pull on the exterior handle and people exiting the building simply push the interior panic tubular handle.
At night, when the building needs to be secured, the panic device can be un-dogged. This returns the push pad to an emergency exit device, while locking the exterior entry. People can't enter the building, but unlimited free egress from the interior is allowed by simply pushing on the panic device's tubular interior push bar. If the building needs to be secured 24/7, the dogging feature can remain un-dogged prohibiting exterior entry at all times.
Where Are Your Push Pads Mounted?
Our panic devices are mounted on the inside of exterior entrance doors. They are mounted at the standard 42" height enabling them to align with exterior horizontal handles.
Handles, Locks & Electric Strikes
Do I Need an Exterior Handle for Panic Doors?
Exterior handles are not needed for panic doors if their purpose is to be an exit-only door. They are not required to lock interior panic devices. If the door needs to lock to prohibit exterior access, an exterior deadbolt handle is required. PRL offers a full line of exterior deadbolt handles designed similarly to our interior crash bars.
Can I Use Keyed Cylinder Locks with Your Push Pads?
Yes. Keyed cylinder locks can be used with both of PRL's panic devices; the PL-100 top latching crash bar and the PL-110 floor latching panic device. We offer exterior deadbolt handles designed with keyed cylinder locks.
How Do Your Keyed Cylinder Locks Work on Panic Doors?
Keyed cylinder locks work on panic doors by prohibiting exterior entrances and securing doors at night, while allowing simultaneous unhindered exits from the interior 24/7. Doors can be manually locked with a keyed cylinder on both the interior and exterior of the door, or with an optional interior thumb turn.
Can I Use Electric Strikes or Electrical Release Hardware with Your Crash Bars?
Yes. Electric strikes and electrical release hardware can be used with both of PRL's panic devices. We offer exterior deadbolt handles designed to accept electrically activated hardware.
The PL-100 top latching push pad and the PL-110 floor latching panic device can be specified to operate in conjunction with a Folger Adams 310-1 electric strike in the header. This enables specifiers and architects to incorporate electrically activated hardware into fire exit system designs.
How Do Electric Strikes & Electrical Release Hardware Work on Panic Doors?
Electric strikes and electrical release hardware work on emergency egress doors by electronically securing access from the exterior. Simultaneous free exits from the building's interior are still accessible 24/7. Using electrically activated hardware, someone entering the building must use a card key reader, remote keyless entry or be buzzed into the building.
Specifiers and architects can use standard electrical accessory hardware. Typically, electrical contractors will supply accessory hardware and PRL will supply Folger Adams 310-1 electric strikes installed in the door header.
Door Types & Glass Thicknesses
What Kind of Doors Can Your Panic Devices Be Used On?
Our crash bars can be used on all-glass, full-framed and aluminum doors. While primarily installed on heavy all-glass doors, we've adapted our panic devices so they can be used on a variety of door types. So now, specifiers and architects can also order full-framed and aluminum fire exit systems.
Which All-Glass Door Thicknesses Do Your Push Pads Accept?
Our panic devices fit ½", 5/8" and ¾" heavy all-glass door thicknesses.
How Many Full-Framed Door Glass Thicknesses Do Your Crash Bars Fit?
Our fire exit devices accept ¼"- 1 ¼" full-framed clad door glass thicknesses.
What Aluminum Door Glass Thicknesses Do Your Panic Devices Accept?
Our push pads accommodate ¼"-1" aluminum door glass thicknesses.
Can Your Life-Safety Devices Be Used on Taller Doors?
Yes. Our panic devices can be used on taller doors up to 120" when combined with our F style exterior handle and ¾" all-glass doors. PRL is the only manufacturer of interior push pads that have been tested and approved on doors up to 120" tall.
Do Your Panic Devices Require Full Headers or Metal Jambs?
No. Our crash bars do not require full headers or metal jambs. Specifiers and architects designing all-glass door emergency egresses as Total Vision Systems (TVS) can still use our panic devices without full headers or metal jambs.
PRL supplies custom floating headers that secure to fixed glass panels adjacent to the door without using metal jambs. Floating headers are custom designed to accommodate panic strike plates. Even when electric strikes are required on complete frameless systems, specifiers and architects can incorporate them into the entry with floating headers.
We offer several floating header sizes and designs. For more details, consult our website or contact our customer service hardware design department.
Do Your Push Pads Require Full Length or Continuous Top Door Rails?
No. PRL's panic devices do not require full length door rails in order to be secured to the door. They can be used on doors with top and bottom patch fittings only. If a continuous top door rail is not desired, our crash bars can be secured to the glass with a minimal mounting plate.
Custom Orders & Technical Support
Can You Accommodate Custom Orders?
Yes. We can accommodate custom orders for a large selection of our panic products allowing specifiers and architects endless design options. Fabricating our products in-house, we can customize all-glass, full-framed and aluminum doors, a volume of different glass types, panic system hardware and exterior handles. Some limitations may apply for custom orders. For more information please contact our door design department.
Technical Support & Services for Specifiers & Architects:
Deal direct with PRL and get dedicated technical support for your panic systems. Offering a host of services and technical considerations, our team can provide assistance and save you time and effort coordinating your projects from start to finish. Contact us at 877-775-2586.
Panic System Technical Support & Services
Emergency Egress Services:
Drawing details
Specifications
Concepts
Designs
Material selection
Technical Considerations For:
Mechanical devices
Compliance specifications
Concepts
Designs
Material selection
Delivery Territories, Lead-Times & Urgency Program
Delivery Territories:
With two facilities located in the City of Industry, CA, PRL delivers our products to a wide territory locally and nationwide. Our transportation fleet of 25 vehicles delivers to Northern and Southern California, Arizona and Nevada and we deliver to Hawaii and Mexico via common carrier.
What Are Your Lead-Times?
PRL's standard lead-times are 5 working days, or as specified on your quote. Lead-times do not include shipping or transit. Lead-times are calculated once job confirmations are signed off and approved.
PRL's Urgency Program: Fastest Lead-Times in the Industry
If you need your panic system sooner than our standard 5 working day lead-time or as specified on your quote, you can utilize PRL's Urgency Program. This will expedite delivery and you can receive your fire exits in as little as 3 working days, or the next day. Next day delivery is subject to expedited charges.
Available on most of PRL's quotes and order confirmations, our Urgency Program estimates expedited shipping charges for different ship dates within our manufacturing capabilities. Shipping dates are calculated one job confirmations are signed off and approved. Local and out of area expedited special delivery services are available at an additional cost.
PRL's Panic Devices. The Clear Choice for Fire Exit Doors!
Shop panic devices at PRL of Southern California! We're the emergency egress supplier specifiers and architects turn to first.
2012 Panic Devices and Hardware Catalog
For Panic Device Specifications, Estimates and Orders
Please Feel Free to Contact Us Directly
Toll Free (800) 433-7044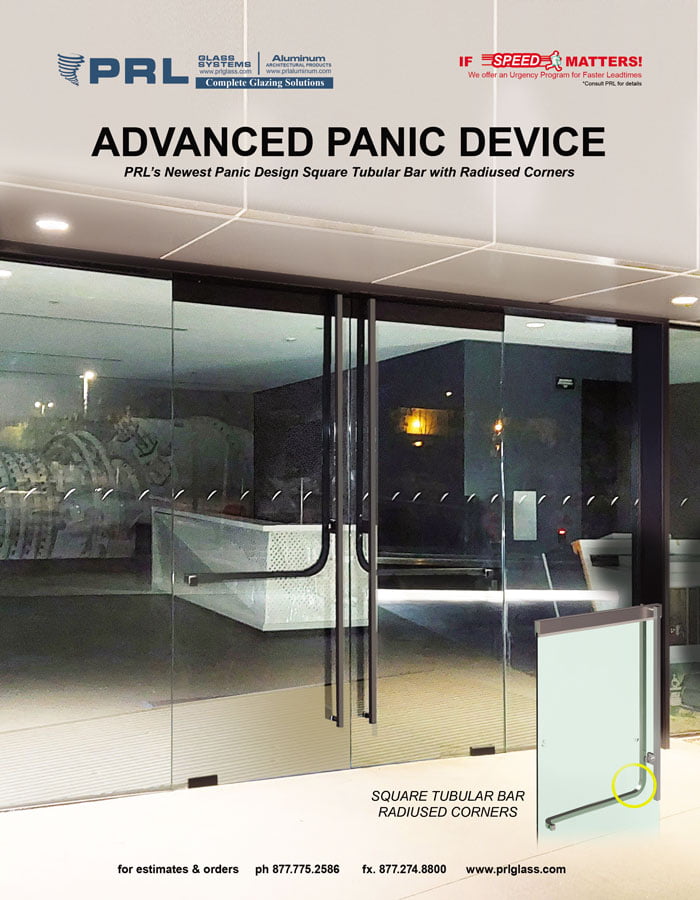 Specify PRL's Advanced panic device! This L-shaped interior crash bar accommodates heavy glass doors up to 120" tall. No wonder we're the go-to fire exit supplier on the West Coast. Crafted with square tubing and radius corners, our panic devices looks beautiful on life-safety egresses. Order yours now! You'll be glad you did. Great for many door styles, you can Read More...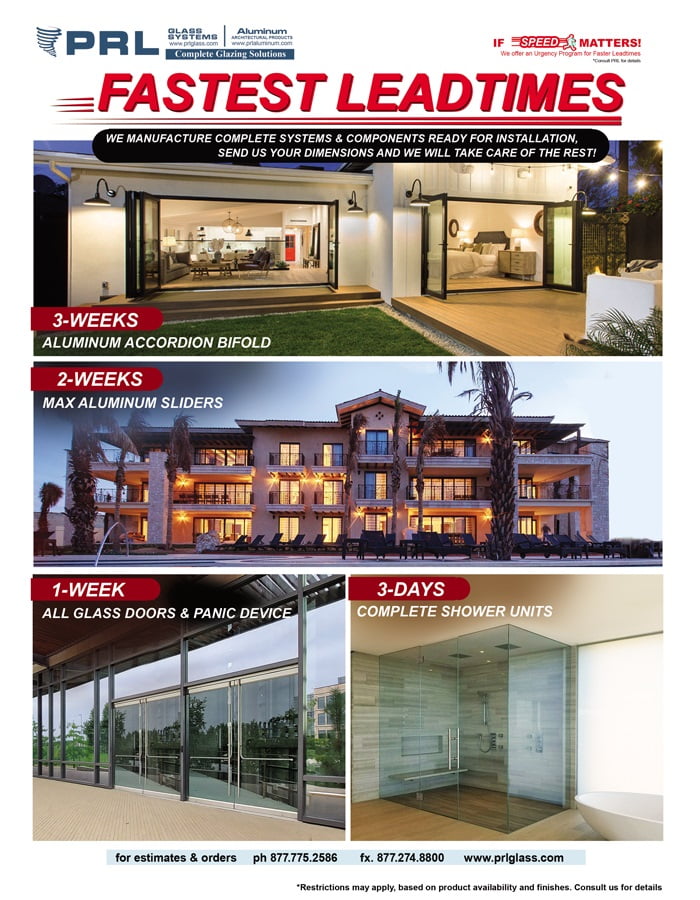 Don't miss out! Right now, you can get the fastest lead times on everything at PRL. That's right! Our entire inventory all product lines, glass lines, and hardware lines are now available with the fastest lead times in the industry! So, hurry and quote those last-minute jobs. Now you can meet their deadlines! Whether your project is a panic system Read More...