All Glass Door Rails – Wet-set
PRL Elegance Wet-Set All Glass Door Rails are one-piece, extruded aluminum rails manufactured in-house and are mounted to the glass through a wet glazing method using high-strength controlled compression cement to create a one piece perfect bond, making your glass entry system look clean and elegant. Welded end caps are available upon request. We are one of the few glass and aluminum manufacturers still offering this traditional and time-tested system for all glass door rail assembly.
Our Elegance Wet-Set cemented rails are used in All Glass Doors and Sidelight using thicknesses of tempered glass, from 3/8", 1/2", 5/8" and 3/4", available in standard clear glass, low iron and some thicknesses available in gray or bronze. The rails are available with mechanically fastened end caps or welded end caps. This original welded end cap rail has been a traditional favorite over the years because of its uniform appearance.
PRL glass door rails are available in stock at all times,
Ranging from our most popular PL-150 beveled (3-5/16″ tall) rail to our PL-1000 square (10″ tall) rail, all 1-3/4″ wide.
Door Rails – Available Finishes:
Clear or dark bronze anodize
Satin or mirror polish stainless steel or brass clad
Oil-rubbed bronze finish
Powder coat and Kynar painted colors to match your specifications are also available
Consult factory for more door rail information
We can manufacture custom entry door systems with special rails size/height, all fabricated in house and our lead-times are proven to be the fastest in the industry. PRL has steadily expanded our line of door rails for all glass entrances in order to keep pace with our industry's growing demands.
Simply supply us your specifications and let us take care of the rest Toll Free 800-433-7044.
Nu Vision Entrance Systems Catalog
For Complete All Glass Door Rails and Specifications, Estimates and Orders
Please Feel Free to Contact Us Directly
Toll Free (800) 433-7044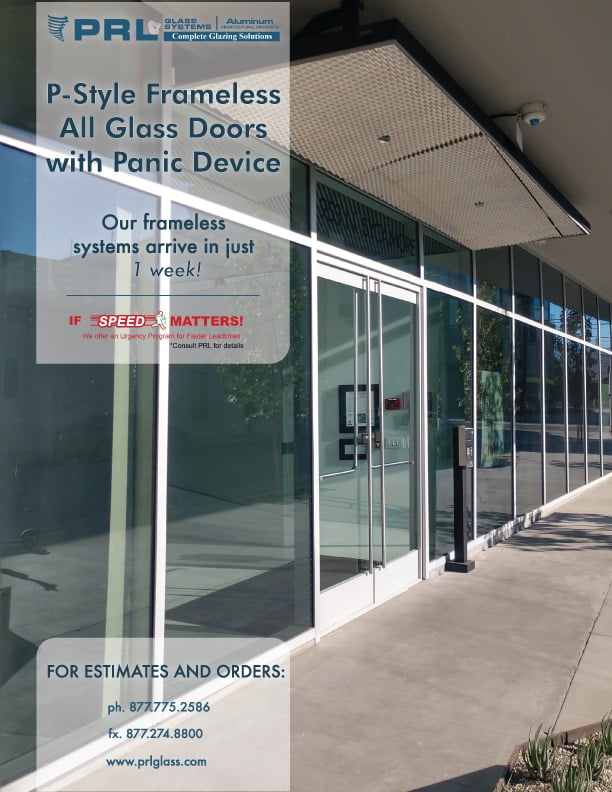 Shop all-glass entrance doors at PRL. Our frameless systems arrive in just 1 week! Regardless of door style, size, hardware, or finish, you'll get these all-glass accessways with the fastest lead times in the industry.
We render 4 standard all-glass door styles in addition to oversized and custom options. All accepting any type of door hardware, our all-glass entries Read More...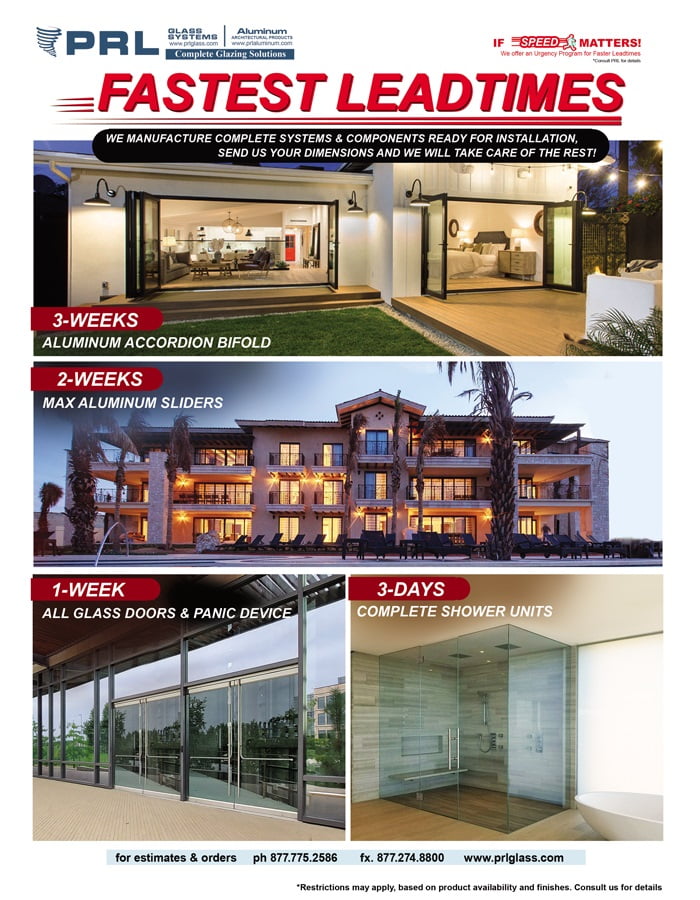 Don't miss out! Right now, you can get the fastest lead times on everything at PRL. That's right! Our entire inventory all product lines, glass lines, and hardware lines are now available with the fastest lead times in the industry! So, hurry and quote those last-minute jobs. Now you can meet their deadlines! Whether your project is a panic system Read More...