Laminated SentryGlas®.
12 Things You Need to Know About Structural Interlayers
Check out these 12 things you need to know about laminated SentryGlas®. Made with shock absorbing structural interlayers, there's no other product that delivers the same high performance. Brought to you from PRL, we address topics like its superior post-breakage stability, when this safety glass is required, and where it can be used. We fabricate laminated SentryGlas® in our facility. So, you'll also learn what make-ups and sizes you can order, which interlayer thicknesses we supply and more. These FAQ's cover it all.
Laminated SentryGlas® FAQ's. The Nitty Gritty
What is Post-Breakage Stability? How Does Laminated SentryGlas® Provide It?
Post-breakage stability means glass remains standing in one piece after it's broken. The structural interlayers in SentryGlas® are 5 times stronger and 100 times more rigid than traditional PVB's. So, they absorb energy impacts and enable the sheet to bend and flex as a whole. This means if the glass breaks, it will remain attached to its interlayer in one piece instead of shattering into countless pieces.
When Do I Need This High Performance Glass?
This laminated product is often required to meet building codes. It's also recommended for added security and safety. Because of its excellent post-breakage stability, SentryGlas® can protect against bomb blasts and it's hurricane resistant. These interlayers can also improve energy efficiency and aid in noise reduction. Note: This info is provided for informational purposes only. We advise consulting your local governing body for exact code requirements.
Where Can SentryGlas® Be Used? Which Projects Might Require Structural Interlayers?
Safety glass can be used in homes, corporate establishments and numerous hospitality or healthcare buildings. Great for vast applications, structural interlayers can bring added strength to handrails, gates, sliding doors, balconies, minimally supported glass canopies and more. Since building codes may vary in different areas, we recommend checking with your local municipalities to find out which projects may require laminated glass.
Does This Product Meet Laminated Architectural Flat Glass Regulations? How About Safety Standards?
Yes, it does. Satisfying both ANSI and ASTM standards, high performance SentryGlas® meets safety regulations as well as laminated architectural flat glass standards.
More Laminated SentryGlas® FAQ's. High Performance Use
Can I Use These Structural Interlayers for Hurricane or High Wind Locations?
Yes, you can. These laminates are tear resistant, withstand strong wind forces, and are hurricane and impact resistant. SentryGlas® is ideal for windows, doors, storefronts and curtainwalls in hurricane and high wind areas.
Is This Safety Glass Good for Bolted & Frameless Applications?
Yes, it is. These heavy-duty interlayers tolerate high stress loads for both bolted and frameless projects. So, this laminated glass can be used in many different kinds of railings, entries, enclosures, doors and windows.
Can I Use SentryGlas® on Exposed Edges or Minimal Framing Projects?
Yes, you can. This high performance product is made with an advanced polymer ionoplast interlayer. This makes exposed edges less susceptible to moisture intrusion and weathering effects. So, these laminates are also perfect for minimal framing projects.
Even More Laminated SentryGlas® FAQ's. What You Can Get at PRL
Which Laminated Glass Make-Ups Do You Create?
We produce SentryGlas® in several combos. For glass types, you can select from annealed, heat strengthened or tempered. Then, we can apply the structural interlayers to tinted, reflective, patterned or mirrored glass panels.
How Many Interlayer Thicknesses Can I Specify?
For this safety product, we offer a variety of standard and custom interlayer thicknesses. You can pick our stock thickness in ¼". Or we can apply custom thicknesses ranging from 5/16" to 3" to your chosen glass.
What Sheet Sizes Can I Buy Structural SentryGlas® In?
You can purchase this laminated glass in a wide assortment of sizes. Fabricating all sheets in our facility, we can render panel sizes up to 96″ x 155″.
Does This High Performance Glass Come in Color Options?
Yes, it does. In addition to clear, we supply this safety glass with translucent white interlayers. These white colors are great for decorative designs or creating a sense of privacy.
When Will My Laminated SentryGlas® Order Arrive?
In just 2 weeks! Generating all glass in-house and stocking multiple interlayers and thicknesses, we have complete control over the manufacturing process. So, you'll receive your laminated SentryGlas® with the fastest lead-times in the industry.
Smart Customers Deserve Smart Products.
Bring reassurance to your next project. Insist on this safety glass from us. Not only do we educate our customers, but we deliver the finest products around. Available in diverse make-ups and sizes, structural SentryGlas® will meet your needs.
Shop at PRL Glass & Aluminum. We're your glazing industry experts in Los Angeles County.
Quick Product Photo Gallery
For Complete Architectural Glass Specifications, Estimates and Orders
Please Feel Free to Contact Us Directly
Toll Free (800) 433-7044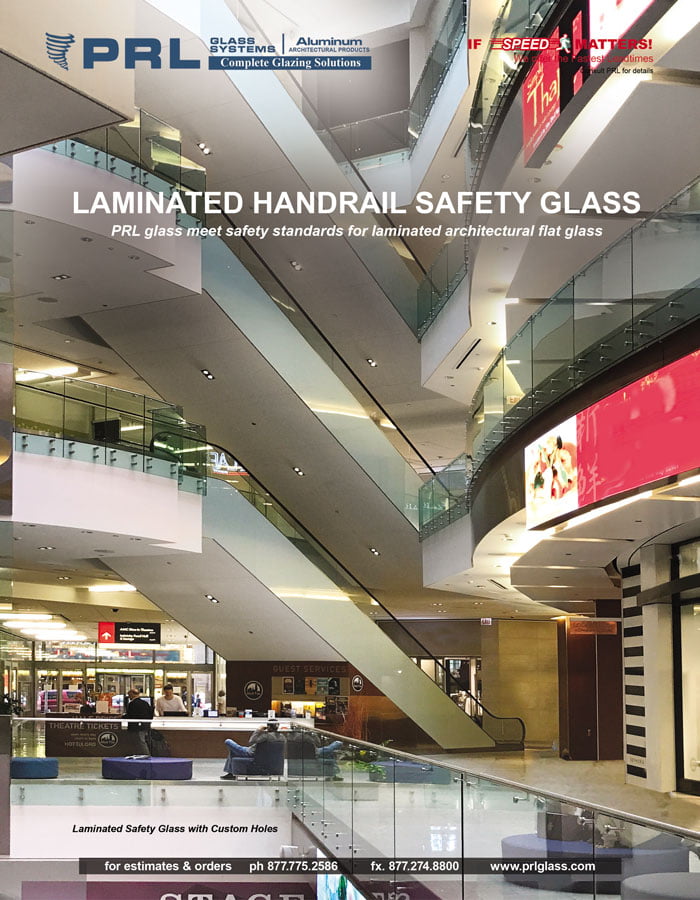 Need glass railing panels customized for your next project? Shop at PRL! Performing the finest glass fabrications with laminated safety glass. Meet the aesthetics and all the safety codes. You can quote oversized handrail panels with custom edging, compound geometric shapes, sectional glass balusters, and more. Offered in diverse glass types, sizes, and thicknesses, our glass guardrail panels are ideal Read More...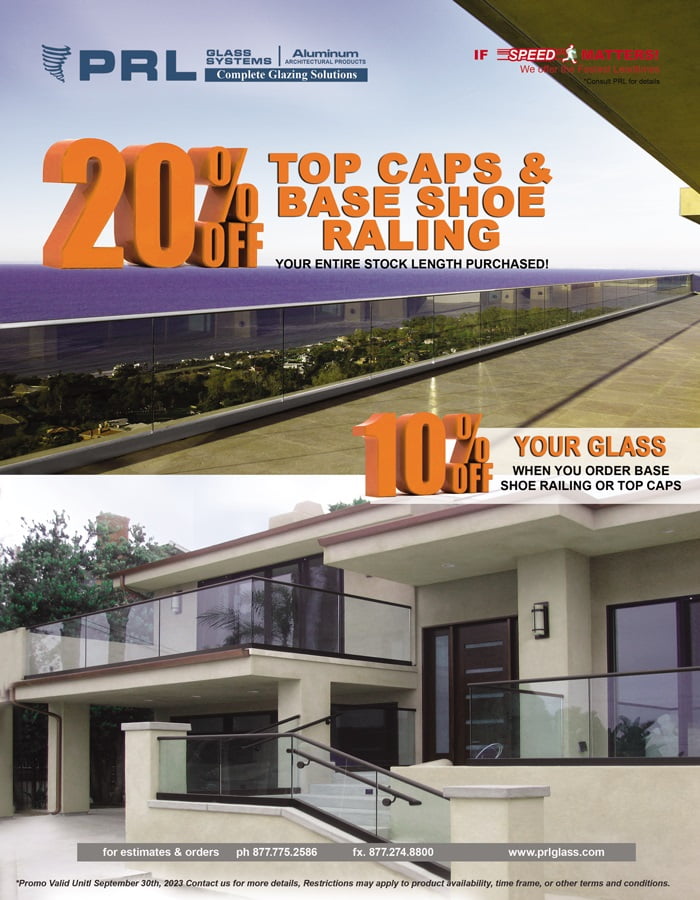 THE MORE YOU BUY, THE MORE YOU SAVE!
Shop base shoes and top caps at PRL. Like never seen before 20% discount on all Stock Length Base Shoe and Top Caps!* We'll price match** these handrail components from our competitors. Also offering technical support and a wide range of services, we can meet your railing needs. 35% lighter Read More...