2018 Architectural Glass Catalog
Full of great information, PRL's new catalog is a terrific way to stay on top of new glazing industry trends, products, technical data and architectural designs.
Cataloging our full lines of glass types and complete systems, PRL's new 2018 Architectural Glass catalog puts shopping at your fingertips. Whether you're looking for inspiration, a specific component, or want to know more about our products, it's all in there. Our new catalog provides a wealth of information!
Our entire lines of glass types, complete systems and hardware including detailed information for:
Insulated, laminated, spandrel, fire resistant glass and more!
Entrance doors, aluminum & glass sliders, panic systems, shower doors and more!
Door headers, closers, rails, panic devices, deadbolts, door pulls and more!
PRL would like to extend a special thank you to all of our customers who shared your project photos with us. You helped us make it possible to provide a catalog we're proud of with beautiful examples of what we can do for you.
For Complete Architectural Glass and Metal Specifications, Estimates and Orders
Please Feel Free to Contact Us Directly
Toll Free (800) 433-7044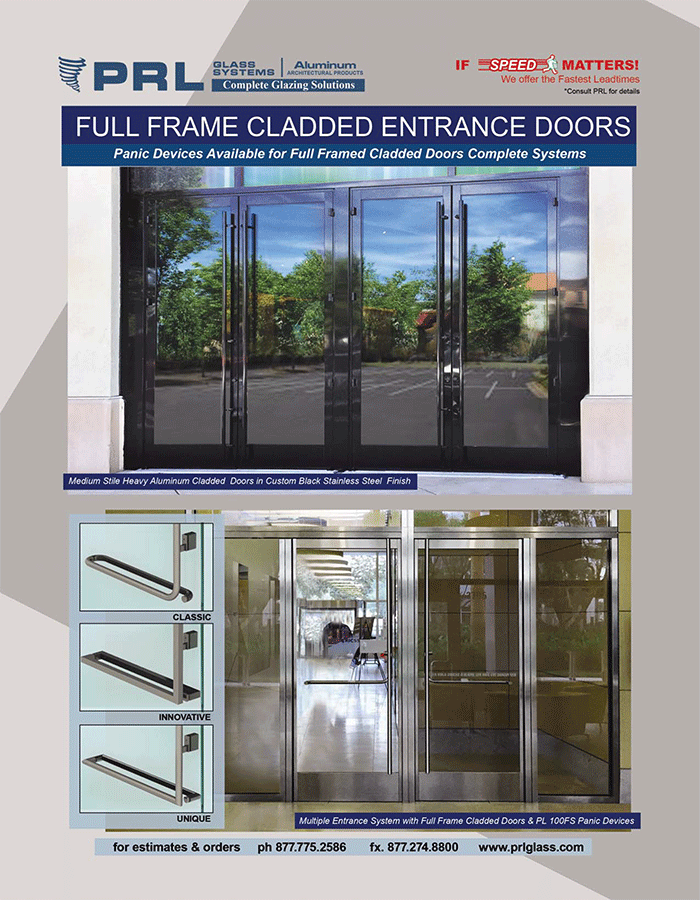 PRL Full Framed Clad Doors exterior entrances offer elegance and durability. As a single-source supplier for glazing and metal products, we provide everything necessary to create a grand entryway.
Our full framed doors are constructed from heavy duty aluminum alloy, extruded in-house. We offer a variety of different architectural metal finishes for Read More...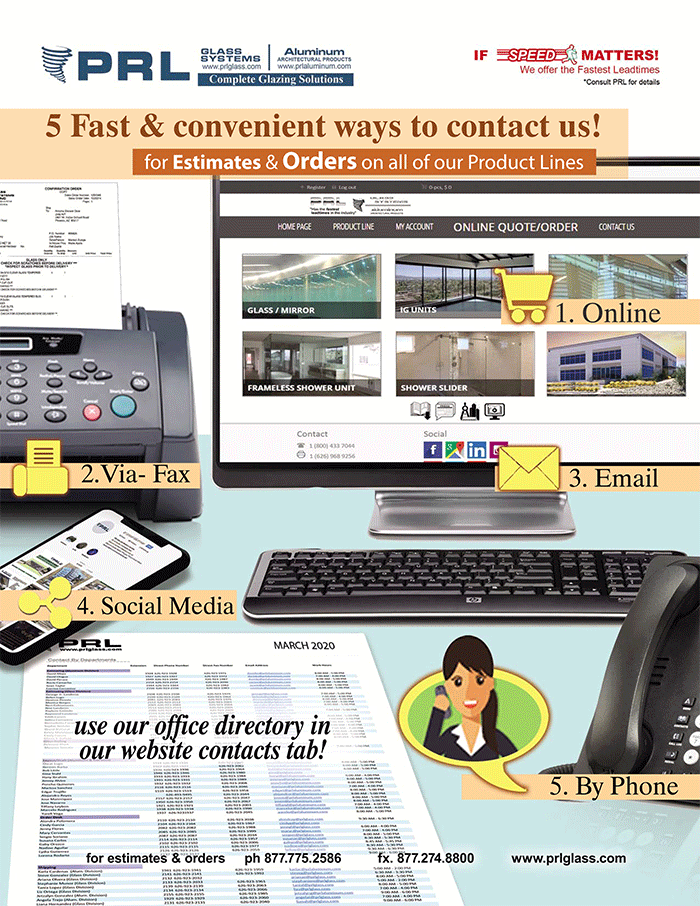 As part of the essential business construction sector, PRL is open in during the corona-virus stay-at-home order throughout California. Our office staff is working at full force throughout this pandemic to ensure you receive the glass and aluminum products you need.
Your business has great value to us so we're reminding you of a fast, convenient way to order and quote Read More...