2018 Architectural Glass Catalog
Full of great information, PRL's new catalog is a terrific way to stay on top of new glazing industry trends, products, technical data and architectural designs.
Cataloging our full lines of glass types and complete systems, PRL's new 2018 Architectural Glass catalog puts shopping at your fingertips. Whether you're looking for inspiration, a specific component, or want to know more about our products, it's all in there. Our new catalog provides a wealth of information!
Our entire lines of glass types, complete systems and hardware including detailed information for:
Insulated, laminated, spandrel, fire resistant glass and more!
Entrance doors, aluminum & glass sliders, panic systems, shower doors and more!
Door headers, closers, rails, panic devices, deadbolts, door pulls and more!
PRL would like to extend a special thank you to all of our customers who shared your project photos with us. You helped us make it possible to provide a catalog we're proud of with beautiful examples of what we can do for you.
For Complete Architectural Glass and Metal Specifications, Estimates and Orders
Please Feel Free to Contact Us Directly
Toll Free (800) 433-7044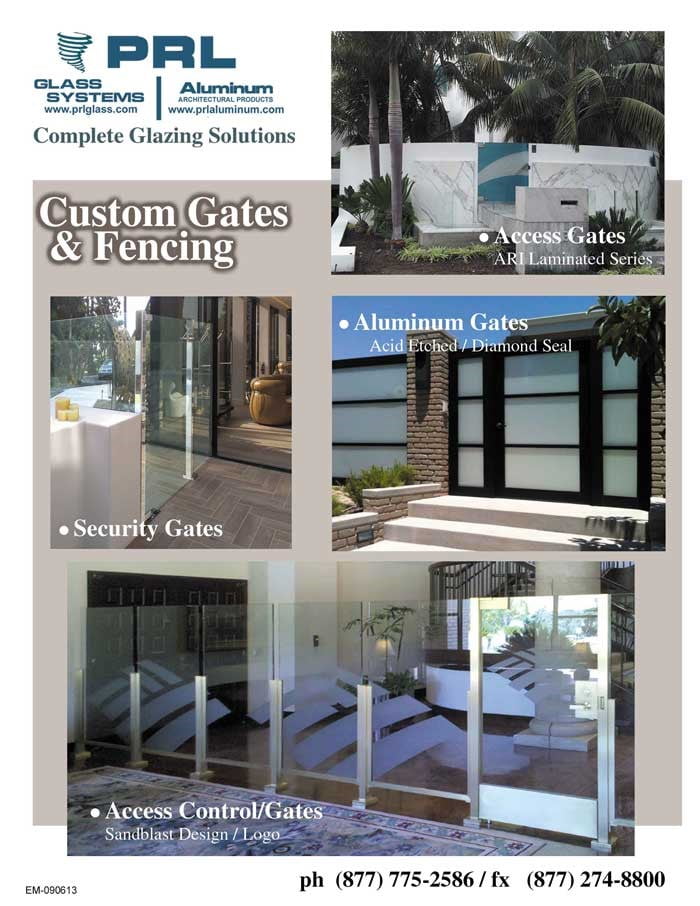 Need frameless all-glass gates for professional establishments or homes? Order at PRL! We customize endless styles in a huge assortment of glass types, hardware and handles. Rendered in-house to any height or width, our gates attach to fencing panels with posts or rapid dry set rails. And manufactured with all hinges pre-installed, these frameless all-glass gates Read More...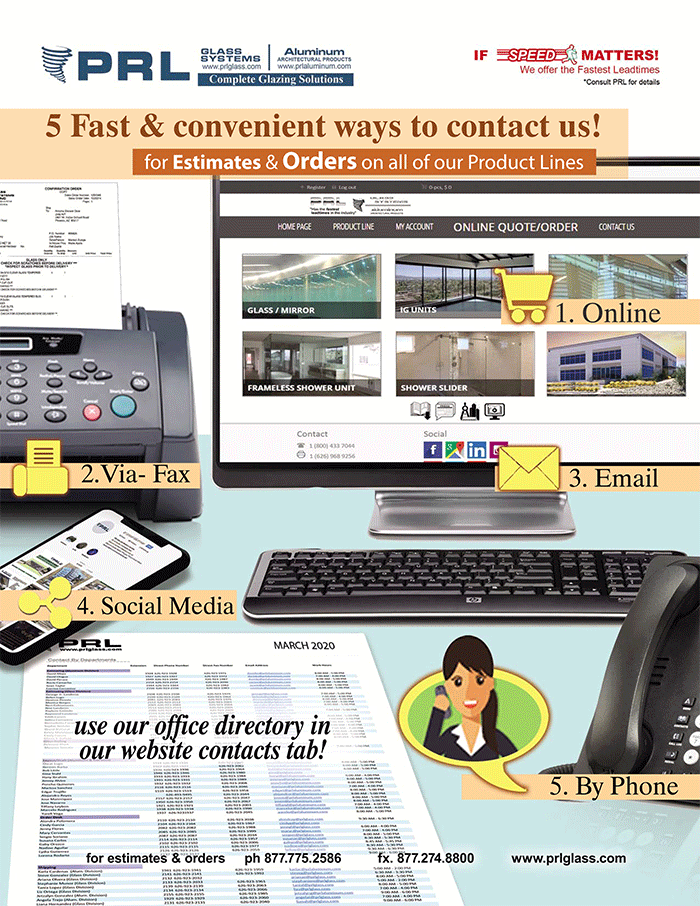 To our will call and walk-in order customers,
In accordance with the new Los Angeles County COVID-19 mandate, PRL has revised our guidelines for our will call customers. Our will call hours are Monday- Saturday. Effective Friday, April 10th all customers and employees will be required to wear face masks or face coverings while in our facilities.
To help protect the health Read More...