Spandrel Glass Wall Cladding.
Infinite Colors & Customizations for Interiors & Exteriors
Deal direct with PRL for spandrel glass wall cladding. We deliver endless colors and customizations for interiors and exteriors. A great alternative to drywall, tile or wood, these tinted panels make terrific decorative options. We render spandrel cladding in multiple sizes, thicknesses and glass types. Available in 16 standard and infinite custom hues, these wall panels look stunning in kitchens, baths, hallways and storefronts. Offering the finest linear edges, geometric shapes and specialized cut-outs, our spandrel glass cladding will meet your project needs.
Beautiful Opaque Paints for Businesses & Homes
We manufacture all spandrel glass wall cladding in our facility. Using your choice of annealed or tempered glass, we apply ICD's OPACI-COAT 300® water-based silicone coatings to the backside of panels. These colored paints are perfect for commercial or residential glass wall cladding. Naturally opaque, spandrel isn't designed to be used with light behind it. We stock 16 standard shades in whites, blacks, blues, greens and more. And, working with ICD, our glass department can provide custom hues and color matching services.
Spandrel glass wall cladding is sold in several sizes, thicknesses and glass types. Made per your plans, we produce sizes up to 190" and thicknesses up to ¾". Our glass selection includes clear, low E, tinted and mirrored to name a few. And for added protection, you can order Diamond Seal coating. This film's ideal for high traffic areas. Applied to spandrel surfaces, it makes glass wall cladding easier to clean and guards touch points from fingerprints, stains and smudges.
Need custom fabrications for your spandrel glass wall cladding? Using our high-tech equipment, we can craft virtually any modification your job requires. Our experts generate wall panels with flat polished and mitered edges in diverse standard and compound geometric shapes. And we even fashion spandrel cladding with custom cut-outs to accommodate light switches, clocks, elevator buttons and more. Rendered to your exact dimensions, our glass wall cladding can't be beat.
Spandrel Glass Wall Cladding: Colors, Fabrications, Shapes & More
Available Spandrel Paint Colors:
Standard:

Vast grays, blacks, whites, greens & blues

Custom:

Endless Fjord blues, coppers, reds, purples & more!
Standard painted hue lead times: Approx. 3-4 working days
Custom color lead times: Approx. 2 weeks
Available Glass Panel Shapes:
Standard: Squares, rectangles, triangles, circles & more
Compound: L, T, U & H shapes, curved, rounded & more
Available Glass Cladding Types:
Clear tempered & annealed, low iron
Low E & IG, tinted & reflective, mirrored
Custom Glass Wall Cladding Fabrications:
Edgework: Flat polished & mitered
Inner Panel Cut-Outs For:

Light switches, control panels & wall clocks
Intercoms, call boxes & directories/signage
Spandrel Glass Sizes & Thicknesses:
Sizes: Up to 110"- 190"
Thicknesses: ¼" – ¾"
Diamond Seal Wall Coatings:
Ideal for high traffic areas
Guards against stains & fingerprints
Spandrel Glass Wall Cladding. Get Infinite Colors & Customizations with Us!
Specify all your spandrel glass at PRL of the West Coast. We're the place where you can bid countless shades and customizations. Always working for our customers, we're your problem solvers.
Quick Product Photo Gallery
For Complete Spandrel Glass Wall Clad Specifications, Estimates and Orders
Please Feel Free to Contact Us Directly
Toll Free (800) 433-7044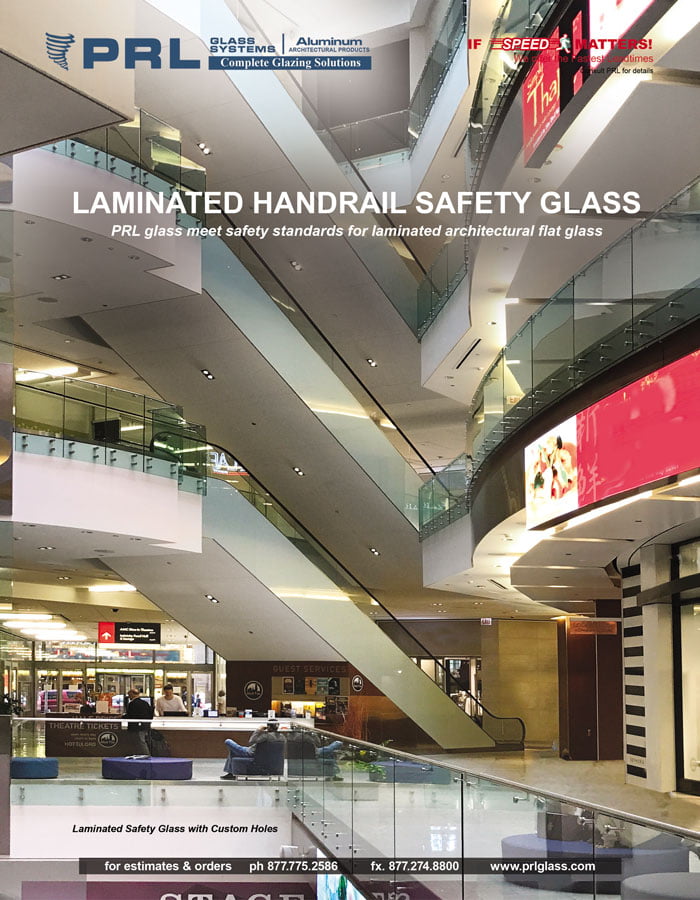 Need glass railing panels customized for your next project? Shop at PRL! Performing the finest glass fabrications with laminated safety glass. Meet the aesthetics and all the safety codes. You can quote oversized handrail panels with custom edging, compound geometric shapes, sectional glass balusters, and more. Offered in diverse glass types, sizes, and thicknesses, our glass guardrail panels are ideal Read More...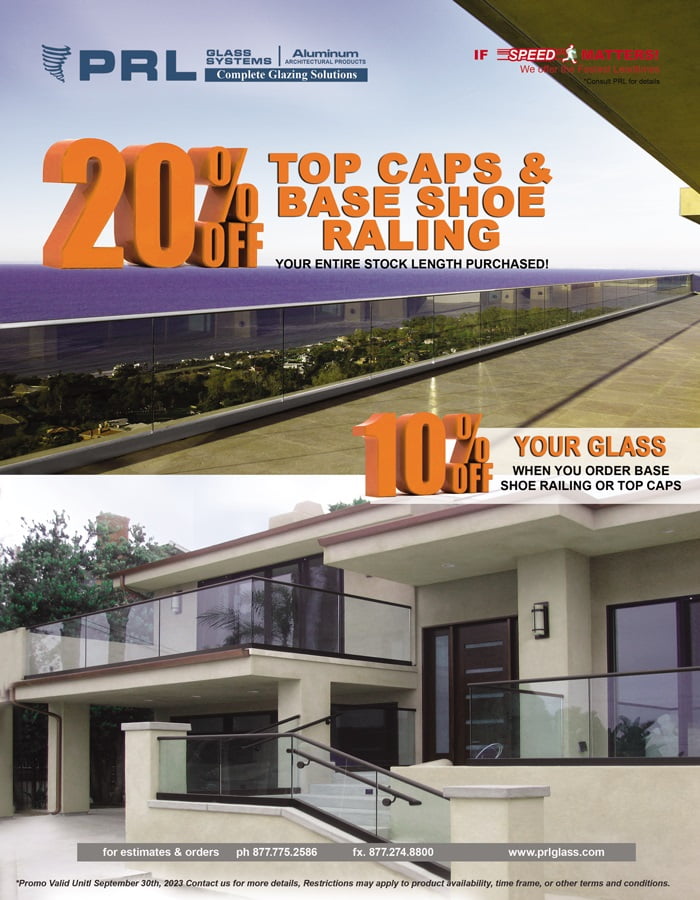 THE MORE YOU BUY, THE MORE YOU SAVE!
Shop base shoes and top caps at PRL. Like never seen before 20% discount on all Stock Length Base Shoe and Top Caps!* We'll price match** these handrail components from our competitors. Also offering technical support and a wide range of services, we can meet your railing needs. 35% lighter Read More...