Interior Glass Sliding Doors
PRL's Ruby interior glass sliding doors offer architects and design professionals the freedom between top hung sliding glass doors or a pivot door system. The Ruby's unique all glass door system ensures minimal obstruction from hardware and framing to provide customers with the largest viewing area through the glass with a clean finished appearance.
Endless Possibilities with PRL's Interior Glass Sliding Doors
The Ruby Pivot System has a high-tech appearance and can be used as a free swinging door or the swing can be controlled by adding a floor closer. PRL's Ruby Pivot system is available with overhead panel and sidelight connectors, which give the freedom of adding a transom and/or sidelights to your opening. Ladder style handles add an elegant look to the sliding glass door system but customers can also choose from inset metal finger pulls or just a polished hole; possibilities are endless.
PRL also offers attractive lock fittings if security is required.
Quick Product Photo Gallery
For Complete Interior Glass Sliding Door Specifications, Estimates and Orders
Please Feel Free to Contact Us Directly
Toll Free (800) 433-7044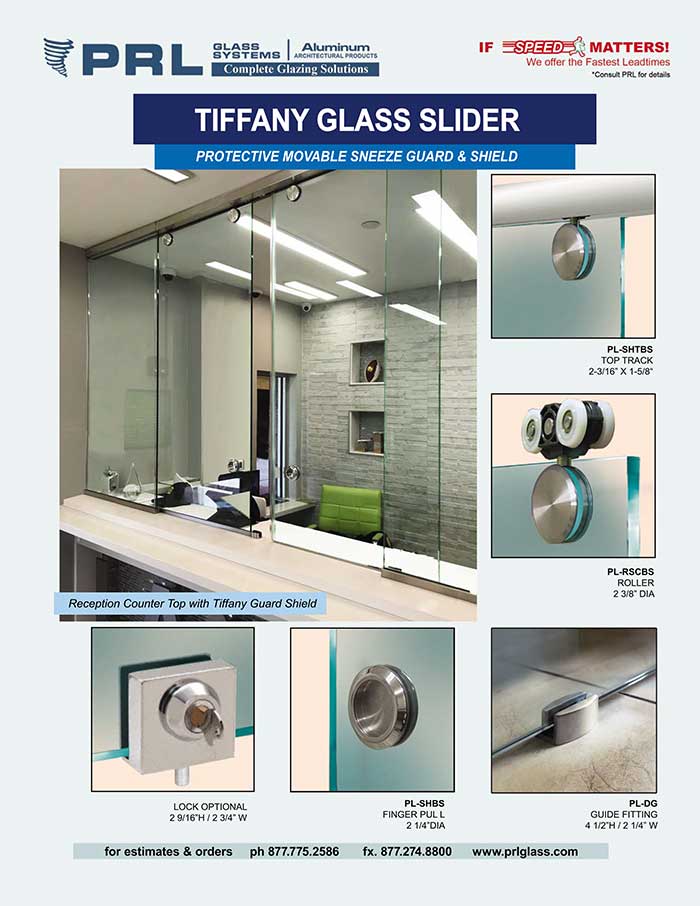 PRL's Tiffany Glass Slider is the new application to protect employees and customers from others while engaging in face-to face transactions. In light of these times, we have seen a significant demand on our Tiffany slider to bring safety and protection but at the same time bring an elegant look and convenient with its movable feature.
Bid PRL's 3/8″ and Read More...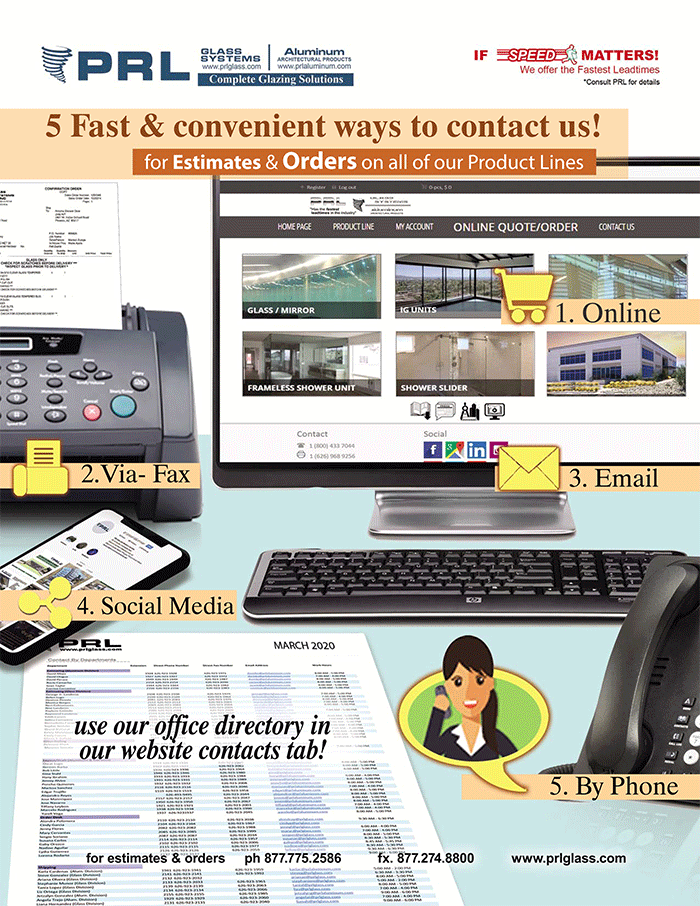 To our will call and walk-in order customers,
In accordance with the new Los Angeles County COVID-19 mandate, PRL has revised our guidelines for our will call customers. Our will call hours are Monday- Saturday. Effective Friday, April 10th all customers and employees will be required to wear face masks or face coverings while in our facilities.
To help protect the health Read More...