Glass & Aluminum Storefronts
For glass and aluminum storefronts that afford high performance, easy design and ordering, contact PRL of Los Angeles County. We in-house manufacture a large assortment of standard and custom storefronts for front entrances and panic systems. Perfect for interior and exterior applications, we can accommodate virtually any specification.
Glass & Aluminum Storefront Services
As the one-stop-shop for everything storefront, we offer a wide range of services and supply a vast selection of framing products to build complete glass and aluminum entries. Delivering the finest glazing systems and aluminum doors to an abundant array of hardware, handles and glass types, we've got it all. No wonder we're the first choice amongst specifiers and architects.
Designed for commercial and residential access ways, our glass and aluminum storefronts are ideal for a number of projects and showcasing décor. Boasting lavish views with their glass-paneled wall design, these framing systems are stunning in a host of applications such as offices and mall storefronts, homes, restaurants, banks and more.
Take advantage of our storefront services and ensure your entry meets your architectural specifications. At PRL, we offer everything from design consultation to CAD/CAM services to make sure glass and aluminum storefronts are just right. Providing expedited and local, national and international delivery, we're there when it matters. Industrial or home, we can answer all your questions and make designing, ordering, delivery and installation simple.
Storefront Services: Consultation, CAD/CAM Design & Delivery
STOREFRONT DESIGN CONSULTATION:
Design Recommendations For:
Glazing systems, aluminum doors, hardware, handles & glass types
We Offer:
Lead-time sequencing & scheduling
Value engineered storefront alternatives
Budget pricing
EXPEDITED DELIVERY & URGENCY PROGRAM:
Receive orders in 3 working days or the next day! *
Standard working day lead-time: 5 days
Urgency Program on most of PRL's quotes & order confirmations
Accessible 24/7 through our online ordering system
Get your order with the fastest lead-times in the industry!
* Next day delivery is subject to expedited charges.
CAD/CAM SERVICES:
We use our own line of CAD/CAM software
Upload your designs directly to our glass cutting line!
We Offer:
CNC fabrication & manufacturing
CAD design & layout
Shop, production & fabrication drawings
DELIVERY TERRITORIES:
25 Vehicle Transportation Fleet Delivers To:
Northern & Southern California
Arizona
Nevada
Common Carrier Delivers To:
Hawaii & Mexico
Storefront Products
Find the best collection of storefront products at PRL. Crafting unrivaled entrance materials for the glazing industry since 1989, there's no reason to shop anywhere else. Whether your threshold calls for a glazing system or a specific glass type, you're sure to find it in our sweeping selection of ingress components.
Glazing Systems:
At PRL, we extend five series of glazing systems to meet a vast array of glass and aluminum storefront specifications. Compatible with a wide assortment of our storefront products, we bring three center and two offset glazing series that feature traditional center or front set glass. Crafted from 6063-T5 aluminum alloy, our glazing systems not only provide durability, but design flexibility.
Aluminum Doors:
Furnishing an impressive inventory of aluminum doors, we can help you create captivating exterior and interior access ways. Manufactured in-house, we supply unlimited custom doors as well as narrow, medium, wide and oversized stiles to accommodate a variety of heights, opening sizes and decorative designs. Available in standard and cladded finishes, our aluminum doors are offered individually and as complete storefront packages.
Hardware:
For the largest selection of storefront hardware in Southern California, look no further than PRL Glass & Aluminum.
Delivering everything from door locks and panic devices to pivots, hinges and more, we can outfit glass and aluminum storefronts inside and out. Extruding virtually all components in our facility, we can render custom materials to your specifications. Carried in a medley of brilliant architectural finishes, our storefront hardware blends seamlessly with a range of décors.
Handles:
Afforded in a diverse range of styles and finishes, our storefront handles are the easy choice for business and residential passageways. Providing a huge collection of interior and exterior pull handles as well as panic and locking ladder pull handles, we can meet a host of architectural designs. Granting the finest extrusion capabilities, we can produce essentially any custom pull handle for front entries. Combining the best of form and function, our storefront handles have a lot to offer.
Glass Types:
At PRL, we bring a premium group of storefront glass types to ingresses. Stocking a broad scope of architectural, high performance, laminated safety and decorative glass product lines, we can meet your needs. With glass fabrication as our specialty, we generate boundless glass and aluminum storefront customizations. Oversized glass panels, IG unit combinations, striking sandblasted images and countless colors can be yours. Regardless of what your project requires, there's no doubt about it, our compilation of storefront glass types is the one for you.
Glass & Aluminum Storefronts. Get It All At PRL! We're Your One-Stop-Shop!
Bid glass and aluminum storefronts with us! We furnish all the products and storefront services you could need.
For Complete Panic Device Hardware Specifications, Estimates and Orders
Please Feel Free to Contact Us Directly
Toll Free (800) 433-7044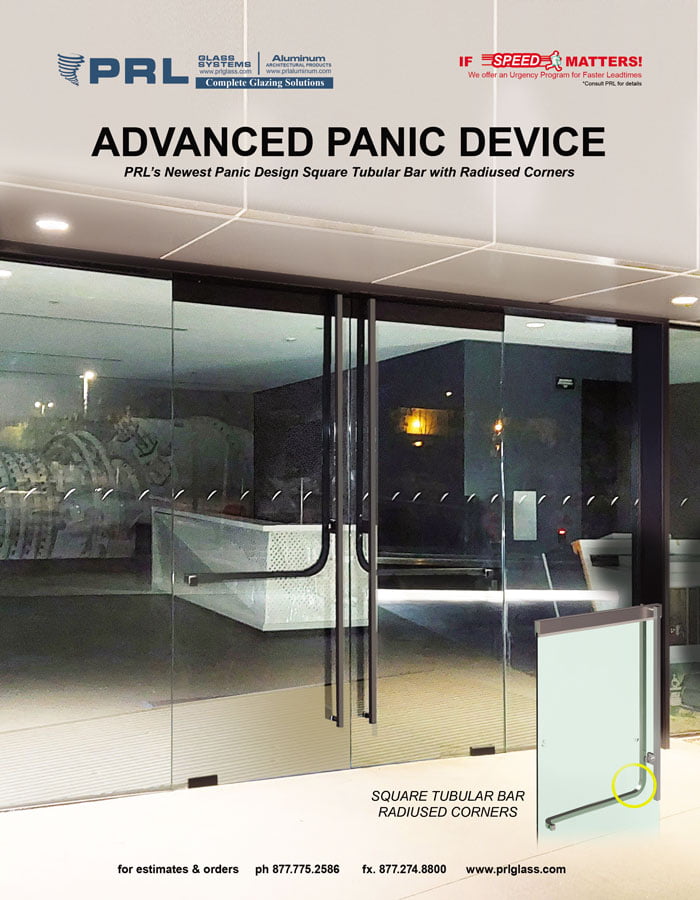 Specify PRL's Advanced panic device! This L-shaped interior crash bar accommodates heavy glass doors up to 120" tall. No wonder we're the go-to fire exit supplier on the West Coast. Crafted with square tubing and radius corners, our panic devices looks beautiful on life-safety egresses. Order yours now! You'll be glad you did. Great for many door styles, you can Read More...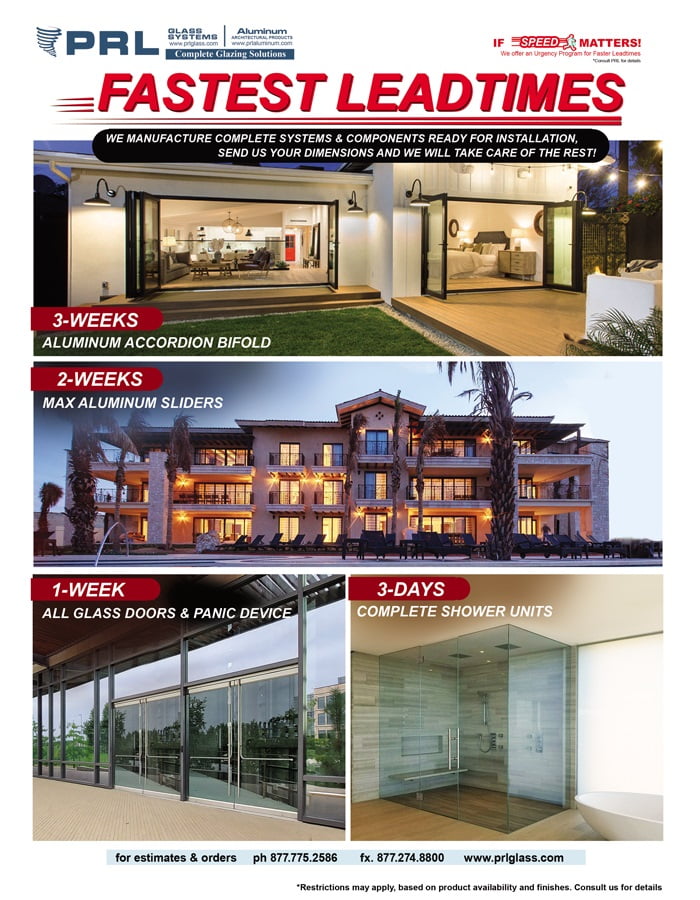 Don't miss out! Right now, you can get the fastest lead times on everything at PRL. That's right! Our entire inventory all product lines, glass lines, and hardware lines are now available with the fastest lead times in the industry! So, hurry and quote those last-minute jobs. Now you can meet their deadlines! Whether your project is a panic system Read More...