Decorative Glass Wall Designs.
Interior Décor in Endless Shapes & Customizations
Purchase decorative glass wall designs at PRL of City of Industry. Rendered in boundless shapes and customizations, our interior décor meets endless specifications. We manufacture this custom glass specialty in our facility. Made-to-order to your exact dimensions, you can select a variety of glass types and attachment options. Commercial or residential, these decorative glass wall designs can serve numerous purposes. Great for promoting your brand or creating ambiance, our ornamental décor looks beautiful in offices, restaurants, living areas and more.
Custom Glass Décor Just for You
We generate decorative glass wall designs with infill or sectional panels. Inlaid, self-supporting or mounted to surfaces, these glass specialties are available in linear, curved and diverse geometric shapes. Using our high-tech equipment, we can fabricate virtually any customization. Flat polished or mitered edges, pattern cut-outs, and hole diameters can all be yours. We even craft glass miter joints for areas where our metal supports won't do. And, operating one of the largest tempering ovens, we can produce oversized, floor-to-ceiling glass wall designs.
We affix decorative glass wall designs to surfaces with various supports or attachments. Ornamental panels can be inlaid flush or recessed into walls, self-supported with dryset rails, or mounted with stand-offs. Offered in tapered and square profiles, our dryset rails can be ordered in 36" and custom lengths. If your glass wall design requires stand-offs, we'll custom extrude them to your needed lengths and diameters. Both are sold in popular finishes to complement vast décors.
Decorative glass wall designs can be fashioned in multiple sizes, thicknesses and glass types. Assembled with panels up to 110" x 190", we make them in thicknesses per your plans. Our ornamental glass is truly unlimited. In addition to clear tempered, you can request huge arrays of colors in tinted, reflective, mirrored, laminated and spandrel glass. If your decorative wall design calls for more detail, we're the place to shop. Our glass team supplies many textures and renders infinite ornate interlayers, sandblasted graphics and glue chipped borders.
Decorative Glass Wall Designs: Construction, Supports, Fabrications & More
Glass Wall Design Construction:
Infill or Sectional Panels: Linear, curved & shapes

Inlaid: Glass design recessed or set flush into walls

Self-Supporting: Glass panels & dryset rails
Surface Mounted: Glass designs & stand-offs
Custom Glass Fabrications:
Standard & oversized designs
Compound shaped glass panels
Custom edge work per your plans
Glass miter joints in place of metal supports
Pattern cut-outs in virtually any size
Precise hole diameters
Custom ornamental design inserts
Decorative glass wall overlays
Decorative Design Supports:
Dryset Rail Lengths: 36" & custom
Finishes: Stainless steel, brass, anodized & mill
Stand-Off Lengths: Custom per your dimensions
Finishes: S.S., brass, oil rubbed bronze & painted
Available Glass Types:
Clear tempered: Variety of thicknesses & sizes
Textured: Several popular patterns
Sandblasted & Glue Chipped: Images, borders & logos
Ornate Interlayers: Fabrics, wire mesh, veneer & more
Mirrored: Clear, bronze, gray & acid etch blue
Tinted & Reflective: Blues, greens, bronzes & grays
Laminated Colors: Yellows, oranges, reds & more
Spandrel: Numerous whites, blacks, blues & browns
Decorative Glass Wall Designs. Bid Interior Décor at PRL!
Manufactured in limitless shapes and customizations, we'll meet your project needs. Buy with us today! Our interior décor will leave you breathless.
Quick Product Photo Gallery
For Complete Tempered Glass Specifications, Estimates and Orders
Please Feel Free to Contact Us Directly
Toll Free (800) 433-7044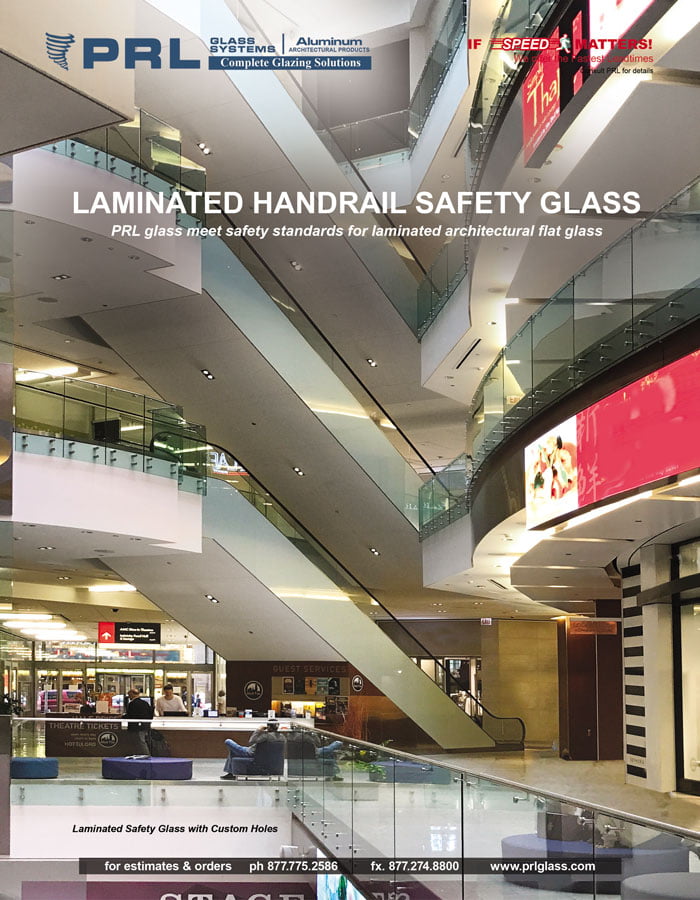 Need glass railing panels customized for your next project? Shop at PRL! Performing the finest glass fabrications with laminated safety glass. Meet the aesthetics and all the safety codes. You can quote oversized handrail panels with custom edging, compound geometric shapes, sectional glass balusters, and more. Offered in diverse glass types, sizes, and thicknesses, our glass guardrail panels are ideal Read More...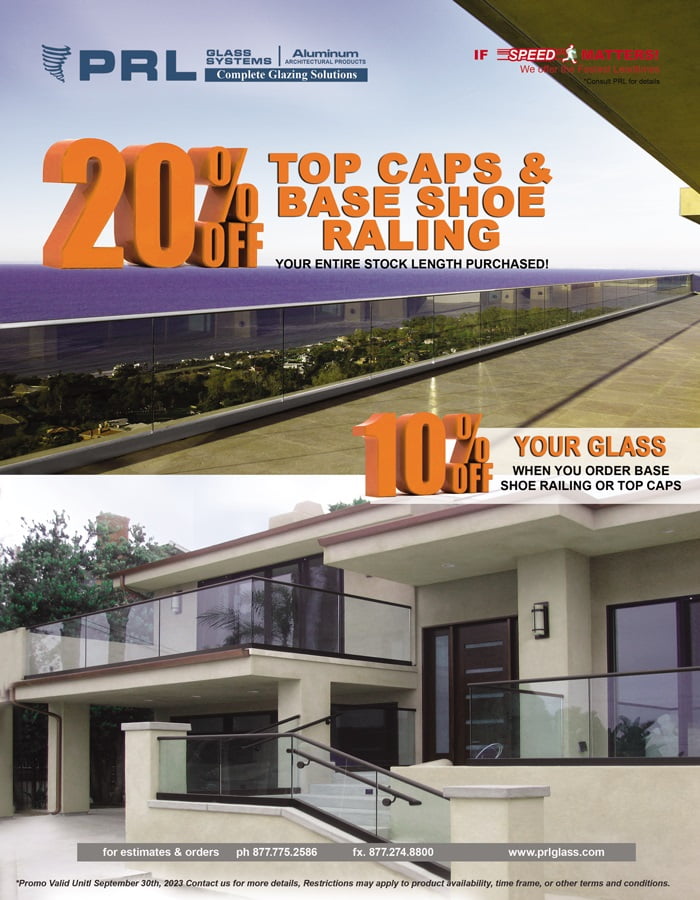 THE MORE YOU BUY, THE MORE YOU SAVE!
Shop base shoes and top caps at PRL. Like never seen before 20% discount on all Stock Length Base Shoe and Top Caps!* We'll price match** these handrail components from our competitors. Also offering technical support and a wide range of services, we can meet your railing needs. 35% lighter Read More...