PRL Glass Dual Tone Series Pull Handles are available in many different finishes and metal types. One of the most common commercial door pull handle combinations is the polished stainless steel combined with brushed stainless steel. The bronze anodized combined with the stainless steel also offers a very popular and elegant commercial door handle appearance.
All our handles can be supplied with our glass entrances or clad door systems. PRL Glass Dual Tone PL-LDT is 36" or 48" center to center, PL-RTDT is 4" horizontally and 24" vertically center to center and our PL-NDT is 24" x 24" center to center or we can manufacture any combination or size you require. PL-LDT, PL-RTDT & PL-NDT custom sizes are available upon request.
The Dual Tone Series pull handles will give any commercial door a "smart look".
These exciting Dual Tone tubular pull handles offer a world of new options for your tempered glass or full framed doors. Build or design your next commercial entrance door system with the Easy-Locking Ladder Pull Handles with a Dual Tone concept in mind.
Simply supply us your handles commercial specifications and let us take care of the rest Toll Free 800-433-7044.
2013 Easy Lock Ladder Pulls Catalog
Architectural Glass and Metal Hardware
For Dual Tone Door Pulls Estimates and Orders
Please Feel Free to Contact Us Directly
Toll Free (800) 433-7044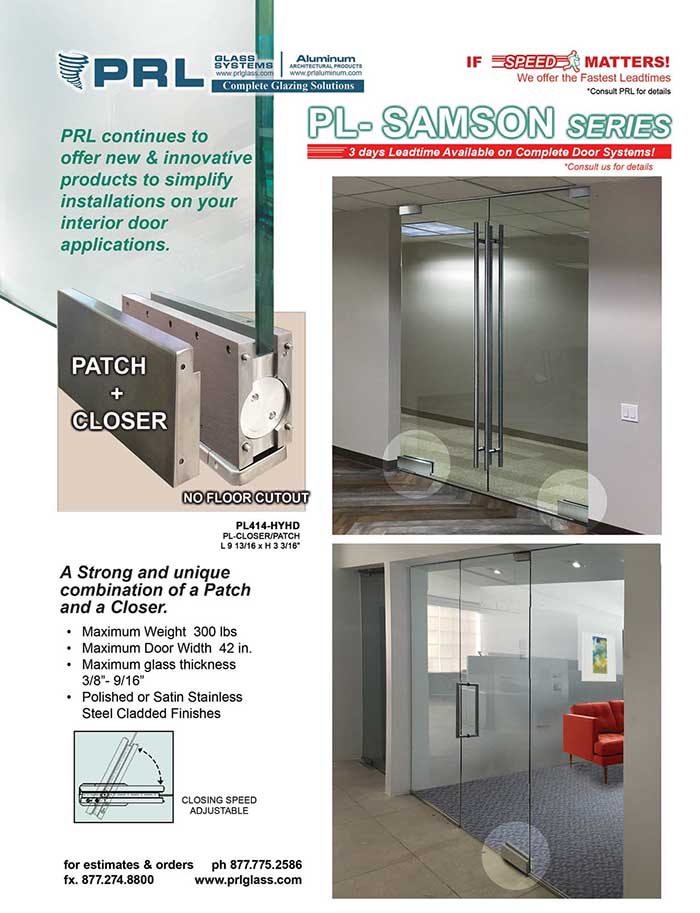 The ever-growing popularity of our samson hydraulic door patch closer has been great hit for use on PRL Frameless Glass Doors. This is just another example of PRL's commitment to provide innovative, economical solutions for our customer's interior glazing applications.
PRL's heavy duty Samson Patch Fitting Closer is not only a patch fitting, but a patch fitting and a closer- all Read More...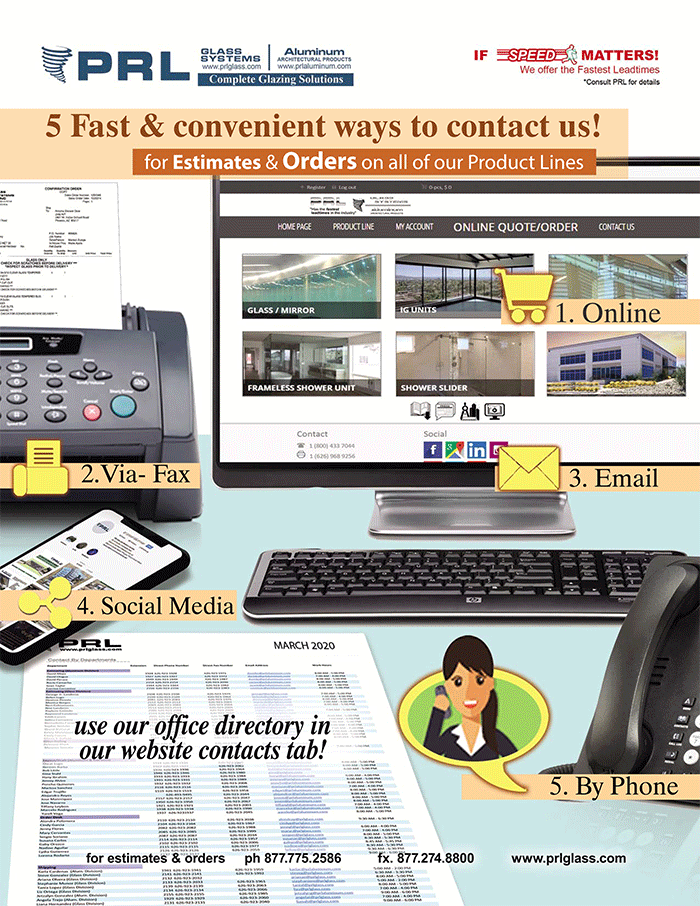 To our will call and walk-in order customers,
In accordance with the new Los Angeles County COVID-19 mandate, PRL has revised our guidelines for our will call customers. Our will call hours are Monday- Saturday. Effective Friday, April 10th all customers and employees will be required to wear face masks or face coverings while in our facilities.
To help protect the health Read More...