All Glass Entrance Panic Device
PRL's innovation and creativity has once again led us to revolutionize another product the (All Glass Entrance Panic Device). PRL's PL100 Panic Exit Device provides a latching mechanism in a tubular housing, providing the best option to secure tempered all glass entrance doors.
Our PL100 panic device latches at the top of the all glass entrance door, interfacing with a doorstop/strike or electric strike. A variety of exterior pull handles are available to enhance the door appearance. Our PL-100 top latching panic device can be applied to all glass doors ranging from 1/2″ to 3/4″ thick glass and up to 120″ tall. Our panic device can also be modified to work with metal, aluminum or wood doors. Standard finishes for the panic device are brushed stainless steel (US32D) or polished stainless steel (US32).
It can also be powder coated or Kynar painted to any color finish. Once again PRL has gained an edge over the competition with our all glass entrance PL-100 top latch panic device due to its strength and performance.
The PL-100 panic device has the following features to make all glass entrance doors unique.
Innovative entrance pull styles – All Round and square shape tubular housing to enhance any entrance
Tested over 2.0 million cycles, the most in the Industry
Panic will accommodate entrance doors up to 10 ft. tall
All with NEXT day service available
With our in-house fabrication we offer Complete All Glass Entrance Systems including All Glass Entrance Doors and Hardware to our customers with the fastest, unmatched lead times in the glazing industry.
2012 Panic Devices and Hardware Catalog
For Panic Device Specifications, Estimates and Orders
Please Feel Free to Contact Us Directly
Toll Free (800) 433-7044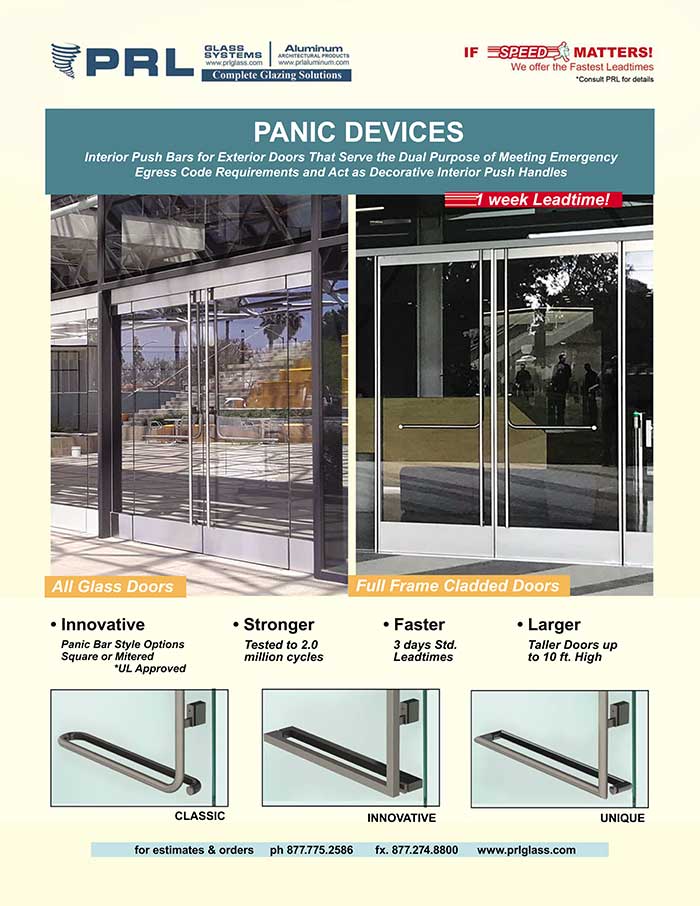 At PRL, we offer complete all-glass and full framed door systems including panic door devices.
PRL Panics are offered in PL-100 top latching and PL-110 bottom latching series, feature narrow 1 ¼" dia. tubular L-shaped interior push bars with multiple exterior pull options.
Panic devices are manufactured in-house from stainless steel, we furnish three styles; classic, innovative and unique Read More...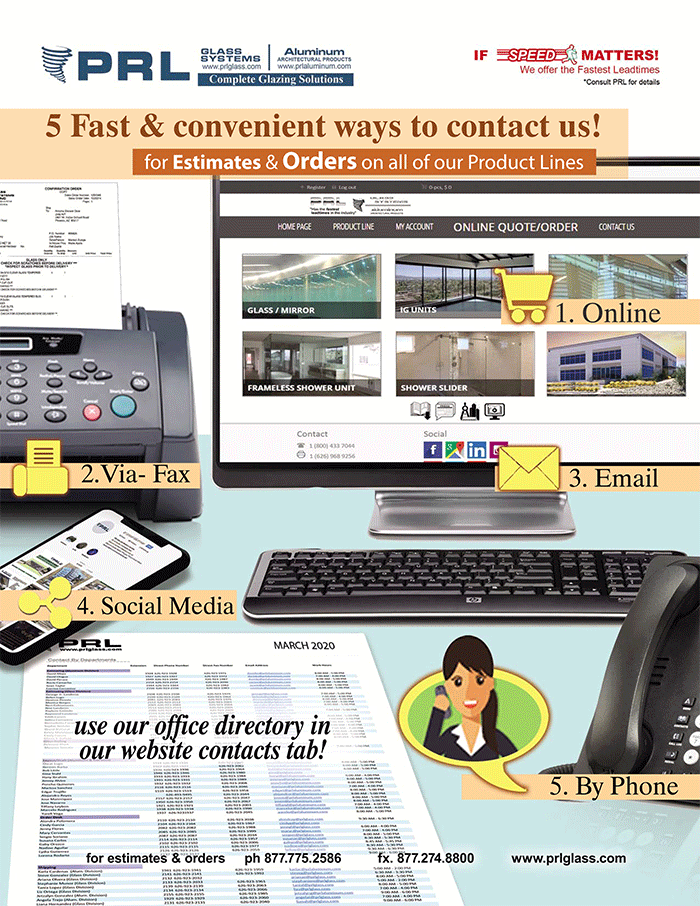 To our will call and walk-in order customers,
In accordance with the new Los Angeles County COVID-19 mandate, PRL has revised our guidelines for our will call customers. Our will call hours are Monday- Saturday. Effective Friday, April 10th all customers and employees will be required to wear face masks or face coverings while in our facilities.
To help protect the health Read More...