Order Architectural Glass and Metal Products Online
PRL's 24/7 Online Quick Quotes and Orders program is intended to make quoting and purchasing quick and convenient. Purchase Architectural Glass and Metal products by simply registering at one of the two options below.
We have also included Videos on How to Quote and Order PRL Products Online as PRL understands how important it is to conduct business promptly and we want to give you this ability. PRL's quick online order program is very user friendly, and we plan to have as many complete products online to assist you in all your ordering needs.
Just a few of the many options to order online with PRL:
Tempered Glass
Laminated Glass
All Glass Doors
Aluminum Doors
IG Units
Storefront / Aluminum Stock Lengths
Shower Units
Frame-less Shower Enclosures
Shower Sliders
Shower Hardware
Purchasing online from PRL will benefit you by reducing costs and time (no more phone delays).
Once you are finished ordering your products you can simply manage them on the quote review.
This will allow you to update your quantities or delete items as needed.
Once you are satisfied with your selection you can then email it to our ordering department and within minutes you will receive a confirmation of what you ordered and the eta.
For Complete Architectural Glass and Metal Specifications, Estimates and Orders
Please Also Feel Free to Contact Us Directly
Toll Free (800) 433-7044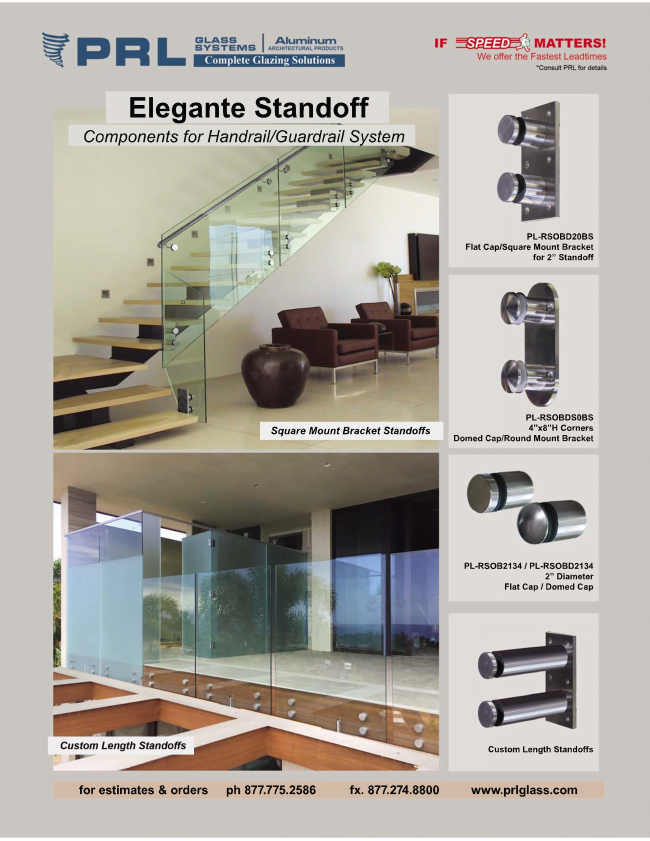 PRL "Elegante" Handrail and Guardrail Standoffs create elegant frameless heavy glass guardrails by eliminating the base shoe and allowing the glass to secure directly to the sides of the stringers or deck. Our 2″ diameter solid stainless steel standoffs are fabricated in-house of premium 304 or 316 alloy stainless steel. Where additional structural support is needed we provide ½" Read More...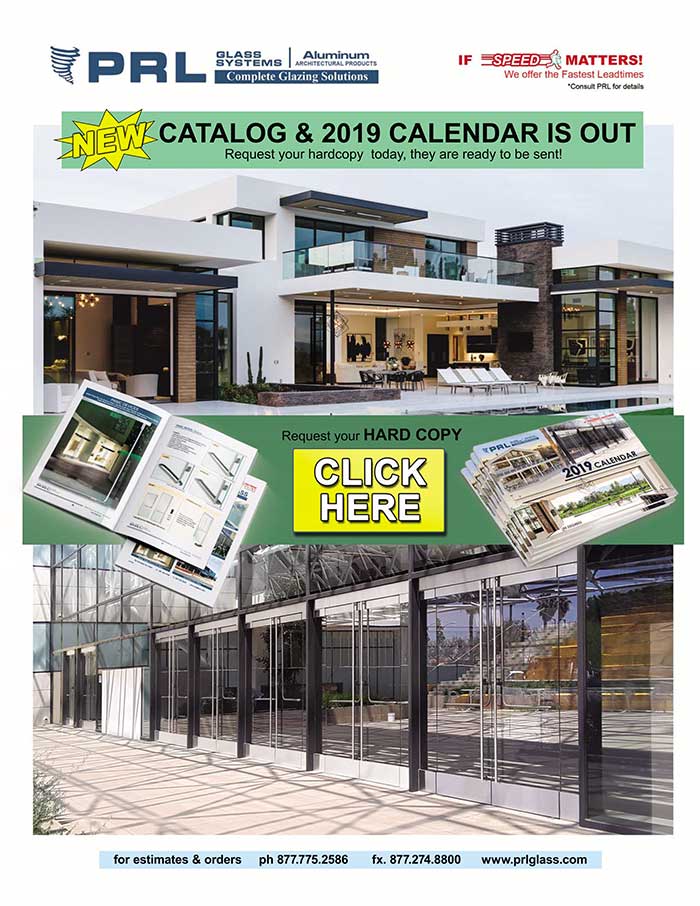 Start the new year out right with a New 2019 PRL Calendar. Featuring terrific monthly photos of our glass and aluminum products, our calendar will keep you organized while learning about all we have to offer.
Also, A must-have tool provides wealth of useful information is PRL's new 2018 Architectural Glass catalog request your hard Read More...