All Glass Shower Doors and Hardware
PRL manufactures complete all glass shower door enclosures for a variety of applications. Nu-vision frameless tempered all glass showers are fabricated in detail to practically any geometric configuration for that unique design you are looking for. We carry our own line of shower door hardware including: shower door hinges, all glass panel clamps, custom pulls and headers.
Create a Shower and Bath with Visionary Style
PRL offers from traditional frameless shower door styles to elegant contemporary door styles.
The frameless safety shower door/ steam units are made with functional variety of fully engineered hardware. The most common shower hardware used includes top and bottom pivots, wall mount hinges, all glass to glass hinges and 3/8″ aluminum sliders.
Our custom all glass fabrication on shower and steam units will meet the most creative luxurious designs. Textured tempered glass will give you discrete privacy. We stock various texture glass patterns.
All frameless door / enclosures are manufactured with our 3/8″ or 1/2″ tempered glass. PRL has the fastest shower production time in the industry, all guaranteed!
2016 Shower Door and Enclosure Catalog
For Complete Shower Specifications, Estimates and Orders
Please Feel Free to Contact Us Directly
Toll Free (800) 433-7044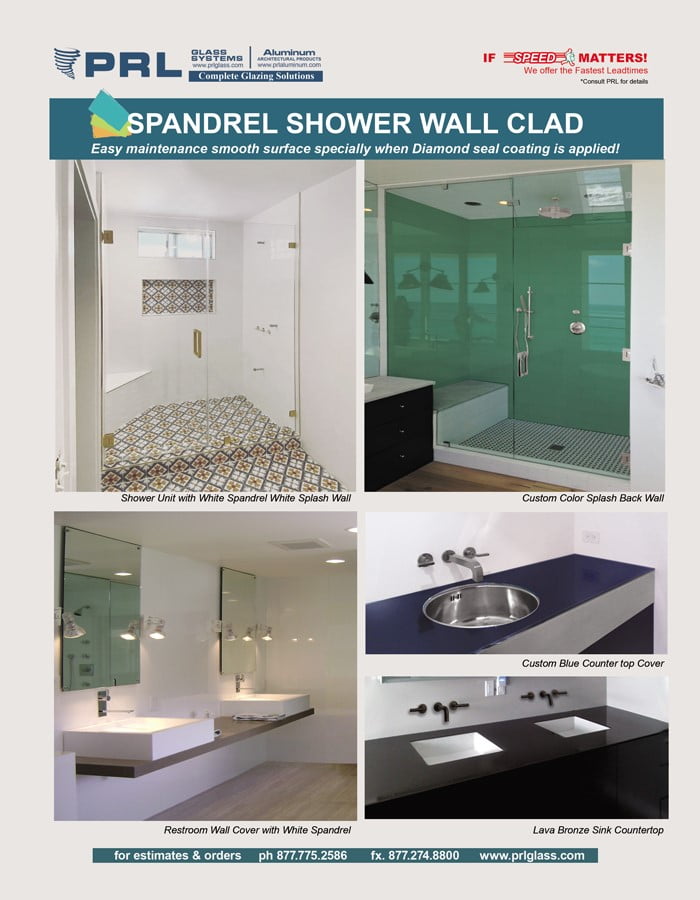 Shop PRL's spandrel glass bath products for your commercial or residential jobs. Our shower enclosure splash back walls, countertops and back splashes bring beautiful color to numerous baths. Offered in a variety of glass thicknesses and sizes, we apply ICD OPACI-COAT 300® water-based silicone coatings in-house. Delivering over 15 standard spandrel shades, and measuring colors electronically, we Read More...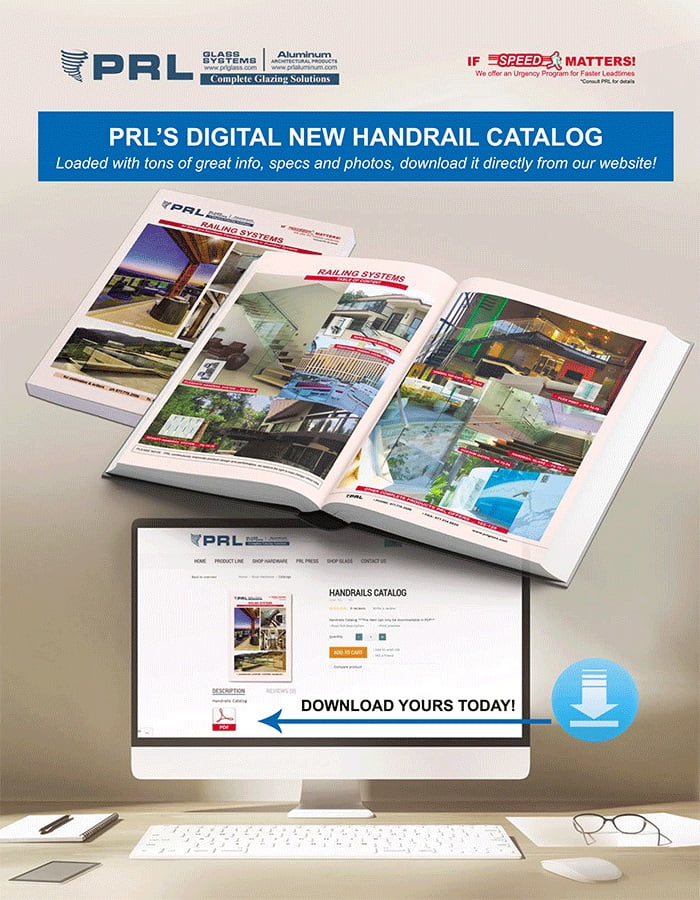 Download PRL's new Digital Handrail catalog! Find out everything you need to know about our systems, components, protective shields and more. Including our entire inventory of railing products, this catalog is a must-have. Loaded with tons of great info, specs and photos, you'll be on your way to designing fabulous projects for your customer's home or office in no time. Read More...