Order full framed clad doors at PRL Glass & Aluminum. We generate 3 standard and 2 ultra-narrow stiles. Not only do these aluminum doors deliver expansive front entry views, but they also grant many benefits. Our full framed doors arrive with all hardware preinstalled, withstand heavy demands and improve weather control. Available with a large collection of rail heights, cladded finishes and glass types, you can specify these ingress doors for numerous commercial and residential applications. And sold as complete packages, our full framed clad doors include all related framing, glass panels and hardware.
Beautiful Cladded Aluminum Frames
We manufacture all full framed clad doors in our facility. Constructed with heavy-duty aluminum alloy, they'll stand up to the heaviest of demands. Beautiful in interiors or exteriors, these cladded doors are great for businesses and homes, medical and hospitality industries, restaurants and more. Our full framed doors are built for improved weather control. Equipped with state-of-the-art adjustable weather stripping, they'll provide protection from the elements where your clients need it.
Our full framed clad doors afford generous front entrance views. Produced without visible glass stops, they sport a clean, minimal-seam look. And offered in architectural metal finishes for cladding, our aluminum passageways coordinate with several décors. You can bid these full framed doors in 3" narrow, 4" medium and 5 ½" wide standard stiles. Or you can get our 7/8″ and 1 5/6″ ultra-narrow vertical stiles that accommodate extra tall entries. Cladded finishes are oil rubbed bronze, Kynar paints and 316 stainless steel.
You can buy our full framed clad doors as complete ingress packages. Arriving with all hardware preinstalled upon delivery, we make it easy. All you have to do is pick your choice of full framed door stile, cladded aluminum finish, glass panel type, pull handles and locking option. And, if your project is an emergency evacuation system, you can also quote panic devices to create stylish fire exits. Yes, our full framed clad doors can transform into spectacular panic systems.
Full Framed Clad Doors: Features, Complete Packages, Stiles & Finishes
Full Framed Clad Door Features:
Heavy-Duty Aluminum Frames: Withstand heavy demands
No Visible Glass Stops: Clean, minimal seam entrances
Adjustable Weather Stripping: Improved weather control
Standard Top & Bottom Rail Heights: 4″, 5″ & 10″
Accept Glass Panel Thicknesses: ¼" to 1″
Standard & Ultra-Narrow Door Stiles:
3" narrow, 4" medium & 5 ½ wide standard
7/8″ ultra-narrow vertical stile
1 5/6″ ultra-narrow vertical stile
Complete Cladded Door Packages Include:
Full framed door stile
Cladded aluminum finish
Glass panel type
Pull handles & lock
Optional panic device
Cladded Aluminum Finishes:
Oil rubbed bronze
Kynar paints
316 stainless steel
Full Framed Clad Doors. Expansive Views & Many Benefits at PRL
Shop full framed clad doors at PRL. Sold as complete packages, you don't want to miss out on our standard and ultra-narrow stiles.
Nu Vision Entrance Systems Catalog
For Complete Full Framed Clad Door Systems and Specifications, Estimates and Orders
Please Feel Free to Contact Us Directly
Toll Free (800) 433-7044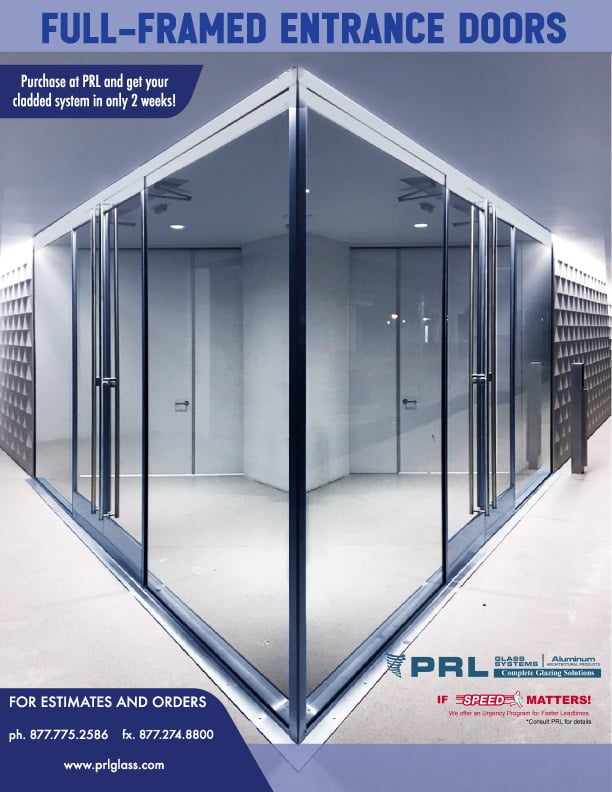 Need full-framed entrance doors fast? Quote at PRL! Nobody can match our speed! When you order with us, your cladded systems will arrive in only 2 weeks! Sold individually or as complete entry packages, we offer 3 vertical full-framed door stiles.
Made with heavy-duty aluminum frames, our cladded doors withstand the toughest of demands. And available Read More...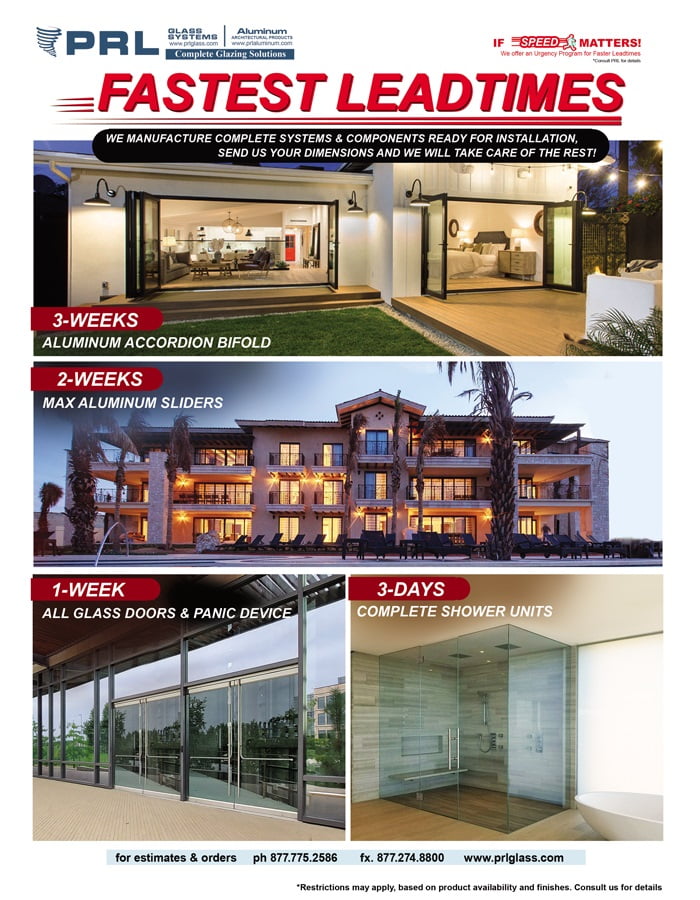 Don't miss out! Right now, you can get the fastest lead times on everything at PRL. That's right! Our entire inventory all product lines, glass lines, and hardware lines are now available with the fastest lead times in the industry! So, hurry and quote those last-minute jobs. Now you can meet their deadlines! Whether your project is a panic system Read More...