The Full framed clad doors are normally used in commercial buildings and monumental entrances.
PRL Glass manufactures clad entrance doors as a luxurious alternative to a standard storefront system. The full framed clad doors are available in 3″ Narrow Stile doors, 4″ medium style doors, and 5-1/2″ wide style doors. All clad storefront doors are custom manufactured to suit your design and hardware requirements. PRL is able to prep and provide all hardware and tempered glass, from center hung pivots to offset pivots, PRL will factory install the hardware and tempered/insulated glass to verify a precision fit before shipping.
We Offer Complete Full Framed Clad Door Systems
Including framing, hardware, tempered glass, producing a very high quality clad entry door.
PRL Full framed clad doors can utilize glass from 1/4″ thickness to 1″ thickness and have no visible glass stops due to their unique design. For our clad doors we use custom extrusions designed for minimal seams in the cladding.
The full framed clad doors are fully constructed in our facility and have visible vertical seams only where the stiles butt into the top and bottom rails. PRL utilizes an adjustable weathering in the vertical stiles of all our clad doors as well.
Finishes available: Satin & Polished stainless steel and brass, oil rubbed bronze, powder coat and kynar paint.
Nu Vision Entrance Systems Catalog
For Complete Full Framed Clad Door Systems and Specifications, Estimates and Orders
Please Feel Free to Contact Us Directly
Toll Free (800) 433-7044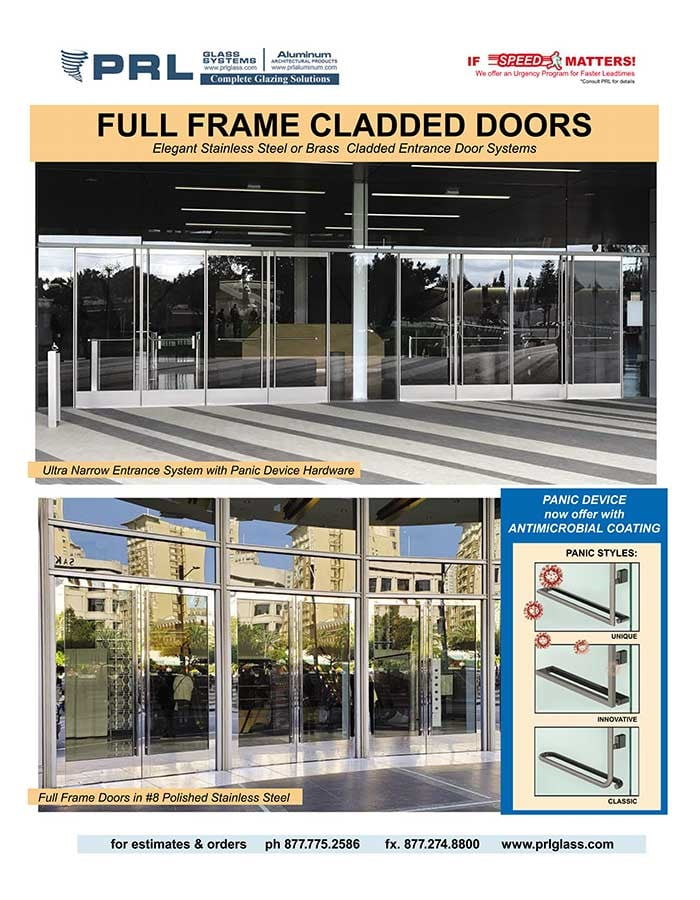 Available individually or as complete entry packages, this product line can stand up to the heaviest of demands. Our full framed entrance doors are produced in-house. Furnishing a large collection of glass types and architectural metal finishes, these cladded doors make for spectacular front access ways.

Full Frame Cladded Doors
At PRL, we render five aluminum door Read More...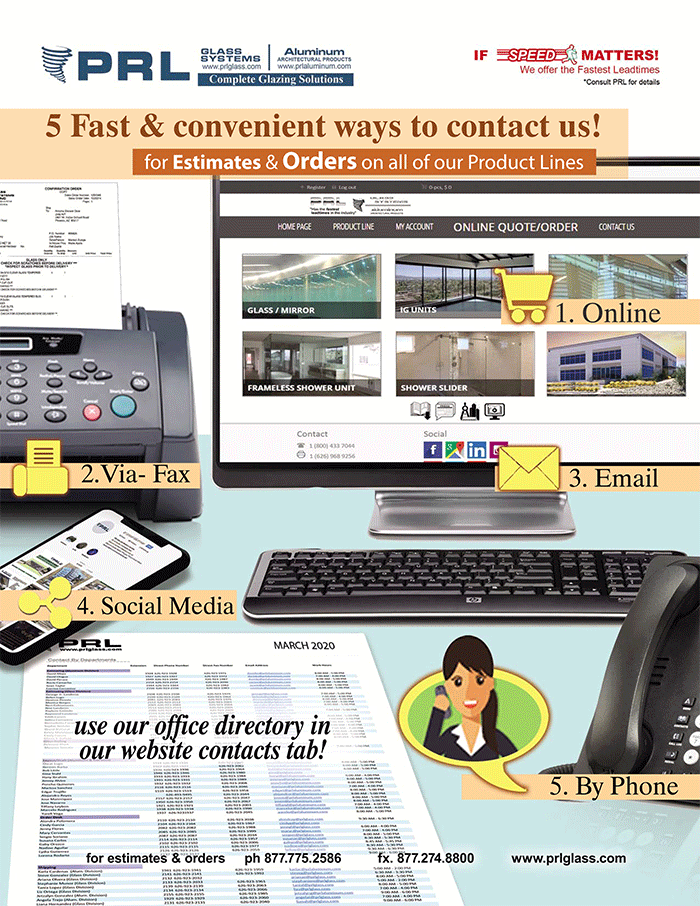 To our will call and walk-in order customers,
In accordance with the new Los Angeles County COVID-19 mandate, PRL has revised our guidelines for our will call customers. Our will call hours are Monday- Saturday. Effective Friday, April 10th all customers and employees will be required to wear face masks or face coverings while in our facilities.
To help protect the health Read More...